Live music in a historic South Seattle venue! EARLY SHOW
About this event
Jontavious Willis | Benjamin Hunter | Jayy Hopp
Sunday 8/8/21 - 6:00 show
Live Music, in-person!
---------------------------------------------------
See COVID Safety Info at the bottom of this page under Abbey Arts Presents
---------------------------------------------------
JONTAVIOUS WILLIS (Grammy Nominated):
"Every generation or so, a young bluesman bursts onto the scene and sends a jolt through the blues community. Jontavious Willis may just have that effect on people. The 24-year-old multi-instrumentalist was nominated for a GRAMMY in 2020 thanks to his latest album, Spectacular Class. Through original lyrics written by Willis himself, the gifted musician delivers a timeless album that features dynamic vocals and all types of blues: Delta, Piedmont, Texas, and Gospel. His stand-out fingerpicking, flat-picking, and slide prowess are also on display.
GRAMMY award-winning artists Taj Mahal and Keb' Mo' played an active role in producing Spectacular Class with Taj Mahal credited as Executive Producer and Keb' Mo' as the Producer. In addition to its digital release, the album will also be available on CD and vinyl."
"Hailing from Greenville, Georgia, Willis grew up singing Gospel music at the Mount Pilgrim Baptist Church with his grandfather. Since an early age, he had the talent and passion for the music and the ability to sharpen his skills fast. At the age of 14, he came across a YouTube video of Muddy Waters playing "Hoochie Coochie Man" and was instantly hooked on the blues.
He got his much-needed break from the living legend Taj Mahal, who described him as the "Wonderboy" and "the Wunderkind." In 2015, Mahal asked Willis to play on stage with him. That appearance resulted in a roaring response from the audience and led Willis to bigger stages and broader opportunities, including an opening slot at select shows along the TajMo tour, featuring his musical mentors Taj Mahal and Keb' Mo'.
Many fans of Willis regard him as an old soul. His style of playing the instruments and his voice touches the very roots of country blues. He brings back the true soul of the music. A newspaper headline once called him a "70-year-old bluesman in a 20-year-old body."
Spectacular Class is the follow-up release to his debut album, Blue Metamorphosis, which was released in 2016 and garnered him rave reviews from such notable magazines as Living Blues and Blues & Rhythm. In 2018, the album earned recognition by the Blues Foundation through their International Blues Challenge, where he was honored with the Best Self-Produced CD Award."
-Artist Bio
BENJAMIN HUNTER
Musician | Teacher | Community Development Consultant
"An unbridled freedom and genre emancipation is evident in Ben Hunter's music, yet the deep blues are a cornerstone of his style"
- Frank Matheis, Living Blues 2017
"The music he plays not only spans an array of genres but a huge swath of history."
- Leah Baltes, City Arts Magazine 2015
"Reality has offered a fertile canvas for musician, storyteller, educator and community enterpriser Benjamin Hunter's endeavoring mind. 
Cross pollinating multiple artistic disciplines for more than a decade, the Seattle based polymath and multi-instrumentalist has dedicated his life to transforming the world's stale status quo into a vibrant, inclusive, communal, and compassionate society. 
Benjamin is an award winning multi-instrumentalist, composer, community activist, social entrepreneur, and educator. Benjamin's work explores the intersections of music & art, community, policy, and culture.
In 2016, his America roots duo with Joe Seamons took first place in the International Blues Competition. In 2018, Benjamin composed the music for the critically acclaimed production, Black Bois. With his primary instrument the violin, he is as comfortable playing classical as he is blues and jazz. City Arts Magazine wrote, " The music he plays not only spans an array of genres but a huge swath of history." Living Blues magazine wrote, "An unbridled freedom and genre emancipation is evident in Ben Hunter's music, yet the deep blues are a cornerstone of his style".
Benjamin Hunter is the founder and director of Community Arts Create, co-founder of the Hillman City Collaboratory, co-founder of Black & Tan Hall, sits on the Seattle Music Commission, and is a teaching artist for JazzEd as well as festivals around the world.
Benjamin is a 2020/2021 Artist-in-Residence at On The Boards, and is a 2020 Artist Trust Fellowship Awards recipient. "
- Artist Bio
JAYY HOPP
----------------------------------
@ South Park Hall, 1253 S Cloverdale St, Seattle
Entrance in Front next to Uncle Eddies / Resistencia Coffee.
(Free parking around back or on street)
6:00-8:30p show, 5:30p doors
All ages, partly seated show
Quiet picnics welcome, feel free to bring in dinner from area restaurants
Check out https://www.southparkhall.com/ for more about this beautiful historic space. Also available for private parties, weddings, and other rentals. Support a black woman owned business that also supports many local artists and food creators. South Park Hall is operated by Melanie Granger.
--------------------------------------------------------------------------
South Park Hall
Abbey Arts is now collaborating with Melanie Granger at South Park Hall to bring you select live music & arts events presented with all public health safety in mind.
Clear some stress, refresh your mind, spark your creativity with live music and multi-arts experiences.
Audience size will be limited and reduced per current Public Health Guidelines. Concerts are held in large spaces rated for 180-260 people normally.
More info via www.instagram.com/seattlewellnessevents
--------------------------------------------------------------------------
EVENT & VENUE INFO:
South Park Hall is not ADA accessible, we host other events at Fremont Abbey and other spaces that are ADA
Partly Seated show
No food service onsite, great restaurants next door! Feel free to bring in food if you'd like.
Vaccine encouraged, please wear a mask otherwise

South Park Hall Entrance in Front next to Uncle Eddies / Resistencia Coffee.

(Free parking around back or on street)
--------------------------------------------------------------------------
ABOUT ABBEY ARTS, SEATTLE:
NONPROFIT 501C3, NON-RELIGIOUS, EST. 2005
Presenting welcoming music, arts & cultural experiences for people of all ages & incomes.
Home Venue: Fremont Abbey, 4272 Fremont Ave North, Seattle, WA 98103 / 206-414-8325 Ballard Homestead: 6541 Jones Ave NW, Seattle | + UHeights Auditorium, St Mark's Cathedral, & more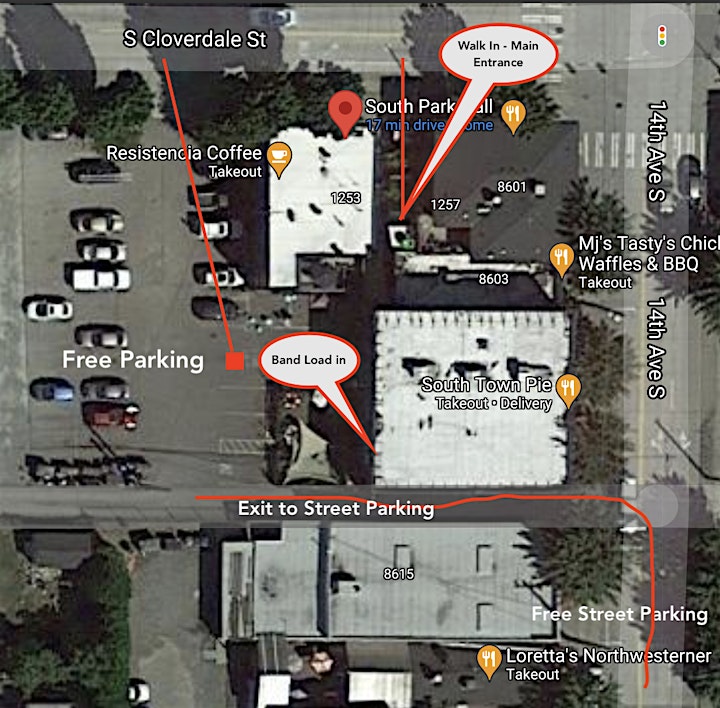 Organizer of Jontavious Willis | Benjamin Hunter | Jayy Hopp IN-PERSON @ South Park Hall
COVID Public Health Safety Info:
As of August 23, 2021
Welcome back Abbey Arts family!
As we reopen the doors to our venues, rest assured that we will be welcoming our patrons back in to an environment that prioritizes health and wellness. We are working with local officials to ensure current health and safety protocols are in place at Abbey Arts events, while being mindful that flexibility will be required as those guidelines will likely continue to evolve. Obviously with COVID-19 not being completely eradicated, we'll have to change some things around here as we go. Please consult the state's guidelines for the most up-to-date information on phases and state mandated guidelines.
IMPORTANT INFO
There is a statewide mask mandate for requiring masks for ALL patrons indoors REGARDLESS of vaccine status. More information from the State of Washington can be found at https://coronavirus.wa.gov/news/statewide-updated-mask-order-goes-effect-monday-aug-23
Starting 7/30/21 We are now requiring PROOF OF VACCINATION or a NEGATIVE COVID-19 test result within 72 hours prior to the event to be allowed to enter the building. Find a testing center here. Please note that test results may take 24-48 hours. Please plan accordingly.
Full vaccination is defined as having received a final vaccination dose at least two weeks prior to the event date.
The name on your vaccination card or COVID test MUST match your state ID
Acceptable forms of proof of vaccination include: an official CDC COVID-19 Vaccination Record Card or a picture of your vaccination card; a digital or printed WA State Certificate of COVID-19 Vaccination; a WA State Immunization Information System printout; or a verified medical record printout from a medical provider.

All employees are fully vaccinated and are required to wear masks indoors.
We are operating at mid capacity to allow more space and smaller crowds.
We have increased hand sanitizing stations around the venues. We encourage you to regularly sanitize and fully wash hands when you use the restroom.
Need to get tested?
Find a location near you at:
https://www.doh.wa.gov/Emergencies/COVID19/TestingforCOVID19
****
NOT FEELING WELL?
Please do not enter the venue if you have a fever, are feeling sick, or displaying any symptoms of COVID-19, flu, cold or other transmissible diseases. Better yet, stay home, rest up, take care of yourselves and reduce the chance of getting others sick. If you've purchased a ticket to an upcoming show but come down with symptoms, please open your Eventbrite account and you can request a refund for a health related reason through Eventbrite system. We'd be happy to oblige, no questions asked. No refunds given after the event. Thanks!
HOW ABOUT MASKS?
Masks are currently required while indoors regardless of vaccine status. You may remove your mask while actively consuming a beverage, but we ask that you reapply your mask and continue to wear it throughout the performance.
****
By entering the Venue, you and the members of your group voluntarily assume the risks of contracting COVID-19 and agree to release, waive, discharge and covenant not to sue any Artist performing or Abbey employee or company (including their owners, officers, employees, volunteers, agents and the City of Seattle), and hold these entities and persons harmless from liability regarding any and all claims relating to COVID-19 and indirectly or directly arising out of or relating to the Venue or event.
****
Thanks for your ongoing cooperation and support and for helping us keep live music LIVE!
Individual events may have additional safety measures in place, see Ticketing pages for details.
No refunds if ticket buyer is unable to show proof of vaccine or negative test verification.
-----------------------
ABBEY ARTS, SEATTLE:
NONPROFIT 501C3, NON-RELIGIOUS, EST. 2005
Fremont Abbey | Ballard Homestead | South Park Hall | St Mark's Capitol Hill | The Auditorium @ UHeights |  & more
Independent nonprofit, non-religious, all ages/incomes. 
Low Fee Tickets! No hidden high fees like Ticktmstr. :-)
  (Note: Comedy shows may have different ticketing fees)
[ Click here to subscribe to our optional text messages. ]
[The views and opinions expressed at events are those of the artists and performers and do not necessarily reflect Abbey Arts. About Page | Respect Policy.]
Refunds may be available per event settings.
No refunds due to support act changes.
Tickets for rental events may be via their website.