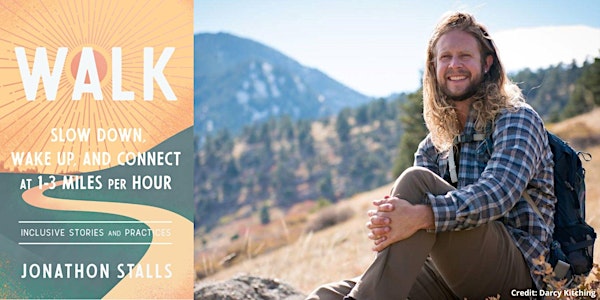 Jonathon Stalls -- "Walk"
Jonathon Stalls will speak about and sign his new book, "Walk," at Boulder Bookstore.
When and where
Location
Boulder Book Store 1107 Pearl Street Boulder, CO 80302
Refund Policy
Contact the organizer to request a refund.
About this event
Jonathon Stalls will speak about and sign his new book, WALK: Slow Down, Wake Up, and Connect at 1-3 Miles per Hour, on Thursday, October 20th at 6:30pm at Boulder Bookstore.
Jonathon will lead an easy-going walk prior to the event consisting of about a 20-30 minute loop, returning to the bookstore no later than 6:20pm. Interested attendees should meet outside the main Pearl Street entrance of Boulder Bookstore at 5:30pm. If you have any questions about the walk, please email Jonathon at jonathon@intrinsicpaths.com.
About the Book:
In 2010, Jonathon Stalls and his blue-heeler husky mix began their 242-day walk across the United States, depending upon each other and the kindness of strangers along the way. In this collection of essays, Stalls explores walking as waking up: how a cross-country journey through the family farms of West Virginia, the deep freedom of Nevada's High desert, and everywhere in between unlocked connections to his deepest aches and dreams--and opened new avenues for renewal, connection, and change.
While most of us won't walk or roll across the country, the deep wisdom and insights that Stalls receives from the people, land, and animals he meets on his pilgrimage have profound impacts for each of us. He shares how walking deepened his relationship to himself as a gay man, offering deep and clarifying emotional medicine. He confronts the systemic racism, classism, and ableism that shape and reshape the communities he walks through. And he invites readers to become awakened activists, to begin healing our culture's profound separation from the natural world.
WALK is for those who crave to feel and embody, not just know and study, their way through complex themes that live in each chapter: vulnerability, human dignity, presence, mystery, and resistance. With dedicated practices--like connecting to Earth stewardship, moving into vulnerability, and walking and rolling with intention--Stalls' WALK is an urgent and glorious call to slow down, look around, and engage with the world in front of us. It awakens us to what we miss when we're driving by, flying over, and rushing past what surrounds us. It's an invitation to move, to connect, to participate deeply in the world--and to dissolve the barriers that disconnect us from each other and the living Earth.
Photo credit: Boulder resident, Darcy Kitching
_________________
IMPORTANT TICKETING AND EVENT INFORMATION
*Tickets are $5 (plus a small processing fee).
*A coupon good for $5 off a copy of Walk, or a purchase on the day of the event is included with your ticket. You will receive this coupon at the event.
*COVID-19 measures: Admission to this event will be limited, and masks are encouraged for all attendees.
*After purchasing your tickets, send an email to bbsvirtualevents@gmail.com if you're a Readers Guild member and you'd like to reserve a seat at this event. Seats must be reserved before 5pm on event day.