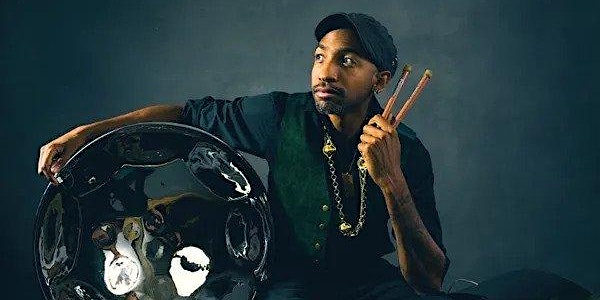 JONATHAN SCALES FOURCHESTRA
Club Fox welcomes innovative steel pannist Jonathan Scales!
When and where
Location
Club Fox 2209 Broadway Redwood City, CA 94063
About this event
• Latest album PILLAR reached #5 on the iTunes Jazz Chart
• Selected by the U.S. Department of State as a cultural ambassador, with tours in Asia and Africa
• Selected as a TEDx speaker
---------------------
"...joyously inventive..." -JazzTimes
"To say I am impressed would be a gross understatement! Wow, Jonathan!" -Béla Fleck
"At the end of the day Scales is going to be a major player in rewriting the books on steelpan music outside the box." -When Steel Talks
---------------------
Jonathan Scales is one of the most innovative steel pannists on the planet, and is redefining and challenging traditional expectations of his signature instrument. In his hands, the sonic palette of an instrument often associated with cruise ships and tropical resorts is radically expanded to mimic the role of horns, piano, vibraphone or marimba due to his stunning, virtuosic technique. Scales' mesmerizing compositions have captivated listeners and elevated him to the status of a true composer, forging new territory in the medium of instrumental music.
Although Scales' writing produces songs that are ultimately accessible and danceable, the compositions can be remarkably complex and difficult to perform. As a result, the power trio whimsically named Jonathan Scales Fourchestra has always had a fluid lineup top-notch musicians, and even included an "all-star" version with bassist MonoNeon (Prince, Ghost Note), drummer Robert "Sput" Searight (Snarky Puppy, Snoop Dogg) and percussionist Weedie Braimah (Trombone Shorty, Nth Power), as well as a number of other talented marquee value players. Throughout these changes, Scales has demonstrated remarkable perseverance and persistence, a topic that he presented in a TED Talk, while continuing to write and develop his craft and touring the North American and European club and festival circuit—as well as dates in Japan, Central America and The Caribbean.
Jonathan Scales' newest release, PILLAR - his sixth album, and fourth release on taste-maker label Ropeadope—is a testament to the grit and tenacity he possesses, while also serving as an introduction of his new, full-time rhythm battery consisting of bassist E'Lon JD and drummer Maison Guidry. These two formidable young lions hold their own in the company of an incredible cast of special guests, including bassists Victor Wooten, Oteil Burbridge and MonoNeon, trumpeter Christian Scott aTunde Adjuah, saxophonist Jeff Coffin, keyboardist Shaun Martin, percussionist Weedie Braimah and banjo pioneer Béla Fleck. It is the inclusion of Béla Fleck on this record that stands out most notably in context of Scales' own personal story, and in this regard, PILLAR represents a remarkable victory for the music lover inside of the 33-year-old Asheville, NC based artist.