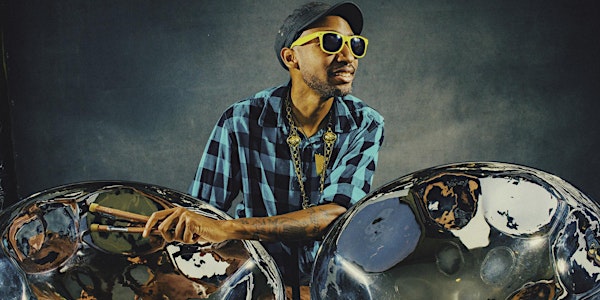 Jonathan Scales Fourchestra
Jonathan Scales Fourchestra
When and where
Location
Rudy's Jazz Room 809 Gleaves Street Nashville, TN 37203
About this event
Jonathan Scales is one of the most innovative steel pannists on the planet, and is redefining and challenging traditional expectations of his signature instrument. In his hands, the sonic palette of an instrument often associated with cruise ships and tropical resorts is radically expanded to mimic the role of horns, piano, vibraphone or marimba due to his stunning, virtuosic technique. Scales' mesmerizing compositions have captivated listeners and elevated him to the status of a true composer, forging new territory in the medium of instrumental music.
Although Scales' writing produces songs that are ultimately accessible and danceable, the compositions can be remarkably complex and difficult to perform. As a result, the power trio whimsically named Jonathan Scales Fourchestra has always had a fluid lineup top-notch musicians.
As a young man at Appalachian State University in Boone, NC, Jonathan was inspired by the compositions of Béla Fleck. Hearing Béla Fleck's transformative approach to the banjo had a significant, even reassuring impact on Jonathan, who was already independently seeking to rethink how steel pans could be played and employed in compositions. In fact, Driftwood Magazine made a similar observation, when it wrote that "Scales is to steel pans what Béla Fleck is to the banjo—an uber innovator." Jonathan was writing his own tasteful, outside-the-box, avant-garde compositions, and independently released his first three albums while performing regionally in the Southeastern U.S.. His band was establishing a reputation as something of an outlier, and attracted the attention of Ropeadope Records, who released Jonathan Scales Fourchestra's eponymous debut—fully orchestrated with horns and strings—in 2013. The record reached #6 on the iTunes Jazz charts.
Jonathan's persistence was rewarded when Flecktones members Victor Wooten, Howard Levy, Jeff Coffin and Roy "Futureman" Wooten—the inspiration for the album Mixtape Symphony (Ropeadope)— began to make appearances on recordings and at live shows. Béla Fleck himself was also beginning to take notice: in considering Scales' 2016 cover of his composition "The Imposter", he remarked "To say I am impressed would be a gross understatement…". In June 2016 Scales was invited to perform with Béla Fleck & The Flecktones at a large outdoor concert in Richmond, VA. Over the course of these three formative years, Jonathan developed a close bond with Victor Wooten, and has appeared many times as a guest artist at his annual Bass Camp, and in May 2018 he was a featured performer on a Victor Wooten date in North Carolina, sharing the stage with legendary drummer Dennis Chambers in a trio format, as well as performing duets with Wooten.
Bringing the relationship full circle, Béla Fleck's performance on the song "Focus Poem" serves as something of an affirmation of the young composer's talent and persistence. PILLAR is a record stacked with world-renowned virtuosos performing at the top of their games, which have inspired and encouraged Jonathan Scales to push forward and ultimately come into his own as an artist. Jonathan himself, deeply honored and humbled by his musical heroes' appreciation and support of his art, describes the album as a culmination of ten years of dedication and hard work, and "…a soundtrack to loss, focus, perseverance and triumph. Like pillars, we stand strong on unsteady ground, weathering life's storms. Like pillars, we must sometimes be reconstructed and revitalized to withstand the crushing weight of our own worlds."
This show is 18 and over with a $10 food and beverage minimum for anyone under 21 years of age.

This show is 18 and over with a $10 food and beverage minimum for anyone under 21 years of age. All sales are final and we unfortunately cannot offer any refunds. Additional tickets may be available at the door on the day of the show even if it is sold out online.
Please try to arrive 15 minutes prior to the show start time. If you do not arrive within 45 minutes after the show start time on your ticket your seat may be resold to other patrons at the door. If you arrive after 45 minutes from the start time of the show and your ticket has been resold, although we cannot guarantee it, we will try our best to make space for you to attend the show.