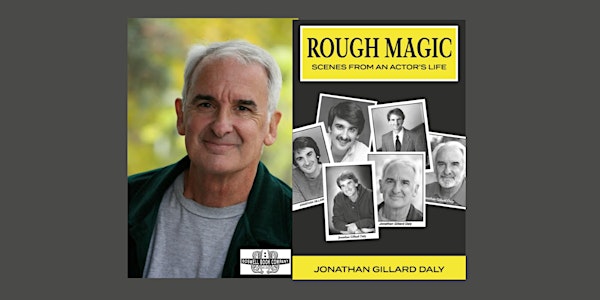 Jonathan Gillard Daly, author of ROUGH MAGIC - an in-person Boswell event
Jonathan Gillard Daly, author of ROUGH MAGIC - an in-person Boswell event
When and where
Location
Boswell Book Company 2559 North Downer Avenue Milwaukee, WI 53211
About this event
Boswell presents an evening with Jonathan Gillard Daly, author of Rough Magic: Scenes from an Actor's Life.
Rough Magic takes readers on a journey through the life of a creative, introverted young boy who, much to his own surprise, grows up to become a professional stage actor. And Jonathan Gillard Daly set out on a journey of self-discovery as he drew from the personal journals that he kept throughout his life, and wrote an account of how he discovered his inner talent and passion for acting.
Rough Magic abounds with anecdotes of a life in the theatre, the kind of backstage drama, onstage disasters, and sublime moments of true artistry that theatre fans love to hear about. But this memoir also steps away from the footlights, changes into street clothes and exits the stage door into the world of a satisfying, demanding, uncertain and meaningful life. It's a look at the offstage life of an actor, told with openness and candor.
Jonathan Gillard Daly has acted in hundreds of productions and has taught professional acting as well. He has written five plays, three of which have enjoyed professional productions, and was a resident actor at Milwaukee Repertory Theatre for twenty seasons.
Click here to purchase your copy of Rough Magic. Signed copies and personalization available on pre-orders. Please note that signed copies will not be shipped until after the event.