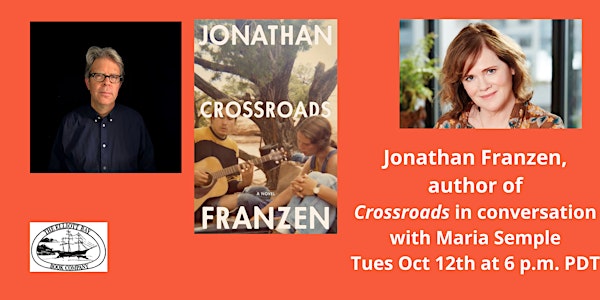 Jonathan Franzen, "Crossroads" with Maria Semple
Jonathan Franzen, author of "Crossroads" appears in conversation with Maria Semple
About this event
Co-presented by The Elliott Bay Book Company, Auntie's Books, Third Place Books, Village Books, Roundabout Bookshop and hosted by Powell's Books.
This is a virtual event, taking place on Zoom Webinar. Zoom links will be sent out 48 hours before the event. Ticket sales end (and the last Zoom links sent out) at 5 p.m. on October 12th.
Each ticket includes event access and a copy of Crossroads, shipped to an address within the Continental U.S. via USPS Media Mail. Books will be shipped after the Event.
WE ARE NOT ABLE TO OFFER INTERNATIONAL SHIPPING FOR THIS EVENT
Along with a cohort of bookstores from this corner of the U.S. we are delighted to be helping present this virtual program with Jonathan Franzen, in conversation with the estimable Maria Semple, on the occasion of Jonathan Franzen's epic new novel, Crossroads (Farrar, Straus & Giroux). Making this book even more epic is that it's projected to be the first volume in a trilogy. "[Franzen] imbues his books with big ideas, in this case about responsibility to family, self, God, country, and one's fellow man, among other matters, all the while digging deep into his characters' emotions, experiences, desires, and doubts in a way that will please readers seeking to connect to books heart-first . . . Franzen's intensely absorbing novel is amusing, excruciating, and at times unexpectedly uplifting—in a word, exquisite."—Kirkus Reviews. "Franzen returns with a sweeping and masterly examination of the shifting culture of early 1970s America, the first in a trilogy . . . Throughout, Franzen exhibits his remarkable ability to build suspense through fraught interpersonal dynamics. It's irresistible." —Publishers Weekly.A writer whose honors and awards include the National Book Award, Jonathan Franzen's five previous novels include The Corrections, Freedom, and Purity. He has also written five non-fiction works, most recently Farther Away and The End of the End of the Earth.
Seattle novelist and Elliott Bay friend Maria Semple's most recent novels are Where'd You Go, Bernadette, and Today Will Be Different.
Jonathan Franzen is the author of five novels, including The Corrections, Freedom, and Purity, and five works of nonfiction, most recently Farther Away and The End of the End of the Earth, all published by Farrar, Straus and Giroux. He lives in Santa Cruz, California.
Maria Semple is the author of Where'd You Go Bernadette, This One is Mine and Today Will be Different. Before turning to fiction, she wrote for TV. Her credits include Arrested Development, Mad About You, and Ellen. She lives in Seattle.