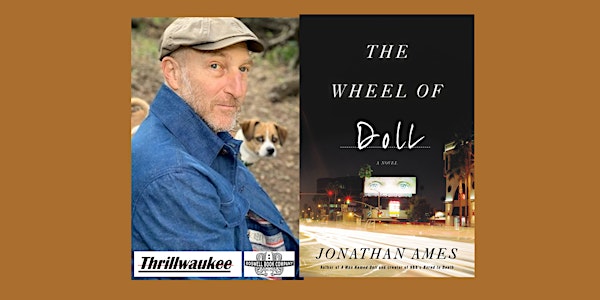 Jonathan Ames, author of THE WHEEL OF DOLL - an in-person Boswell event
Jonathan Ames, author of THE WHEEL OF DOLL - an in-person Boswell event
When and where
Location
Boswell Book Company 2559 North Downer Avenue Milwaukee, WI 53211
About this event
Boswell Book Company hosts an afternoon with Jonathan Ames, author of The Wheel of Doll.
Although badly scarred and down to his last kidney after the previous caper, Happy Doll is back in business. When a beguiling young woman turns up at his door, it's Doll's past that comes knocking. Mary DeAngelo is searching for her estranged mother, Ines Candle - a singular and troubled woman Doll once loved. The last he'd seen her she'd been near-death: arms slit like envelopes. Although she survived the episode, she vanished shortly thereafter. Now, years later, Mary claims Ines is alive and has recently made contact, only to disappear once again. Although his psychoanalyst would discourage it, Doll takes the case, desperate to see Ines again. But as the investigation deepens, there are questions he can't shake. What's led the flighty Ines to reappear? Is Mary only relaying half the truth? And who is Mary's strange and mysterious husband?
Jonathan Ames is the author of I Pass Like Night, The Extra Man, and most recently, You Were Never Really Here (adapted into the acclaimed film starring Joaquin Phoenix). He's the creator of two television series, Blunt Talk and Bored to Death, and has had two amateur boxing matches, fighting as "The Herring Wonder."
Click here to order your copy of The Wheel of Doll. Signed copies and personalization available on pre-orders. Please note that signed copies will not be shipped until after the event.
*