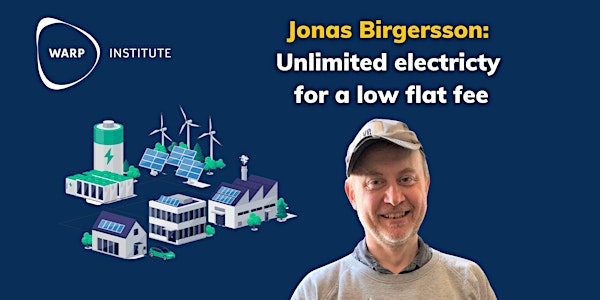 Jonas Birgersson on all the electricity you need for a low flat fee
Jonas Birgersson presents his idea for unlimited access to electricity for a low flat fee and presents a collaboration with Warp Institute.
When and where
Location
Grand Hotel i Lund Bantorget 1 221 04 Lund Sweden
About this event
"Just as you started paying 200 SEK a month for internet, I think we will come to the same thing for electricity. For a low, fixed price, you have all the electricity you'll need," says Jonas Birgersson.
At this event, he presents his idea leading to what he calls the Energy Society.
Mathias Sundin, chairman of Warp Institute, will present the open process to go from idea to reality and make a future with abundant cheap energy come sooner.
This is an event for people interested in this idea, and you are especially welcome if you are considering getting involved and helping us achieve this positive energy future.
If you want to stay up to date with the project, sign up for our free newsletter.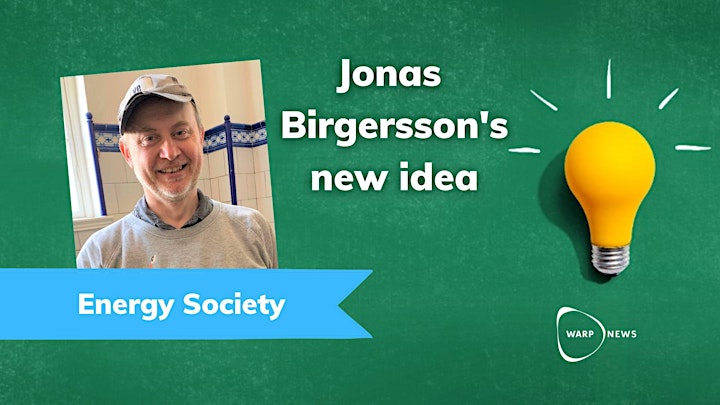 Excerpt from the interview with Jonas Birgersson in Warp News:
Children will say to their parents in the future: "Did you used to save electricity?"
"If we do it right, we will be able to have a surplus of electricity, and will use it for things that are actually good things, but we don't do that today because it is too expensive and a bit of a shortage. For example, electrically heated roads and pavements. Then we avoid slipperiness and lots of broken bones. You can also make it a little nicer and add lighting to the streets."
Jonas Birgersson believes that it can be done, and that all the technology to do it already exists. Above all, he is convinced that it should be done. That it would be good for society if we got an abundance of electricity at a low, fixed price. Unlimited access to the internet gave us a massive flow of creativity and innovation.
"We who built the nets wanted them to be used as much as possible. We had no idea what people would come up with. That's the advantage of infrastructure, you don't have to figure out what people are going to do with it."