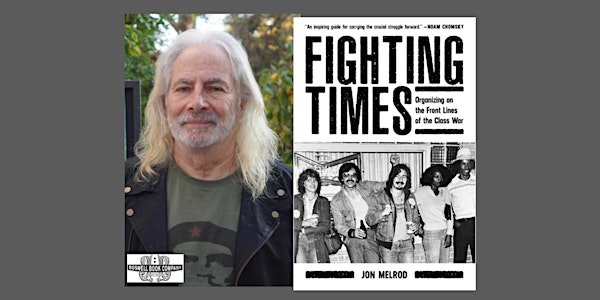 Jon Melrod, author of FIGHTING TIMES - an in-person Boswell event
Jon Melrod, author of FIGHTING TIMES - an in-person Boswell event
Date and time
Starts on Wednesday, April 19 · 6:30pm CDT
Location
Boswell Book Company 2559 North Downer Avenue Milwaukee, WI 53211
About this event
Boswell is pleased to host an event with Jon Melrod, activist and author of Fighting Times: Organizing on the Front Lines of the Class War.
Deeply personal, astutely political, Fighting Times recounts the thirteen-year journey of Jonathan Melrod to harness working-class militancy and jump start a revolution on the shop floor of American Motors. Melrod faces termination, dodges the FBI, outwits collaborators in the UAW, and becomes the central figure in a lawsuit against the labor newsletter Fighting Times, as he strives to build a class-conscious workers' movement from the bottom up.
Containing dozens of archival photographs, Fighting Times captures the journey of a militant antiracist revolutionary who rose to the highest elected ranks of his UAW local without compromising his politics or his dedication to building a class-conscious workers' movement. The book will arm and inspire a new generation of labor organizers with the skills and attitude to challenge the odds and fight the egregious abuses of the exploitative capitalist system.
From Noam Chomsky: "An eloquent voice from the frontlines of the hard, bitter, exhilarating struggles for freedom and justice that have made the world a better place. And an inspiring guide for carrying the crucial struggle forward."
Jonathan Melrod is a radical, political activist, labor organizer, human rights lawyer, and pancreatic cancer survivor. Fighting Times is his first book.
Click here to order your copy of Fighting Times. Signed copies and personalization available on pre-orders. Please note that signed copies will not be shipped until after the event.