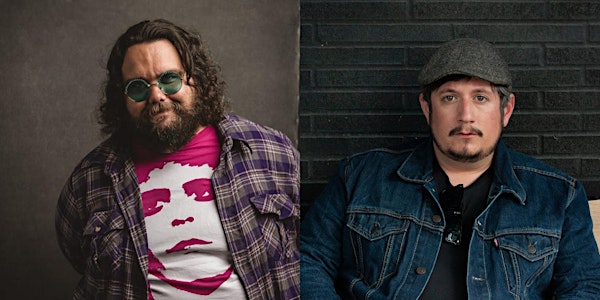 Location
Eddie's Attic
515 B North Mcdonough Street
Decatur, GA 30030
Jon Latham & Jason Erie at Eddie's Attic in Decatur, GA!
About this event
Jon Latham
"What the hell Who is this guy??!! I find myself saying that a lot these days, but Jon Latham is! on the top of my list. Truth, beauty, time, love. The real deal. Close your eyes, open your heart,! feel the southern breezes."!
- Kevn Kinney! Drivin n Cryin!
From the earliest of ages , Jon Latham has been obsessed with music. While living in the small! town of Greenwood, South Carolina, his first stage was the fireplace hearth at his grandma's! house. Introduced from the kitchen, he'd take the "stage", singing along to his favorite records! while strumming along on his toy guitar. The years have passed, the child has grown, but the! drive and love of performing is still rooted in the same innocence.
Jon grew up for most of his life in Kennesaw, Georgia, a small suburb on the northern sprawl of! Atlanta. He picked up drums at the age of 6, and through his early teens, he became involved! with music in the local church. A side-effect of his time in the Pentecostal sanctuaries was a! honing of skills on other instruments. If the bass player fell ill, Jon would relinquish the drum! duties to another player so that he could cover the bass parts. By the age of 16, he had taught! himself guitar, and just after high school, he formed a duo with his brother performing in bars,! coffee shops, and restaurants in the Atlanta area.
As the years went on, Jon's pursuits in music were well-tempered with his work ethic, ever the! skeptic that it would lead any further than the local open mics. That all changed when he met a! fellow Kennesaw singer-songwriter named Peyton Parker. Both Jon and Peyton found chemistry! in their harmonies, and Jon became her sideman, filling out guitar parts. Peyton and Jon! eventually found that same spark of inspiration when it came to writing, and together, they! began crafting original tunes as a team. In 2013, Peyton took the big leap to Nashville,! Tennessee, and once settled there, her family generously offered a spare room for Jon if he! could move.
Jon moved to Nashville on Memorial Day 2013. Upon arriving he fell ill, only to find himself in a! three-day coma in the ICU, fighting blood clots in his lungs. Brushing so close to his mortality in! a foreign city had an effect on Jon after his recovery. He channeled this groundswell of emotions! into his first batch of solo songs, which he began playing at Nashville open mics and writers! rounds. His honest delivery and wholehearted appreciation for the audience won him respect! and admiration within the local music community, particularly in East Nashville. With the help of! local engineer and co-producer Josh Morris, he released his first record, Real Bad News in the! fall of 2015. Playing most of the instrumentation himself, Jon's debut album was met with! glowing reviews and even landed in the Bitter Southerner's Top 25 Southern Albums of 2015 and top 10 new artists to know in Rolling Stone, for 2017.
As time progressed he found himself sharing the stage with friends and colleagues such as! Aaron Lee Tasjan, Glossary, Todd Snider, Elizabeth Cook on the Grand Ole Opry, Brian Wright, Great Peacock, John Doe, Dan Baird and Kevn Kinney/Drivin' n Cryin'.!
Jon released his latest album, Lifers, on Cafe Rooster Records. !
"Jon Latham writes the kind of song that makes me want to write songs better. He is fiercely! honest and a true rock n roll poet. His new album, Lifers, speaks volumes. The songs and the! musicianship areas golden as the heart in the man's chest."- Aaron LeeTasjan
Jason Erie
"Hyper-sensory storytelling with raw, hard-hitting images and a white-knuckle worldview that seems best cultivated in the Garden State, Jason's stories and his songs are ultimately and triumphantly his own. He is not afraid to expose the tragic grit or the chrome-facaded fragility of his own life or of life in general. Beneath the richness of his storytelling, it is his unabashed dedication to truth, in its many forms, that makes Jason special."
Folk/Americana artist Jason Erie's own history and his courage to put his past struggles to music creates a profoundly authentic experience for his listeners. Born and raised in Bergen Country, New Jersey, Erie essentially grew up in the shadow of New York City—in an area characterized by its working class hardiness. Further, though he has always been driven by his love of family, he grew up in a broken home with a mother who suffered from alcoholism. When at last she found sobriety, she decided to open a halfway house out of their two-bedroom apartment. This experience exposed Jason to an intimate look at the full spectrum of human suffering and triumph, and it also instilled in him a deep appreciation for life and the heartache that inevitably comes with it.