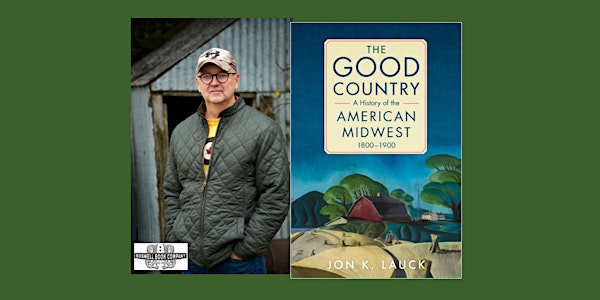 Jon K Lauck, author of THE GOOD COUNTRY - an in-person Boswell event
Jon K Lauck, author of THE GOOD COUNTRY - an in-person Boswell event
When and where
Location
Boswell Book Company 2559 North Downer Avenue Milwaukee, WI 53211
About this event
Boswell hosts former Midwestern History Association president Jon K Lauck for an evening in which we'll celebrate our region with his new book, The Good Country, a first-ever chronicle of the Midwest's formative century which restores the American heartland to its central place in the nation's history.
At the center of American history is a hole - a gap where some scholars' indifference or disdain has too long stood in for the true story of the American Midwest. Lauck, the premier Midwest historian, puts Midwestern 'squares' center stage - an unorthodox approach that leads to surprising conclusions. The American Midwest, in Lauck's cogent account, was the most democratically advanced place in the world during the nineteenth century, and The Good Country describes a rich civic culture that prized education, literature, libraries, and the arts, and generally put democratic ideals into practice to a greater extent than any nation to date.
In a trying time of contested politics and culture, Lauck locates a middle ground, fittingly, in the center of the country. The Washington Post calls the book "well-researched and provocative," and author Gregory L. Schneider says: "I know of no historian who has done such a superb job chronicling and framing the history of the American Midwest than Jon Lauck."
Jon K. Lauck has authored and edited several books, including The Lost Region: Toward a Revival of Midwestern History, Finding a New Midwestern History, and three volumes of The Plains Political Tradition. He teaches history and political science at the University of South Dakota and is Editor-in-Chief of Middle West Review.
Click here to order your copy of The Good Country. Signed copies and personalization available on pre-orders. Please note that signed copies will not be shipped until after the event.