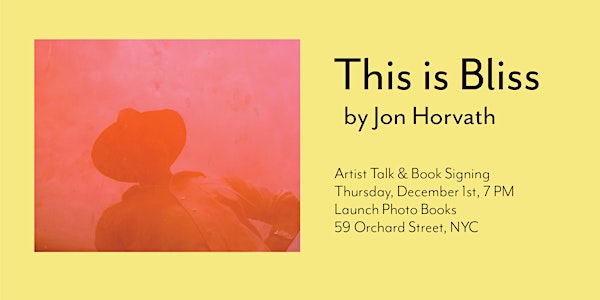 Jon Horvath Book Signing
Jon Horvath will speak about his new book, "This Is Bliss," which details his time in Bliss, Idaho.
When and where
Location
Launch Photo Books 59 Orchard Street New York, NY 10002
About this event
Jon Horvath will speak about his new book, "This Is Bliss," co-published by Yoffy Press and FW : Books. "This Is Bliss" is a multidirectional response to the artist's experience in Bliss, Idaho, encountered by chance during a moment of starting over in his life. Horvath will share anecdotes of his time in Bliss, discussing historical and contemporary mythologies of Idealism and the American West, and the resulting work that was shaped directly by the residents of a transitioning town with a population of 300.
Conversation to be followed by book signing. Copies available for purchase at the event.
A Welcome Message from the Prince of Bliss
"The quiet kingdom of Bliss sleeps on a hill above the Snake River. It is dilapidated barns in fallow corn fields and white potato cellars stuffed with the future french fries of America. Cowboys ride their horses through the country as they guide their grazing cattle. The locals satiate their thirst at Jenny or Frank's bars and fill their bellies at Ziggy's Gas and Grill. Life in Bliss is simple, but not simplistic. Our hamlet is content, yet proud of our humble community and gracious natives, so we eagerly show it off to all who come and visit."