JON DWYER YOUTH FOOTBALL CAMP
Location
4770 Lee Waters Rd
Marietta
Description
ONLINE REGISTRATION IS NOW CLOSED.
THERE ARE A FEW CAMPER SPOTS AVAILABLE AND WE WILL ACCEPT CAMPERS ON A FIRST COME, FIRST SERVE BASIS AT KELL ON FRIDAY (5/31) STARTING AT 8:00 AM.
PAYMENT CAN BE MADE BY CASH, CHECK OR MONEY ORDER.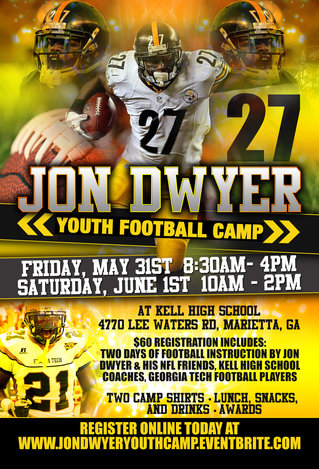 Pittsburgh Steelers' running back, Jon Dwyer will host a football camp at his alma mater for youth, ages 5-16, at Kell High School in Marietta, GA.
FRIDAY, MAY 31ST 8:30 AM - 4:00 PM
SATURDAY, JUNE 1ST 10:00 AM - 2:00 PM
Jon, along with several of of his NFL colleagues, high school coaches and Georgia Tech football players will provide campers with a solid foundation of the game, including college level fundamentals and position specific instruction.
Jon will also speak about education and rejecting negative influences in a mentoring session aimed at providing positive reinforcement. Campers will receive two camp t-shirts, lunch, snacks, beverages and awards.
Parents or guardians must sign a release form for each camper.
Campers should register above to reserve their camper slot.
All sales are final.
If camper slots are still available on the 31st, campers can register the morning of at Kell and cash or checks will be accepted.