Description


Join us for the JOLLOF WARS DC this July 6th 2019 at DC most iconic venue: The Loft at I/O SPACES, a four floor penthouse space. Where African Chefs will go knife to knife in an effort to win the 2019 title of who makes the best Jollof and go home with a $1000 cash and service prize.
This event is brought to you by I/O SPACES | THINKAFRICA | JOONAFRICA


During the Jollof WARS, you will get to savor different flavors of jollof from West Africa, East Africa, and South Africa. We will have the top African restaurants in building serving up all your favorite African dishes including Jollof. Also, Enjoy Digital Experiences, Virtual Reality games, Live Painting, Cultural Dance and music by the Internationally Acclaim Afrobeats DJ, DJ Claude Di Martian.


Additionally, we will be giving a portion of our profits to support The Distant Relatives Project is a 501(c)(3) non-profit organization based whose
mission is based on the commitment to underserved communities in Africa and within the diaspora
.
---
Ticket Experiences
Register for A VIP Table: Come & Enjoy a VIP Experience with Friends/Family, Skip the line, Premuim Cocktails, Champagne, Unlimited Jollof and a Sponsor Gift Bag.

Register for General Admission: Access to unique Food/Fashion Vendors, Purchase Tasting Tickets as needed and a Fun Party with Live Entertainment, and so much more!


THE JOLLOF WARS DC
JUDGING CRITERIA
Points will be based on Presentation, Originality and Taste.

The chefs or the Ambassador will get the Chance to Plate their food & Pitch to the Judges. Presentation Will Account for the Remainder of the Points.
SCHEDULE
12pm - 5pm: Jollof Wars Vendor Experience (Food, Art, Music, Dance)

5pm - 6pm: How to Cook Jollof Demo (from the former Jollof Competition Winner)

6pm - 8pm: Jollof Wars Competition

8pm - 2am: After Party (Penthouse)




PRIZE
Winner will take home $1000 cash and service prize, 3 months of membership at I/O SPACES, a championship cup & a year of bragging rights.





THE FINALISTS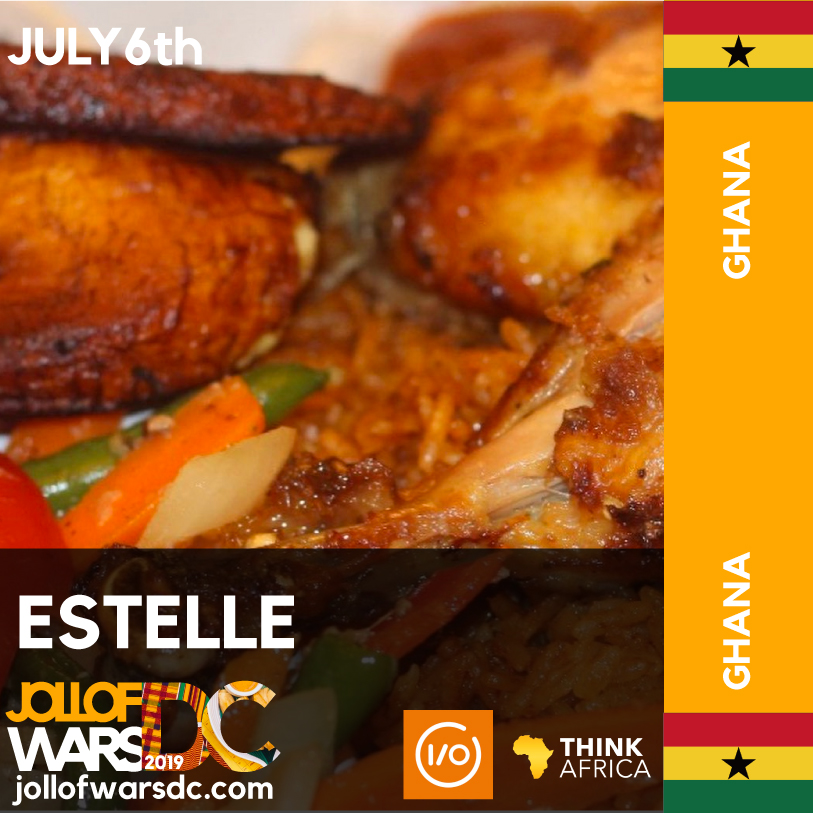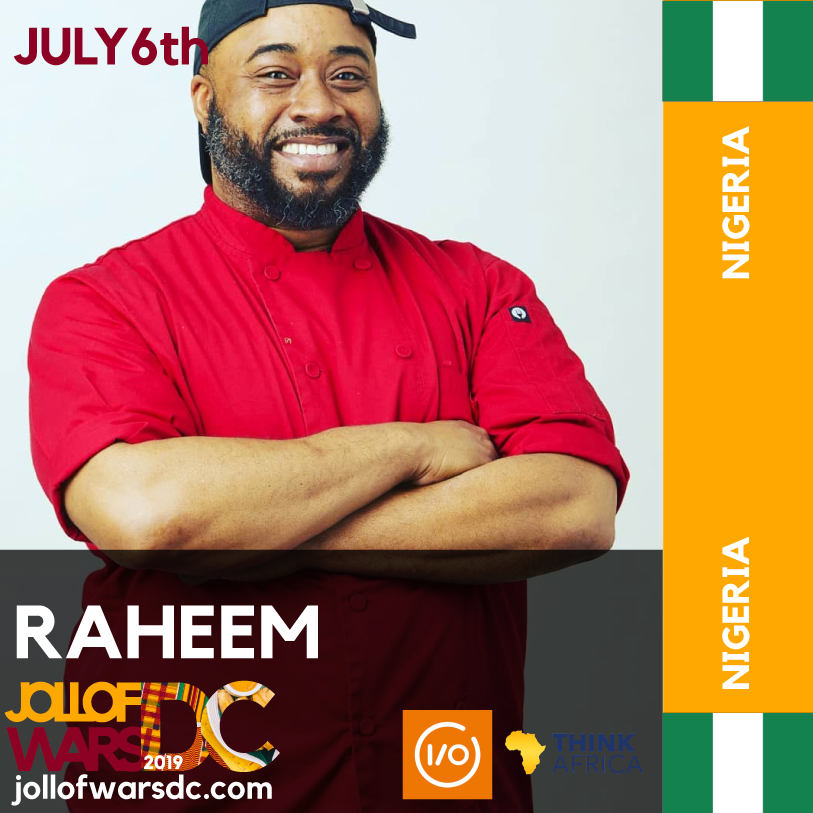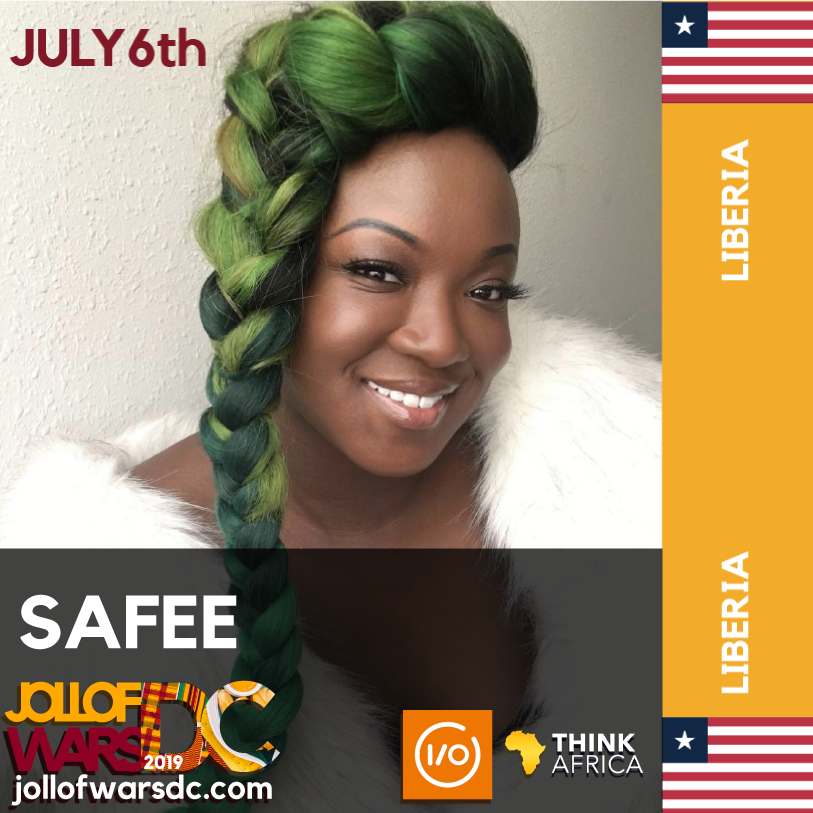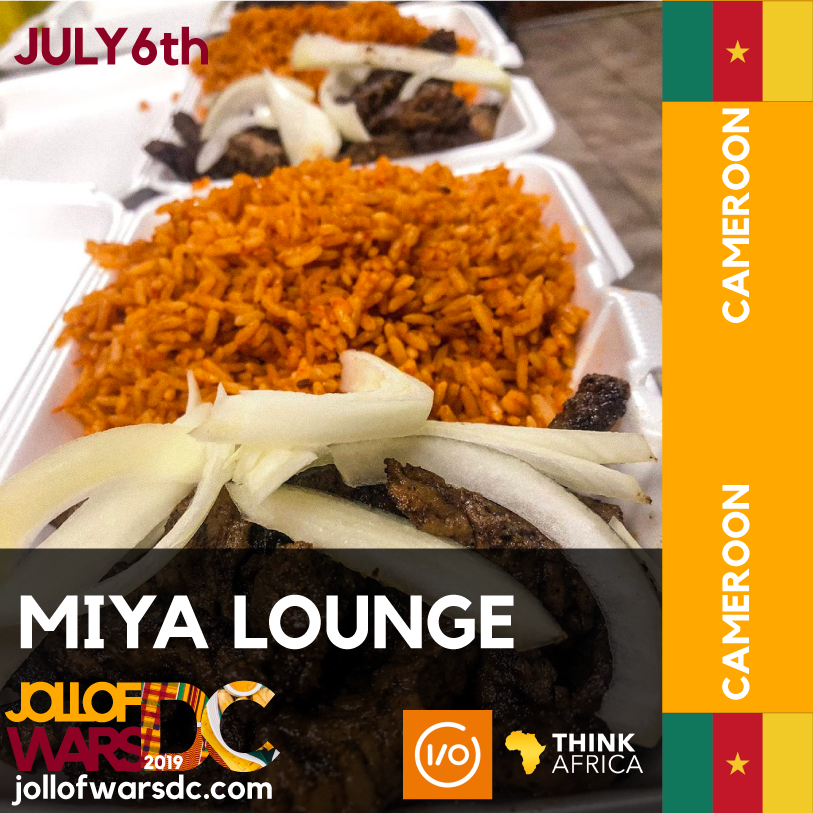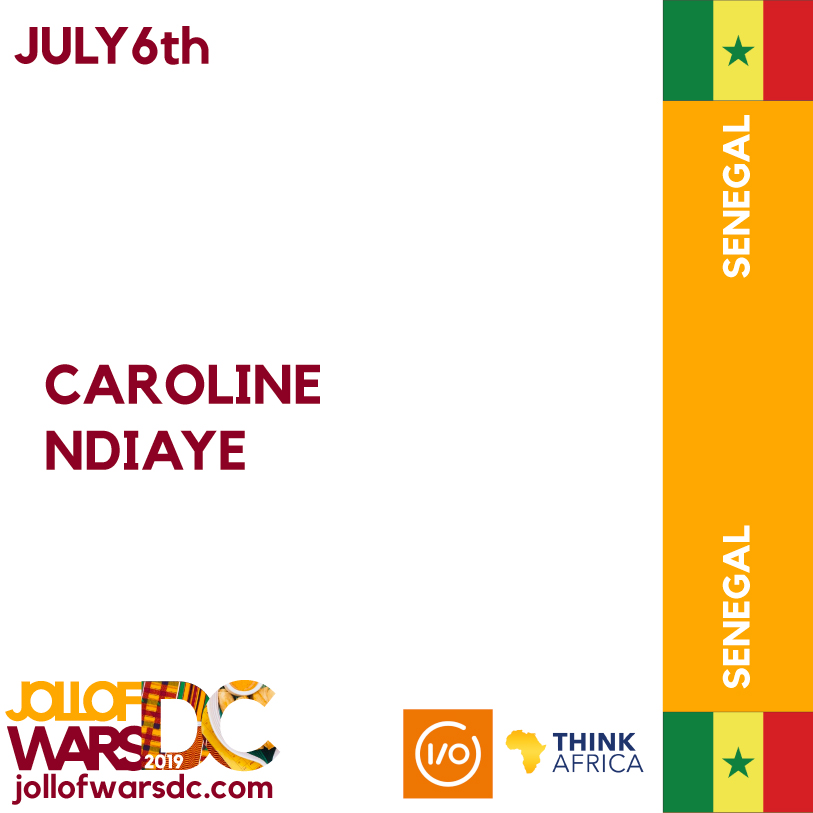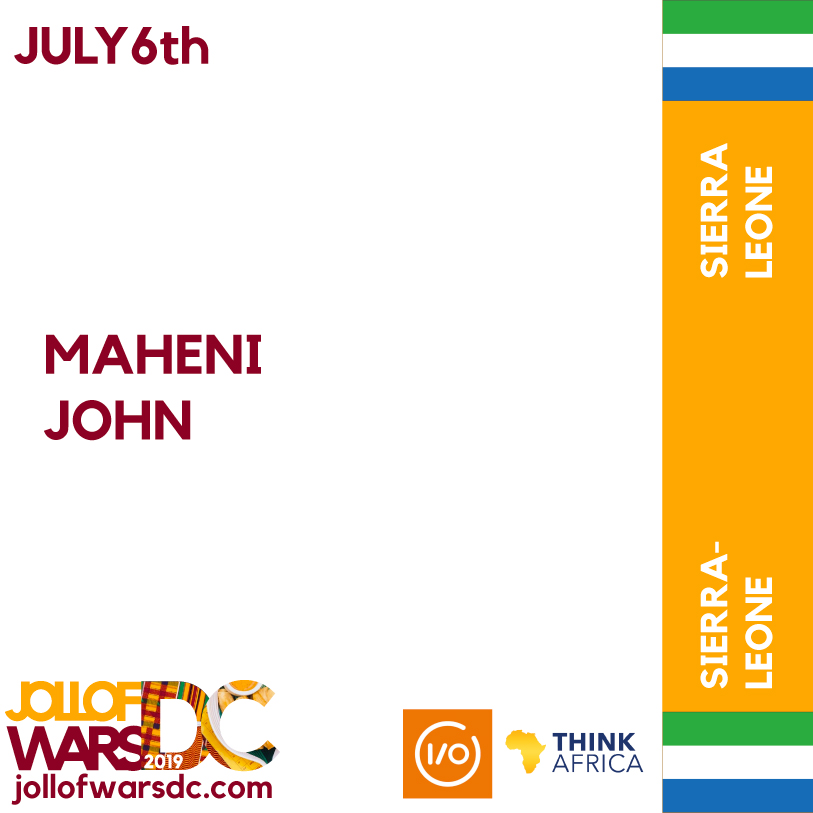 FAQs
Are you affliated with other Jollof Events happening in the city?
No! we are the organizers of the Jollof Hackathon & Jollof Wars DC which will be hosted at THE LOFT AT I/O SPACES.
Has this event happened before?
Yes, in 2017 I/O SPACES was a partner in planning the Jollof Hackahon events in DC and NY. In 2018, I/O SPACES succesfully closed over $10,000 in cash sponsorships and partnerships commitements, which included identifying the final venue for the 2018 DC event > Press: https://blavity.com/jollof-wars-nigeria-washington
What will be different about the 2019 Jollof Wars?
We will deliver a unique experience that only I/O SPACES can curate utilizing our in-house creatives talent including Dancers, Artist, DJs, and much more.
WE ARE PUTTING AN END TO THAT NONSENSE! Jollof is best served straight out the pot, so we will have a Live Demo Showing HOW TO COOK JOLLOF and provide a sample for those who participate.



I'm interested in being a sponsor. How can I get more information?
For more information about becoming a sponsor please email Emmanuel@iospaces.com
Where can I join your community/movement?
- Join us here: INSTAGRAM / FACEBOOK


What are my parking options for the event?
Attendees can use the free parking that is available in the Street or Public Parking Lot behind the building. Additional free street parking is available on behind the 7/11 on Silver Spring Avenue.
How does this event benefit Distant Relatives?
We plan to raise atleast $500 from the event proceeds which will be donated Distant Relative non profit.


Are there ID or minimum age requirements to enter the event?
- No, this event is family friendly. Minors must be accompanied. ID required to purchase alcohol.
How much is the event for kids?
- It's free entry for all kids under 8yrs old.
What can I or can't I bring
- Bring your phone so u can share the good times with those far away, friends, family and have a good time.
- Don't bring containers, bottles, drinks, food, pets. We will have to-go containers. U can buy food while here.

How can I contact the organizer with any questions?
- Emmanuel@iospaces.com


I'm a journalist/blogger and would like to write about your event. Who should I contact?
For all media inquiries, please email Leslie@iospaces.com
Can I buy food at the Jollof Wars?
- Yes you can
Can I buy food at the Jollof Wars in addition to my tasting tickets?
- Yes you can
How large are the tastings?
- Tastings will only be for Jollof dishes from the different countries, they won't be full meals.
Can I purchase food with a card?
- Yes, card is highly encouraged, since vendors may not carry enough change.
What's the refund policy?
- All tickets sold are final, but you are free to resell your tickets to a friend or transfer it to someone else.
Do I have to bring my printed ticket to the event?
- No, you do not need to, kindly bring an emailed ticket on your phone and you are good to go.
Is my registration fee or ticket transferrable?
- Yes, you can transfer your ticket to someone else.
Is it ok if the name on my ticket or registration doesn't match the person who attends?
- Yes, no worries.