Description
Live Music by Headliners: Berkley College of Music Student & Background vocalist for the New Kids on the Block Reunion Tour Ericka Janae & Keeyen Martin background singer for Michelle Williams of Destiny/s Child, Rueben Studdard, Peabo Bryson, Rudy Currence, Donnie McClurkin and more. Special Guest Feel Good Musik Artist Tarvoria!

Starring Comedians: O.D. Odell - Carolina King of Comedy, Shaq All Star Comedian & Bounce TV & Navv Greene as seen on Bounce TV & Comic View!

Hosted by Award Winning Poet & Comedian Queen Sheba - Soundtrack by Dj Knodat! C'mon! You can't get a better date night for $15 bucks!

The two things you like to do most when you go out: enjoy some live music & laugh! Sooo...we put them together on one stage for you! Jokes & Notes Live Music and Comedy Concert Series: Headling Celebrity Comedians as seen on Bounce TV & Comedy Central! and SMASHED IT! Think that was it!? Noooo! You also get a whole

Doors - Dinner - Drinks 9P
Showtime! 9:30 SHARP!! FIRST COMEDIAN!
21+
$15 online | $20 at the door

*Cash only, day of entry, at the door. There is an ATM inside the door for your convenience. The bar/restaurant takes VISA/MC/American Express/DISCOVER/Cash.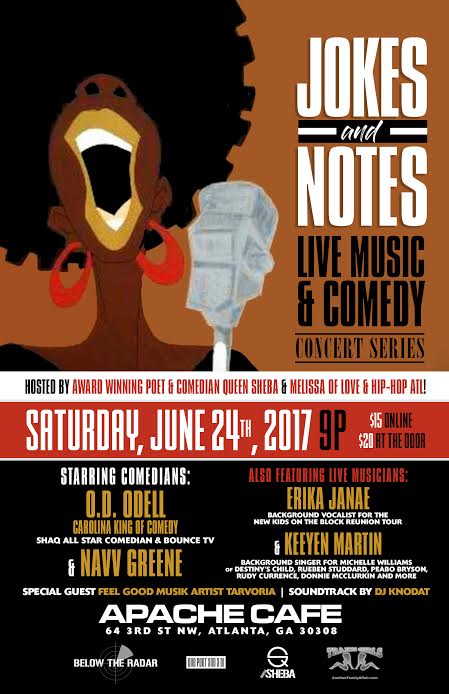 Bring your date or your group of friends, buy a bottle of wine and share a plate of our famous jerk wings while you are cracking up and singing along! We chose the best comedians in the city and two singer/song writers with AMAZING voices and a range of music! Wait. What? Did you hear that? You are getting a FULL BAND and a comedy show PLUS a Dj to make you chair dance between performances - all glued together by one of the wittiest hosts in the city! Make plans now, reserve a table or a section and surprise your loved one with a night out or group text all your friends and tell them to meet you there!
Parking - 4 options:
1) on-street in a marked pay meter space. Most on-street is free after 10p Read signs!
2) Big lot between Apache Cafe and the Varisty. Self-pay at the pay kiosk on Spring St or get booted (n
ot us!)
3) GA Tech Hotel and Conference center one block north of us at 4th & Spring, usually $1.50/hr Read hours of operation!
4) Uber!
----------------------------------------------------------------
REGARDING TABLE RESERVATIONS!!!:

(1) Table reservations are generally held until one (1) hour after doors open but make sure to refer to the event's specific ticket rules on Ticketweb; if you have not redeemed your table reservation by the specified time, you will lose your reservation and your table will be made available to others without refund.
(2) Table tickets are not required to attend, but they are recommended for guaranteed table seating. Try arriving early to be seated at an open an free table.
(3) All reserved and walk-up tables have a $10 minimum per person
(4) A table ticket entitles you to the entire table with the described number of chairs. Do not purchase a table ticket for each person sitting with you at this table.
(5) General admission ticket is required per person to enter venue. Purchasing a table reservation does not include the price of admission. Admission may be purchased by selecting General Admission tickets or at the venue upon arrival.
(6) Table reservation fees do not go towards food or beverage, admission or gratuity.
(7) There are no refunds on table reservations (except event cancellations) additionally, seating/table arrangements or changes to them are non negotiable and provide no cause for refund.
(8) When you enter the venue, please see the Hostess to be seated and be prepared to show your reservation purchase credit card and picture ID before you are seated.

Should you have any further questions or concerns please feel free to call the Apache Cafe @ 404.876.5436 or visit www.apachecafe.info