Description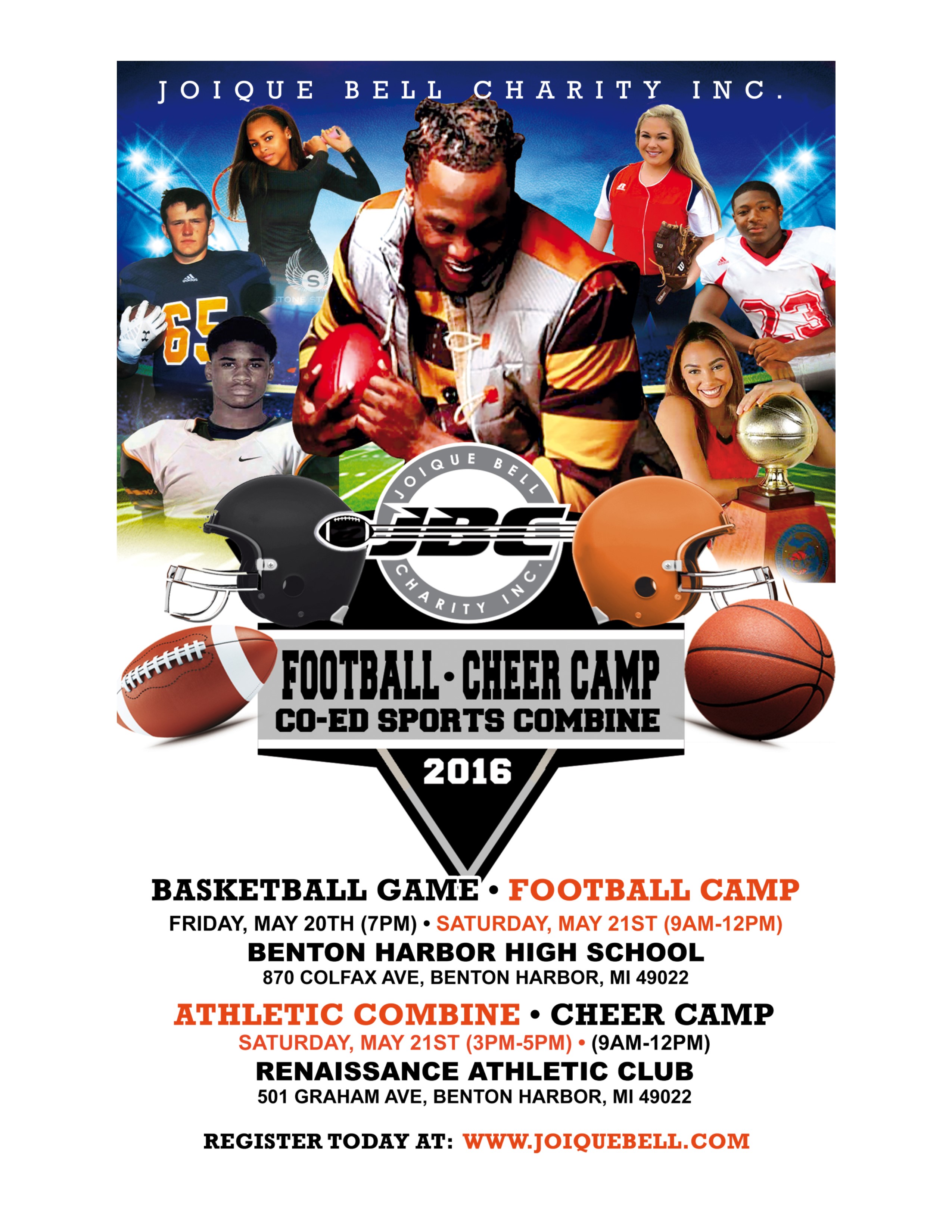 Joique Bell's annual Football and Cheer/Dance Camp is back!! This years fun will take place again at Benton Harbor High School (Football Camp) & The Renaissance Athletic Club *(Cheer/Dance Camp ~Inside RAC if Raining). As always it will feature Joique as well as some of his amazing NFL peers.
*EACH PARTICIPATING CAMPER WILL RECEIVE THE FOLLOWING*
¨ FOOTBALL CAMPERS WILL MEET & INTERACT WITH NFL PLAYERS
¨ CHEER CAMPERS WILL CHOREGRAPH W/ SOME PISTONS DANCERS & MORE
¨ COMPLIMENTARY COMMUNITY WAFFLE BREAKFAST (Sponsored by the Sr. PGA)
¨ 100% OF CHEER CAMPS WILL BENEFIT THE DENISE BOHN MEMORIAL
¨ 2 COMPLIMENTARY SR. PGA FLEX TICKETS ($60 Value) Sponsored by the Sr. PGA
All juniors 17 of age and under receive a free ticket when accompanied by ticketed adult.
¨ FREE ADM. TO THE CELEBRITY/STUDENT BASKETBALL GAME ON FRI. 5/20 @ 7PM
¨ SPORTS COMBINE RECRUITING SEMINAR @ THE RAC 5-7PM (DAY OF CAMP)
¨ SPORTS COMBINE ATTENDEE Q & A WITH ISSAC CONNER (SPORTS AGENT)
¨ SPORTS COMBINE ATTENDEE WILL HAVE Q & A WITH A CONCUSSION SPECIALIST
¨LUNCH UPON COMPLETION OF THE CAMP.
GET REGISTERED or VOLUNTEER TODAY WHILE SPOTS ARE AVAILABLE @ WWW.JOIQUEBELL.COM