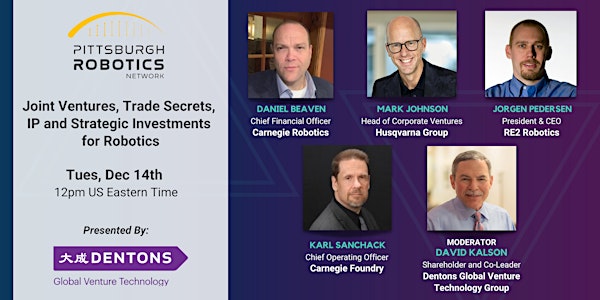 Joint Ventures, Trade Secrets, IP and Strategic Investments for Robotics
⭐ Exciting and Informative Event with Industry Experts ⭐
About this event
Joint Ventures, Trade Secrets, IP and Strategic Investments for Robotics
Tues, Dec 14th
12pm US Eastern Time
Hosted By The Pittsburgh Robotics Network

Join us for an exciting and informative discussion with industry experts!
MODERATED BY:
In this discussion, we will explore a variety of topics related to strategies managing an intellectual property portfolio, trade secrets, licensing, spinouts, strategic investments, etc for commercial business growth of robotic automation companies. Our industry experts will share their own stories, commercialization strategies, customer success approaches, state of the industry, what 'not' to do, and lessons learned.

Operating as a boutique within the world's largest law firm, Dentons Global Venture Technology Group delivers nimble, seasoned counsel to cutting edge tech companies and venture investors from our offices located in the world's most vibrant tech centers—from San Francisco to New York (including up and coming Pittsburgh and Salt Lake City) to Toronto, London, Berlin, Singapore and beyond.
Ranked as a Top 10 global venture law firm by PitchBook, we drive global strategic growth from inception to exit, with a focus on capital investment, strategic advisory, IP and regulatory challenges, along with the sector and local market knowledge to deliver the support and service you need. With 400+ venture tech lawyers actively working with 1,500+ startup and emerging growth clients in 15+ sectors, and with access to 500+ investor relationships and 20+ startup centers, our presence and approach are unmatched.

Mark Johnson specializes in investment banking and Venture Capital with a focus on the technology and software industries. He has also worked in venture capital, been the CEO of a fitness-tech startup, and served as a hovercraft commander in the US Navy.
He loves sport; besides being quite a competitive bike racer, he's a big football fan and supports Liverpool. Every now and then, he enjoys a good whiskey – particularly bourbon, no doubt on account of his Kentucky heritage. He has visited more than 90 countries and is still counting.

Jorgen Pedersen, President and CEO, founded RE2 Robotics in 2001 as a spinout of Carnegie Mellon University. Jorgen is responsible for the strategic direction of the Company, developing partnerships and alliances, and overseeing the day-to-day operations.
Jorgen has contributed to the growth of the robotics industry for the past 25 years, beginning his career at Carnegie Mellon's National Robotics Engineering Center. Jorgen has held several leadership positions within the Robotics industry. He served as the Chairman of the Robotics Division of the National Defense Industrial Association. Jorgen has also served in key roles such as a member of the Board of Trustees for NDIA and the Board of Directors for the National Advanced Mobility Consortium. Jorgen currently sits on the Board of Directors of the Pittsburgh Robotics Network and Catalyst Connection.

Karl Sanchack is the Chief Operating Officer for Carnegie Foundry LLC, a Robotics and AI venture studio, headquartered in Pittsburgh, PA. Carnegie Foundry has launched two spin-outs within its initial six months of capital funding and Karl leads the structuring of these entities along with most of the investor discussions. He has over 30 years' experience in new ventures, product development, and innovation from the non-profit to commercial arenas. Before assuming his current position, Karl was CEO for Erie's Innovation District, which included oversight of a technology accelerator with seed-stage investments in global startups. Prior to that regional initiative, Sanchack held executive leadership positions including over 20 years at Lockheed Martin Corporation.

Moderator:
David is a National Co-Leader of the Dentons Venture Technology and Emerging Growth Companies Group, concentrating his practice on providing general business and tax counsel to robotics, life science, information technology, and other emerging growth companies, with a particular focus on university spin-offs. David also represents angel, institutional and strategic investors in those sectors. David's practice is both national and international in scope, but locally he has been at the forefront of some of Pittsburgh's most important and innovative business transactions, helping to transform the city as a world leader in the robotics industry and a vital player in the life sciences arena. David serves on the Board of the Pittsburgh Robotics Network, and throughout his career has created and led initiatives to attract and retain the talent that is fueling Pittsburgh's growth. David has been selected by his peers for inclusion in The Best Lawyers in America© in four separate categories: Corporate, Tax, Technology and Venture Capital Law.
Special Thanks to our Leading Sponsors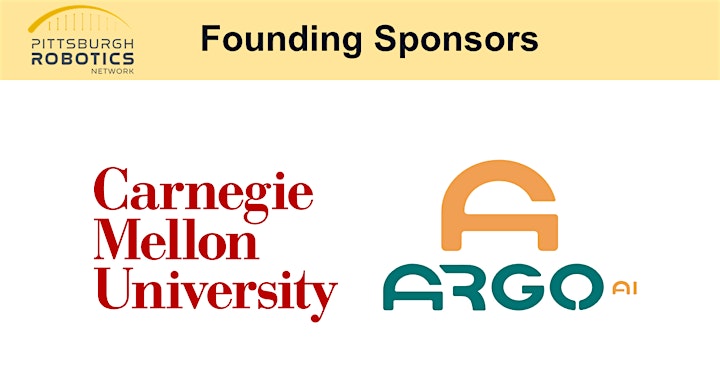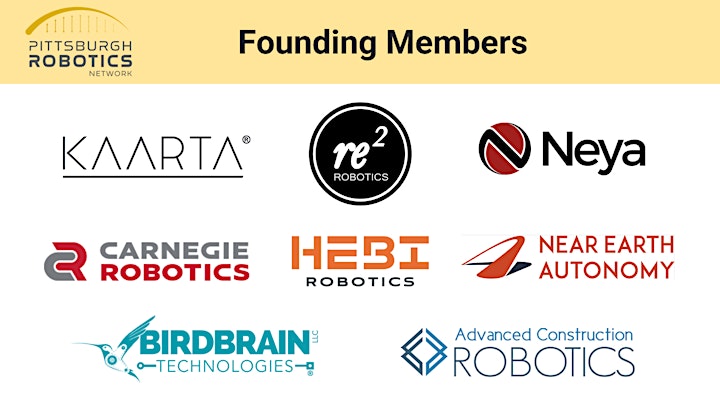 Pittsburgh robotics companies are leading the future of robotics - not just locally, but globally. Partnered with 100+ regional robotics organizations, the PRN brings these organizations together for events, networking and other initiatives. The PRN also supports these organizations by bringing well-deserved visibility to their work - visibility that is critical to the success both of these organizations and our region as a whole.
Sponsorship can offer your business significant benefits. Contact us today!