Joint Council District Event

Thursday, April 26, 2012 from 9:30 AM to 11:30 AM (EDT)
Ticket Information
This event is invite-only
You need an invitation to register for this event.
Contact the host
to find out more.
Event Details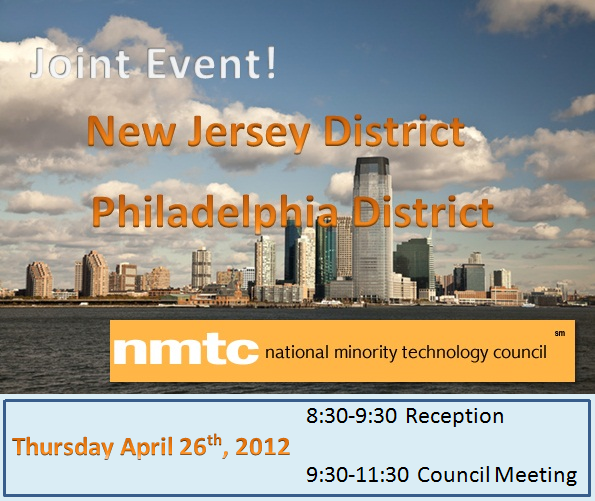 NMTC Chairman's Update
 The National Minority Technology Council is hosting a morning briefing on our plans for both the New Jersey and the Philadelphia District.  We will have a special guest speaker from our New York District presenting and the meeting will include staff from our National team.  Chairman Karl Cureton will present details on the Council DEAL Centers and our national STEM/Broadband initiative that includes the Council's Co-Chair of US News STEM Summit

http://usnewsstemsolutions.com/
This event is for CXO's of minority technology companies.  We will have a networking reception prior to the start of the meeting. Our District formation strategy is at the core of how our industry will thrive in the future. We encourage our Registered members to view our membership page to view how you can further endorse the New Jersey District and become involved in promoting your company both locally and nationwide.
Take a look at our Council District Pages and find out more about our Council Initiatives.  You can also find out more information about the Council, our purpose and membership information at www.nmtcouncil.org. 

We would like to thank our host Colonial Life.  They have graciously offered to host this District Events at their State office in Cherry Hill, NJ.  A continental breakfast meet-and-greet will be held from 8:30am-9:30pm prior to the District Event.  Please register early to make sure we are able to make the necessary accomodations.

Attendee List
Sort by:
Date
Organizer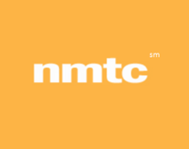 "The Minority Technology Industry is a vibrant, fast growing and viable business segment. According to the US Census the Minority Technology Industry's combined annual revenue is estimated at over $100 Billion totaling over 65,000 employers. Our belief is there is strength in numbers when there is trust and collaboration."                                                                      
Karl Cureton  NMTC Founder & Chair
The core purpose of the National Minority Technology Council (NMTC) is to help its members become more profitable and successful.  NMTC serves to represent the Minority Technology Industry on a Federal, State, and Local level.  Our efforts to increase teaming arrangements, investment and contract funding, increased awareness of partnership possibilities, and workforce development including STEM has generated national recognition.

NMTC is the primary source for market research on minority technology companies in the US. The Council serves as a single point of contact for both policy and procurement issues. Our goal is to daily advocate and facilitate new initiatives that create and expand business opportunities for our members.
To find out more about our STEM2025 program visit us at www.stem2025.org
To find out more about how we are helping Title I Schools Nationwide visit us at www.parentinvolvementboard.org
We plan to use Eventbrite to book our non-fee District Committee Meetings.