Join/Renew AACN Houston Gulf Coast Chapter Membership =2016=.AACN bylaws require HGCC members (GN, RN & APRN) to join/maintain national AACN membership.Keep this for membership proof/receipt.Final sale/no refund.Register for meetings/seminars separately.

Saturday, December 31, 2016 at 11:30 PM

-

Sunday, January 1, 2017 at 12:00 AM (CST)
Event Details
A valid and UN-EXPIRED AACN membership number is needed to process chapter applications.  Contact www.aacn.org / (800) 899-AACN (2226) to confirm your valid national membership.
LVN, GVN and Nursing Student Chapter applications do not require National AACN memberships.
***You will receive an e-mail confirmation. Open the attachment; that is your receipt***  Please allow 4 to 6 weeks for processing.
AACN bylaws require APRN, RN and GN chapter members to also be national members.  LVN, GVN and Nursing Student Chapter applications do not require National AACN memberships.
Check your membership status. Log on AACN, Go to 'My Account" and click Membership Status for National and Chapter Membership Status for local.  Here's the screen shots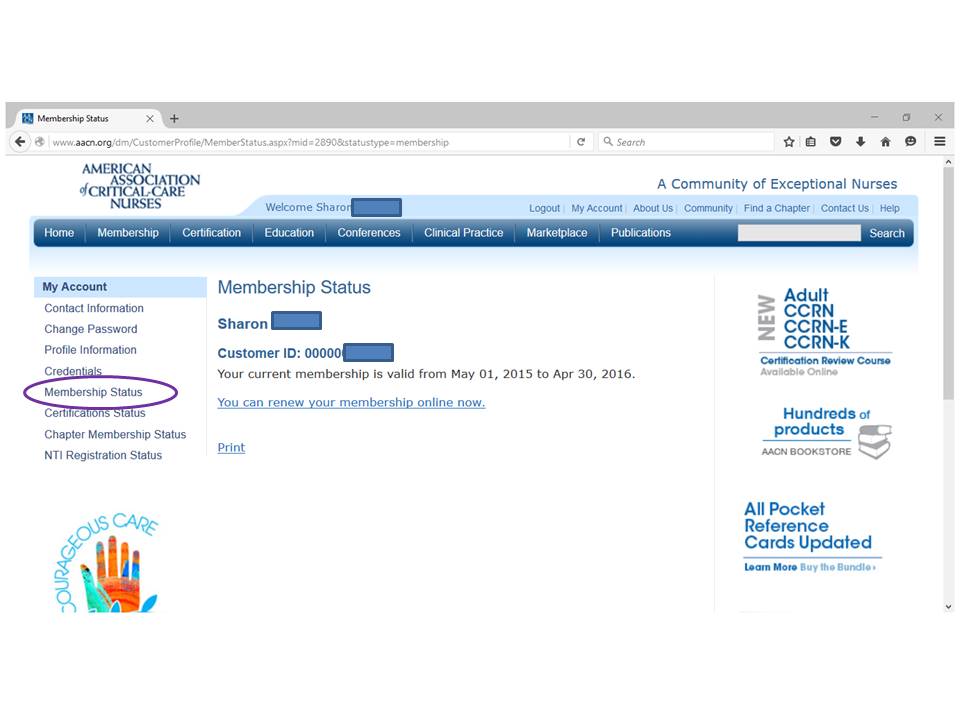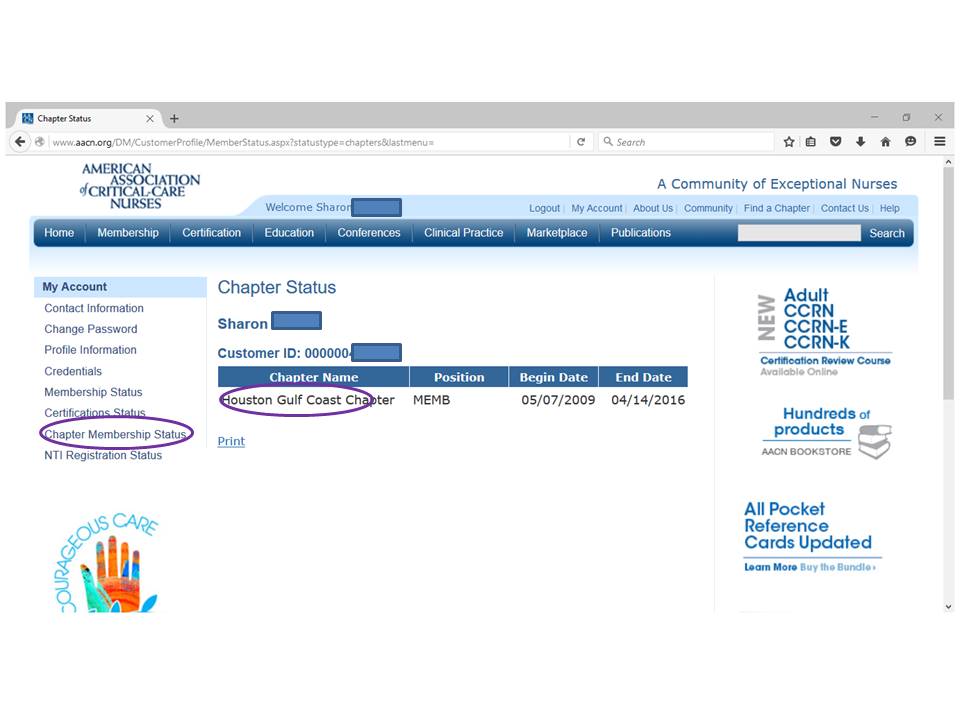 Houston Gulf Coast Chapter is the local chapter of AACN composed of members from the different hospitals located throughout the Texas Medical Center and surrounding areas. We have over two-hundred fifty members from various specialties of nursing practice. Our board is composed of voluntary nurses.
Our monthly meetings are usually held every first Thursday of the month from Sept to May.  No meetings June to Aug.
Payment:
We only accept online applications and payment.
Benefits of HGCC membership:
No registration fee to attend our monthly meetings, opportunity for networking and reduced fee to our special events.  Early registration for meetings & special events.  We offer CE/CERP credits at our monthly meetings.  Our website is www.aacnhouston.org.

Cancellations/Refunds :
All HGCC membership payments are final sale / no refund / no credit.  Annual national AACN membership dues includes non-refundable payment for one year subscription to Critical Care Nurse and American Journal of Critical Care.  Contact www.aacn.org for national membership details, cancellations and refunds.
Benefits of national membership:
Include subscriptions to American Journal of Critical Care, Critical Care Nurse, AACN Bold Voices and UNLIMITED FREE ONLINE CE CREDITS.  Pay $69.00/per year if you join through our local chapter; otherwise it's $78.00/per year through National.
How do I renew my national AACN membership?
Visit www.aacn.org.
Have questions about Join/Renew AACN Houston Gulf Coast Chapter Membership =2016=.AACN bylaws require HGCC members (GN, RN & APRN) to join/maintain national AACN membership.Keep this for membership proof/receipt.Final sale/no refund.Register for meetings/seminars separately.?
Contact AACN Houston Gulf Coast Chapter
When & Where
P.O. Box 20746 Houston, Texas 77225



Saturday, December 31, 2016 at 11:30 PM

-

Sunday, January 1, 2017 at 12:00 AM (CST)
Add to my calendar
Organizer
AACN Houston Gulf Coast Chapter
We hold meetings first Thursday from Sept to May for licensed & graduate nurses.  Monthly meetings are free for current members.  We email the free registration link to our current members.  Current means:   APRN, RN & GNs' - both your AACN & HGCC memberships and AACN member number exist, and your memberships are current / not expired.  LVN & non-licensed students' - your HGCC membership exists and is not expired.
No meetings June, July and Aug.  
---------------------------------------------------------
Join / Renew membership today to receive your "free" monthly meeting invite for this month's & future meetings.