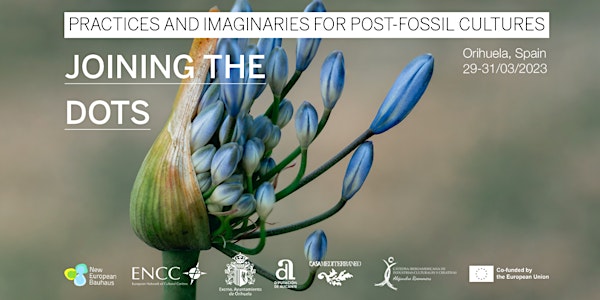 Joining the Dots: Practices and Imaginaries for Post-Fossil Cultures
Join a creative reflection on culture and sustainability, at the intersection between imagination and practice.
Date and time
Wed, 29 Mar 2023 13:00 - Fri, 31 Mar 2023 12:30 CEST
Location
Auditorio La Lonja s/n Calle Aragon 03300 Orihuela Spain
Refund Policy
Refunds up to 7 days before event
Eventbrite's fee is nonrefundable.
About this event
1 day 23 hours

Mobile eTicket
At our last annual event in Turin, we looked at the future from the starting point of participation and community building. In 2023, we invite each of you to join a creative reflection on sustainability in different practical declinations, having imagination and practice as a key.
Many pathways to low-carbon futures have been articulated, but most fail to engage communities in imagining themselves as being part of those futures and involved in the transition. Cultural centres play an important role in building imaginaries and providing inspiration to navigate possible horizons. Can they become active players in the transition to a more sustainable world?
Post-fossil societies would look very different to the ones we inhabit today in Europe. Landscapes, transport systems, buildings, communities and indeed most social relations would be transformed. For this meeting, our guests will be researchers, practitioners and artists working on low-carbon futures, who will share the concrete questions they are working on and the narratives they are building to help citizens appropriate the future and feel that they are able to create it. Special guests from our partner network in Latin America will bring another perspective.
Leaving petroculture behind will not happen just through mitigation of fossil fuel use. It will also require systemic and cultural change. In-depth workshops will look at two key questions that the ENCC is working on: digital sustainability, and an ecology of human resources in culture. We will discuss how to move away from extractive logics towards collective practices for care, creation and flourishing.
More info: http://encc.eu/activities/events/joining-dots-practices-and-imaginaries-post-fossil-cultures
Practical Information
As a participant to "Joining the dots" you will have access to:
The full programme
Two meals (lunch and dinner) on the 29th and the 30th of March
A cultural programme with sightseeings and concerts
PROGRAMME:
Descarga el programa en español aquí
Wednesday 29 March
12.00 - 14.30 Registrations
13.00 - 14.30 Welcome standing lunch and networking
14.30 - 15.00 Official opening with Carolina García, mayor of Orihuela; Juan José Sánchez Balaguer, Co-director of the Iberoamerican Chair of Cultural and Creative Industries; Ivo Peeters, ENCC Chairman
15.00 - 17.00 Opening panel "Joining the Dots: environmental, digital, cultural and mental health sustainability for new imaginaries", with:
Heather O' Donnell, psychologist, consultant and founding director of The Green Room
Jara Rocha, artist and cultural researcher
Mariachiara Esposito, policy officer DG EAC, European Commission
Pierre Huyghebaert, graphic designer and teacher
Vittorio Bianco, cultural manager and sustainability expert, member of ENCC's Board of Directors
17.00 - 17.30 Coffee break
18.15 - 19.45 Guided tour of the old town of Orihuela
20.30 - 22.30 Welcome dinner
22.30 - 23.30 Cantos de la Pasión on the streets of Orihuela
Thursday 30 March
09.30 - 10.00 Inspirational talk "Digital dependencies: plotting infrastructure solidarity with cultural organisations", by Femke Snelting, artist and researcher
10.00 - 12.00 Opening talk and workshop "Towards a regenerative justice of/for digital ecologies", by Pierre Huyghebaert, graphic designer and teacher, and Jara Rocha, artist and cultural researcher. Launch of ENCC's guidelines for digital ethics
10.45 - 11.05 Coffee break
12.30 - 14.30 Lunch and networking
14.30 - 16.30 Workshops:
Workshop A: "For an ecology of human resources and mental health in culture", by Heather O' Donnell, psychologist, consultant and founding director of The Green Room
Workshop B: "La sostenibilidad ambiental de los centros socioculturales" (ESP), by Vittorio Bianco, cultural manager and sustainability expert, member of ENCC's Board of Directors
Workshop C: "Possible worlds and how art can change our reality and our future", by Alicja Brudło, artist, pedagogist and cultural manager, and Beata Kwiatkowska, local community development specialist
Workshop D: "Gestión cultural para una nueva cultura ciudadana" (ESP), by Victoria Clemente Legaz, cultural mediator and consultant, Municipality of Murcia
16.30 - 17.00 Coffee break
17.15 - 19.00 Soundwalk in the Palmeral de Orihuela designed by Climaginaries, followed by a debriefing with the multidisciplinary research team
20.00 - 21.00 Concert of the Ensemble San Pablo offered by Casa Mediterráneo
21.15 - 23.00 Traditional Dinner
Friday 31 March
10.00 - 10.30 Keynote speech "Imagining a more sustainable Europe: the cultural and creative sectors shaping the future in unprecedented times", by Lisa Lang, Policy Director and EU Affairs Orchestrator, EIT Climate KIC
10.30 - 10.50 Coffee break
10.50 - 12.30 Roundtable "Culture and sustainability as transformative forces for community regeneration and the practice of different imaginaries, in Europe and beyond", with:
Alfonso Vegara Gómez, architect, economist and sociologist specialised in city planning and innovation: "Intelligent territories, a global view"
Marga Crespo, designer and project manager at Innovarte international consultancy: "The Mediterranean creative and cultural industries confronted to global challenges"
Lisa Lang, policy director and EU affairs orchestrator, EIT Climate KIC: "How can the European creative and cultural sector contribute to systemic change?"
Enrique Vargas, Coordinator of the Ibero-American Cultural Space of the Ibero-American General Secretariat (SEGIB): "Cooperative culture and creativity as transformative forces of community regeneration: the Ibero-American perspective"
12.30 - 12.45 Final remarks and presentation of the 2024 annual meeting host
14.30 - 16.30 Visits to the Murals of San Isidro and the house of Miguel Hernandez
How to join Orihuela by train
From Madrid: 6 to 10 Renfe trains per day. Departure from P.ta Atocha or Chamartin Station, depending on the schedule. Journey lasts 2 h 30 to 4 h depending on the train.
From Alicante: 16 Renfe trains per day. Journey lasts 35 mins to 1h 15 mins.
ESP: Cómo llegar a Orihuela en tren
Desde Madrid: 6 a 10 trenes Renfe al día. Salida desde P.ta Atocha o la Estación Chamartín, según horario. El viaje dura de 2h30 a 4h dependiendo del tren.
Desde Alicante: 16 trenes Renfe al día. El viaje dura de 35 min a 1h 15 min.