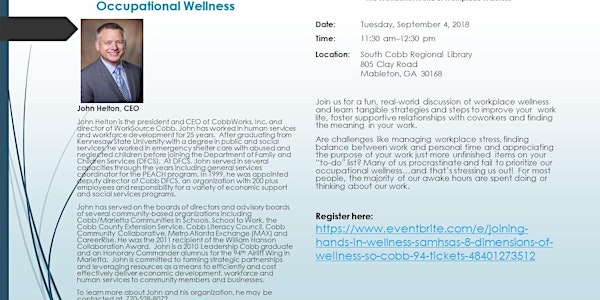 Joining Hands in Wellness - SAMHSA's 8 Dimensions of Wellness (So. Cobb, 9/4)
When and where
Location
South Cobb Regional Library 805 Clay Road Mableton, GA 30126
Description
Joining Hands in Wellness presents a series of workshops on the 8 Dimensions of Wellness, You Don't want to miss this Workshop:
Occupational Wellness-

John Helton, CEO
Occupational Wellness: Finding Meaning in your work!
Is finding balance between work, personal time and appreciating the purpose of your work just more unfinished items on your "to-do" list? Join us for a fun, real-world discussion of workplace wellness and learn tangible strategies and steps to improve your work life, foster supportive relationships with coworkers and finding the meaning in your work.
Many of us procrastinate and fail to prioritize our occupational wellness…and that's stressing us out! For most people, the majority of our awake hours are spent doing or thinking about our work. Not so at "The Wonderful World of Workplace Wellness"
---
John Helton, CEO
John is the president and CEO of CobbWorks, Inc. and director of WorkSource Cobb. John has worked in human services and workforce development for 25 years. After graduating from Kennesaw State University with a degree in public and social services, he worked in emergency shelter care with abused and neglected children before joining the Department of Family and Children Services (DFCS). At DFCS, John served in several capacities through the years including general services coordinator for the PEACH program. In 1999, he was appointed deputy director of Cobb DFCS, an organization with 200 plus employees and responsibility for a variety of economic support and social services programs.
John has served on the boards of directors and advisory boards of several community-based organizations including Cobb/Marietta Communities in Schools, School to Work, the Cobb County Extension Service, Cobb Literacy Council, Cobb Community Collaborative, Metro Atlanta Exchange (MAX) and CareerRise. He was the 2011 recipient of the William Hanson Collaboration Award. John is a 2010 Leadership Cobb graduate and an Honorary Commander alumnus for the 94th Airlift Wing in Marietta. John is committed to forming strategic partnerships and leveraging resources as a means to efficiently and cost effectively deliver economic development, workforce and human services to community members and businesses. To learn more about John and his organization, he may be contacted at 770-528-8072.