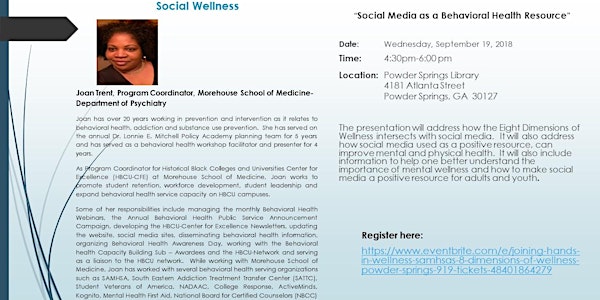 Joining Hands in Wellness - SAMHSA's 8 Dimensions of Wellness (Powder Springs, 9/19)
When and where
Location
Powder Springs Library 4181 Atlanta Street Powder Springs, GA 30127
Description
Joining Hands In Wellness Presents a series of workshops on the 8 Dimensions of Wellness. You do not want to miss this workshop!
Social Wellness - J
oan Trent, Program Director Morehouse School of Medicine
The presentation will address how the Eight Dimensions of Wellness intersects with social media. It will also address how social media used as a positive resource, can improve mental and physical health. It will include information to help one better understand the importance of mental wellness and how to utilize social media as a positive resource for adults and youth.
---
Joan has over 20 years working in prevention and intervention as it relates to behavioral health, addiction and substance use prevention. She has served on the annual Dr. Lonnie E. Mitchell Policy Academy planning team for 5 years and has served as a behavioral health workshop facilitator and presenter for 4 years.
As Program Coordinator for Historical Black Colleges and Universities Center for Excellence (HBCU-CFE) at Morehouse School of Medicine, Joan works to promote student retention, workforce development, student leadership and expand behavioral health service capacity on HBCU campuses.
Some of her responsibilities include managing the monthly Behavioral Health Webinars, the Annual Behavioral Health Public Service Announcement Campaign, developing the HBCU-Center for Excellence Newsletters, updating the website, social media sites, disseminating behavioral health information, organizing Behavioral Health Awareness Day, working with the Behavioral health Capacity Building Sub – Awardees and the HBCU-Network and serving as a liaison to the HBCU network. While working with Morehouse School of Medicine, Joan has worked with several behavioral health serving organizations such as SAMHSA, South Eastern Addiction Treatment Transfer Center (SATTC), Student Veterans of America, NADAAC, College Response, ActiveMinds, Kognito, Mental Health First Aid, National Board for Certified Counselors (NBCC) and A-G Associates to name a few.