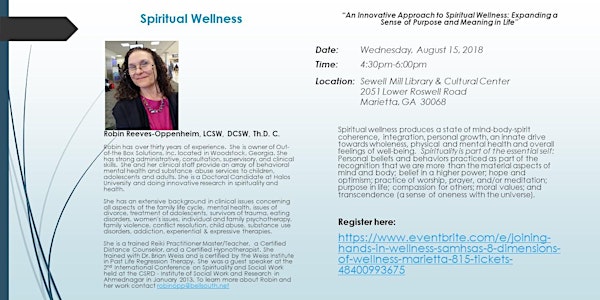 Joining Hands in Wellness - SAMHSA's 8 Dimensions of Wellness (Marietta 8/15)
When and where
Location
Sewell Mill Library & Cultural Center 2051 Lower Roswell Road Marietta, GA 30068
Description
Spiritual Wellness-Robin Reeves-Oppenheim, LCSW, DCSW, ThD. C., August 15, 2018, Marietta
Spiritual wellness: An Innovative Approach to Spiritual Wellness: Expanding a sense of purpose and meaning to life. Spiritual wellness produces a state of mind-body-spirit coherence, integration, personal growth, an innate drive towards wholeness, physical and mental health and overall feelings of well-being. Spirituality is part of the essential self: Personal beliefs and behaviors practiced as part of the recognition that we are more than the material aspects of mind and body; belief in a higher power; hope and optimism; practice of worship, prayer, and/or meditation; purpose in life; compassion for others; moral values; and transcendence (a sense of oneness with the universe).
---
Robin has over thirty years of experience. She is owner of Out-of-the Box Solutions, Inc. located in Woodstock, Georgia. She has strong administrative, consultation, supervisory, and clinical skills. She and her clinical staff provide an array of behavioral mental health and substance abuse services to children, adolescents and adults. She is a Doctoral Candidate at Halos University and doing innovative research in spirituality and health.
She has an extensive background in clinical issues concerning all aspects of the family life cycle. She is a trained Reiki Practitioner Master/Teacher, a Certified Distance Counselor, and a Certified Hypnotherapist. She trained with Dr. Brian Weiss and is certified by the Weiss Institute in Past Life Regression Therapy. She was a guest speaker at the 2nd International Conference on Spirituality and Social Work held at the CSRD - Institute of Social Work and Research in Ahmednagar in January 2013. To learn more about Robin and her work contact robinopp@bellsouth.net.