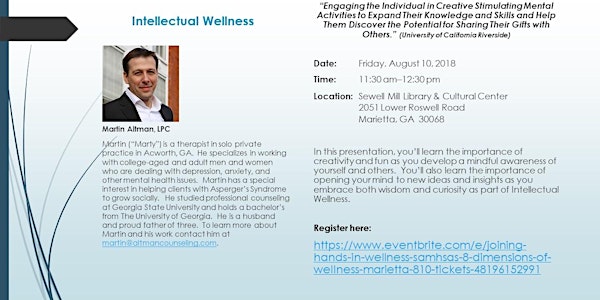 Joining Hands in Wellness - SAMHSA's 8 Dimensions of Wellness (Marietta 8/10)
When and where
Location
Sewell Mill Library & Cultural Center 2051 Lower Roswell Road Marietta, GA 30068
Description
Joining Hands in Wellness presents a series of workshops on the 8 Dimensions of Wellness, You Don't want to miss this Workshop:
Intellectual Wellness–Martin Altman, LPC,
Intellectual Wellness engages "the individual in creative and stimulating mental activities to expand their knowledge and skills and help them discover the potential for sharing their gifts with others." (University of California Riverside). In this workshop you'll learn the importance of creativity and fun as you develop a mindful awareness of yourself and others. You'll also learn the importance of opening your mind to new ideas and insights as you embrace both wisdom and curiosity as part of Intellectual Wellness.
---
Martin ("Marty") is a therapist in solo private practice in Acworth, GA. He specializes in working with college-aged and adult men and women who are dealing with depression, anxiety, and other mental health issues. Martin has a special interest in helping clients with Asperger's Syndrome to grow socially. He studied professional counseling at Georgia State University and holds a bachelor's from The University of Georgia. He is a husband and proud father of three. To learn more about Martin and his work contact him at martin@altmancounseling.com.