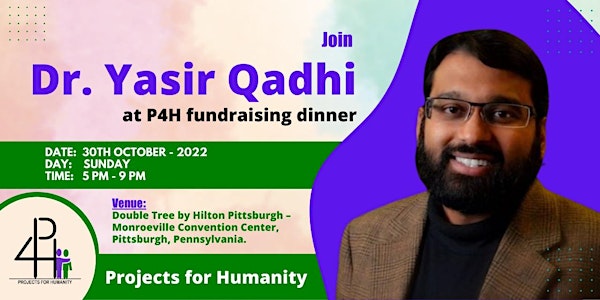 Join Yasir Qadhi at P4H fundraising dinner
Are you excited to join Dr. Yasir Qadhi? Join at P4H fundraising dinner at Pittsburgh, Pennsylvania.
When and where
Location
DoubleTree by Hilton Hotel Pittsburgh - Monroeville Convention Center 101 Mall Boulevard Monroeville, PA 15146
About this event
Have you ever wanted to change someone's life?
Do you dare to change the world?
Do you think, orphans, refugees and underprivileged people deserve basic human rights?
Join us at P4H fundraising dinner with Dr. Yasir Qadhi.
Sponsor the event and be part of a great cause
 Gold $1,500
o Tickets for a group of two for the event
o Company's name/logo displayed on Event website as "Gold Sponsor"
o Company's name/logo prominently displayed stage backdrops, and promotional materials
o Moment of recognition, company name will be announced at the event
o Information table at the event to share information about your service
o Screening of Sponsor's Video (max. 2 min long). Video to be provided by the Sponsor.
 Silver $1,000
o Tickets for a group of two for the event
o Company's name/logo displayed on Event website as "Silver Sponsor"
o Company's name/logo prominently displayed stage backdrops, and promotional materials
o Moment of recognition, company name will be announced at the event