Join Us! Free First Time Home Buyer Seminar, Get ahead of your competition!
Description
DON'T MISS THIS! REGISTER NOW TO SECURE SEAT!
Join us! Free First Time Home Buyer Seminar, Get ahead of your competition in today's market place!
For a packed 2 hour course on how to get the upper hand in todays market!
$50 Visa Gift Card Raffle! Free gift will also be given to all attendees! A very special announcement will be made at the end of the day.
10:30-11:00 Breakfast and refreshments will be served.
11:00 -12:00 We will dive into the pre-approval process and what you want to know that most do not
12:00:12:10 Break
12:10-1:00 We will discover all the need to know about buying and home ownership in today's market
What you will learn in this FREE course!
What steps to take to get yourself ready for home ownership and get pre-approved
What are the key items and things lenders are looking for to give you a letter
What is the difference between getting pre-approved and pre-qualified and how does it help you in todays market
What costs should you expect while diving into the home buying process
How much should you expect to spend on inspections, apprasials and closing costs
How to get the upper hand when making your offer against a multiple offer situation
Can you get closing costs rolled into the mortgage and what are the pros and cons in todays market
Searching for your first home and the market today
Inspection and what to expect
Appraisals and what is the difference between an appraisal and a home inpsection
and so much more
You do not want to miss this FREE event! Register Now!

Your Hosts

Ian has been in the mortgage lending business since 2013 and has helped hundreds of individuals, couples, & families with their mortgage needs. He's an expert in the fluctuating markets & specializes in all facets of loan programs such as Conventional, FHA, VA, Jumbo Home Loans, Rural Development (USDA), FHA & Conventional Rehab Loans, as well as many other specialty loan products that're designed to help all loan applicants get matched with a loan tailored to their specific home buying needs as well as their budget. Ian's niche however is working with 1st time buyers…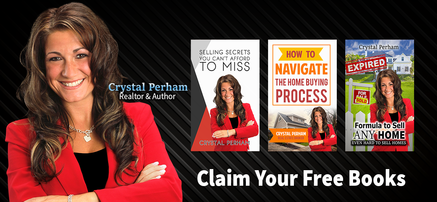 Crystal (Maribito) Perham has been a high producing Real Estate Agent since 2008. Knowledgeable in todays market as well as tomorrows changing market Crystal has helped hundreds of families and investors buy and sell property, Selling approximately $30 Million dollars in real estate to date and growing, Crystal is an expert in helping first time home buyers secure a solid purchase for their first home.
Crystal Perham - Realtor*Broker*Owner*AuthorPerham Realty Group Tryst Realty 603-233-0197 Crystal@TrystRealty.com www.PerhamRealtyGroup.com
REGISTER NOW!