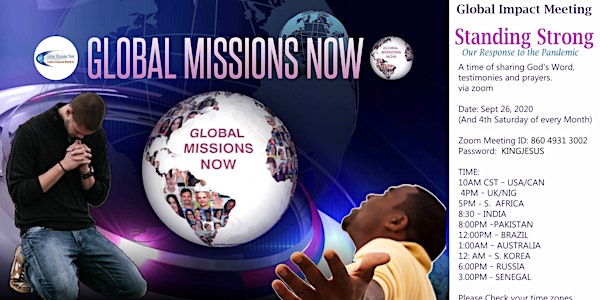 Join us for Global Impact Meeting On Zoom
A time of sharing and praying with Christians, Pastors and missionaries from around the world. Lifting up our voices to pray for Nations.
About this event
As we enter the final hours of the last days, we are faced with different challenges from the pandemic to unrest and even hunger in some nations. But when believers join together to raise up our voices to our God, change happens.
2 Chronicles 7:14 If my people, which are called by my name, shall humble themselves, and pray, and seek my face, and turn from their wicked ways; then will I hear from heaven, and will forgive their sin, and will heal their land.
zoom
Date: Sept 26, 2020 (Every 4th Saturday)
Zoom Meeting ID: 860 4931 3002,
Password: KINGJESUS
TIME:
10AM CST – USA/CAN
4PM – UK/NIG
5PM - S. AFRICA
8:30 – INDIA
8:00PM –PAKISTAN
12:00PM – BRAZIL
1:00AM – AUSTRALIA
12: AM – S. KOREA
6:00PM – RUSSIA
Please Check your time zones to join