Join Us for Dinner and The Amazing Lanell & Band Live at Firefly this Satur...
Description
EACH & EVERY WEEK AT FIREFLY WE BRING SOME OF THE HOTTEST LIVE ENTERTAINMENT IN THE ENTIRE CITY!!!
* * * * * * *
And this Saturday, February 16th Join us for the Soulful and Talented "Lanell & Band" Live at Firefly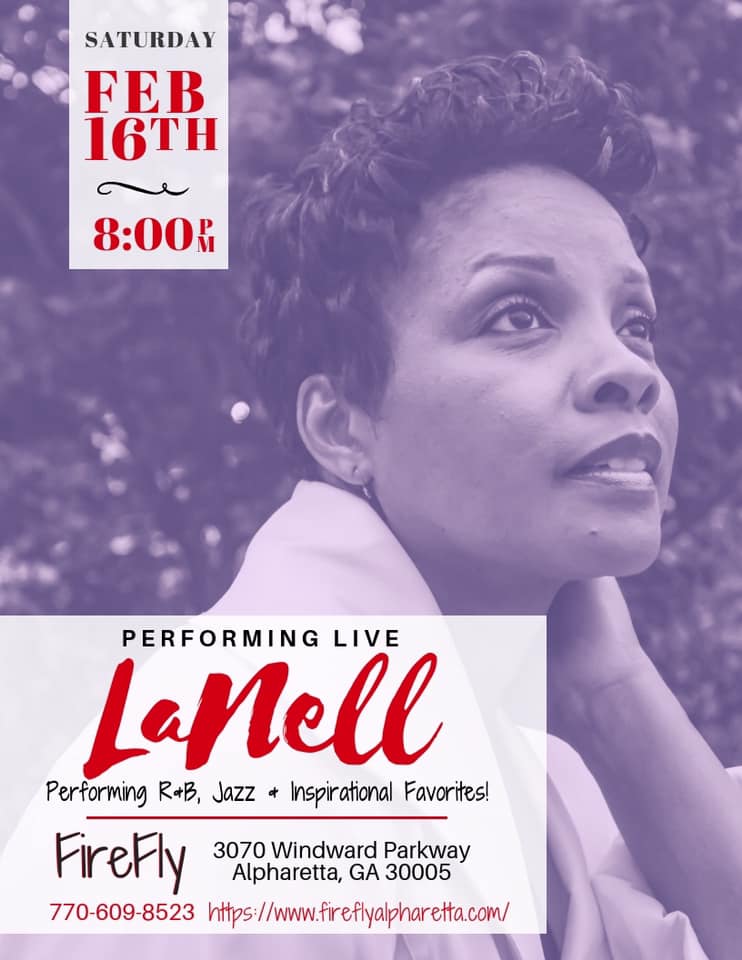 ---
THE FOOD IS AMAZING & THERE'S AMAZING DRINK SPECIALS TOO! AND YES THERE'S PLENTY OF PARKING TOO ALONG WITH A COVERED PATIO!
COME OUT FOR GIRLS NIGHT OUT, DATE NIGHT, A BIRTHDAY CELEBRATION OR JUST COME OUT FOR SOME AMAZING FOOD, COCKTAILS AND LIVE ENTERTAINMENT!!!
Cocktail Specials | Free Parking |
Only a $10 Entertainment Fee On Your Check Per Person| Amazing Food & More
Dance Floor Open Afterwards
3070 Windward Plaza, Alpharetta, GA 30005
For Other Info Call 770.609.8523 or Visit: www.FireFlyAlpharetta.com
General Rsvp Seating will be seated when arrive and on a 1st come 1st serve bases
---
Firefly is a full service restaurant & bar offering Lunch, Dinner and both onsite and offsite Catering. We are a signature dining venue offering fresh cuisine that reflects an innovative culinary style characterized by fresh, local ingredients that are hearty, yet simply elegant. Our chefs use the freshest ingredients, while blending bold, aromatic flavors to create an unforgettable culinary experience.
We create authentic moments in an inspirational environment.
Whether you are after exciting cocktails, premium steaks, signature dishes, wines, or a great family night out. Our breathtaking restaurant is the perfect place to relax, unwind and most importantly - indulge!
---
WE ARE OPEN FOR LUNCH MONDAY - FRIDAY AT 11AM AND YOU CAN ALWAYS JOIN US FOR BOTH HAPPY HOUR AND DINNER BOTH!
YOU CAN ALWAYS CHECK OUR CALENDAR ON FIREFLYALPHARETTA.COM TO SEE EVERYTHING THAT'S GOING ON AT FIREFLY~
---
AND CHECK OUT OTHER UPCOMING SHOWS! MAKE SURE YOU RSVP AND DON'T MISS OUT