Join iUrban Teen and GirlTrek for a Nature Hike at Rattlesnake Lodge
About this event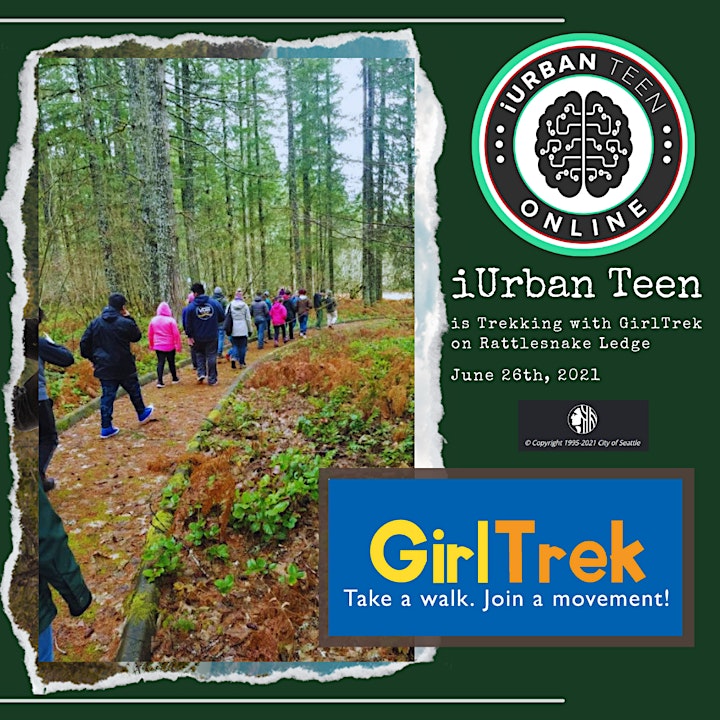 THE ADVENTURE
The Rattlesnake Lake Recreation Area is a day-use area located outside the hydrologic boundaries of the Cedar River Municipal Watershed near North Bend.
We are striving to create an experience & capture those memorable moments we have a videographer coming along and each youth will have a disposable camera. We believe this is more than a hike but an adventure to experience various elements of outdoor recreation. We will begin the day with getting grounded at the river with stretching and mindfulness, hike for approx 2.5hrs - 2 hike guides in the front & 2 hike guides as sweep. Birdwatch throughput the hike & lunch with basic outdoor survival chat. Talking through the bases of survival such as tying a knot, starting a fire, and overall situational awareness.
Lunch Included
Bus transportation from Rainier Community Center to North Bend
For youth ages 14 to 18
Hiking Boots will be available
The departure time and location will be 8:00 am Rainier Community Center leaving promptly – check in will start at 7:30 am to retrieve gear & sign waivers. We will provide the setup for welcoming everyone hot beverage with bagels n bananas. Sack lunches will be provided for sandwich, chips, fruit, cookie, beverage *vegan option.
We will arrive to the parking lot of Rainier Community Center 2:00 pm.
Organizer of Join Us for a Nature Hike at Rattlesnake Ledge in North Bend