Join us for a demonstration of the new US-1 Long-Duration UAV
About this Event
Join us for a demonstration of the new Long- Duration Impossible Aerospace US-1 unmanned aircraft designed for the professional responder mission. This new aircraft will fly continuously for more than 75 minutes fully loaded with a FLIR DUO PRO R payload and approximately 70 minutes with the newly introduced Workswell Security Camera which has a 30x optical zooming capability along with super high resolution thermal.
For any questions or concerns, please reach out to Sahil Bhojwani, West-Coast Regional Sales Manager, FAA Certified Part 107 Pilot.
Contact: (562)-565-4519
Email: sahil@impossible.aero
Please Note: Snacks and Drinks will be provided by Impossible Aerospace team.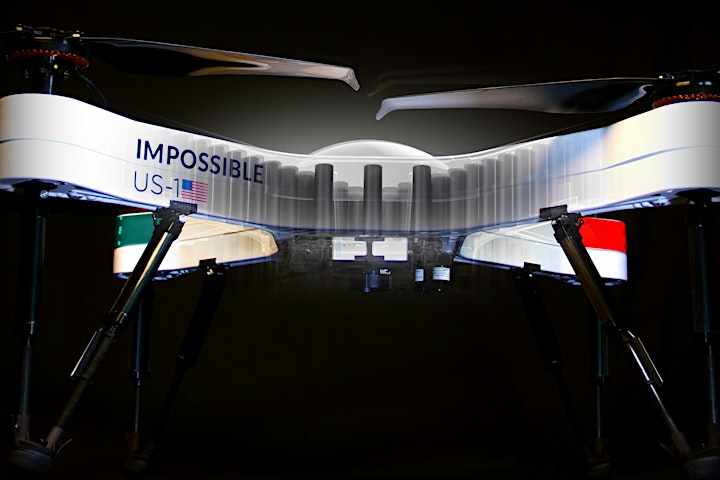 The US-1 is a rugged, long duration performance aircraft. It represents a complete departure from drone designs of the past by leveraging an airframe that has battery cells integrated into the structure. This patent pending design increases power, reduces weight, and provides stable long duration flight. The aircraft will carry payload up to 6.2 lbs. and is currently certified with popular FLIR and Workswell camera systems that will meet most mission needs. If you have a special payload need, please give us a call. We are happy to explore special request.
The US-1 is designed, engineered and assembled in our Santa Clara California factory. The system provides secure flight data, and for special needs customers there are different options for data security. We are happy to accommodate government and sensitive enterprise customers with special data security needs.
The aircraft is designed to endure the harsh service found in first responder missions, so it's well suited for industrial and commercial applications that demand long duration flight. The current FLIR thermal and visible payloads will satisfy many industrial applications, and the 30x optical low-light WIRIS camera will provides excellent zoom performance in the visible light channel.
WIRIS® Security:
Workswell WIRIS® Security is a LWIR (7.5 – 13.5 μm) thermal camera for drones designed specifically for search & rescue applications, such as building and perimeter surveillance, searching for missing persons, firefighting operations etc. This thermal camera is fully adapted to these applications with a high-resolution thermal camera (800×600 px), 30x optical zoom in RGB spectrum, search & rescue functionalities, excellent temperature sensitivity, as well as rugged mechanical construction made of lightweight aluminium.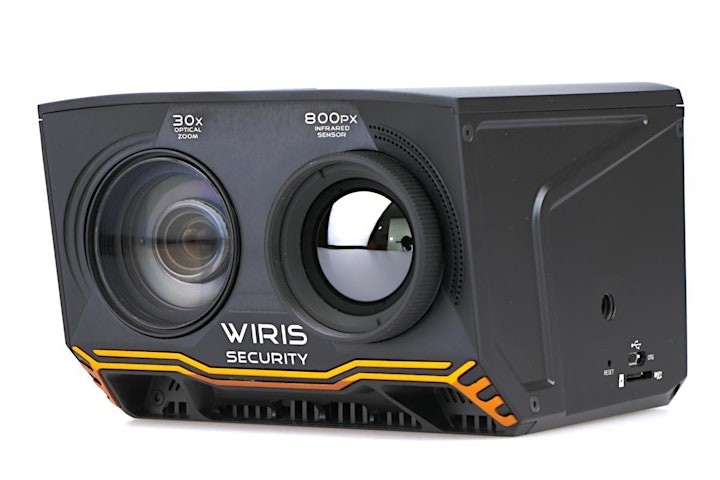 Great night vision RGB camera, 30x optical ZOOM and more
Workswell WIRIS® Security camera is equipped by incorporated specialized visual band imagery RGB camera with high sensitivity for dusk and night vision and possibility of optical ZOOM. Thus, the RGB camera image is clear even with minimum light of 0.0008 lux. Focal length is variable within interval of 129.0 mm – 4.3 mm and it equals up to 30x optical ZOOM.
Resolution matter
WIRIS Security offers the highest resolution on the market. Both the RGB sensor and the thermal imaging sensor! These differences are not just a technical parameter in the table. In practice, they may be the difference between life and death!
Changeable color palettes
WIRIS Security offers 19 changeable color palettes for different flying conditions
FLIR Duo Pro R:
This groundbreaking dual-sensor camera provides high-quality radiometric thermal and visible light imaging. The compact size and lightweight packaging make the FLIR Duo R an ideal camera for drone payloads, and is easily compatible with most gimbal systems.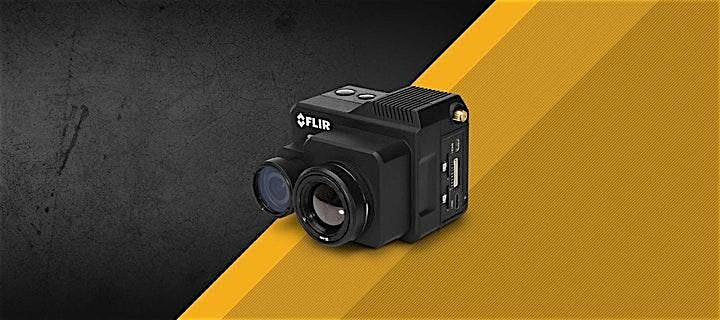 Similar to its predecessor the FLIR Duo, the FLIR Duo R is a small-action-sized camera with big capabilities. The FLIR Duo and FLIR Duo R share features such as real-time remote camera control, and onboard recording. Upgraded features of the FLIR Duo R offer greater precision, accuracy and calibrated temperature measurements in every pixel, to meet the demands of thermal drone experts. This upgraded quality means improved visibility and more accurate data during contactless aerial temperature measurements.
The small and powerful FLIR Duo R weighs in at an impressive 0.1851 pounds, with camera body measuring only 1.62x2.32x1.14 inch. Despite the small size, quality is not compromised, as the camera offers 5% accuracy in thermal measurement reading, and can capture color video at 1080p, and uses a Lepton thermal sensor to achieve 2 megapixels of thermal video in 160x120 resolution.
Watch the FLIR DUO PRO R in action in a 4-alarm condominium fire.
US-1 Ground Station:
Professional grade, carbon fiber design
Direct access to key functions
10.5" Samsung Galaxy S5E Tablet display
Super AMOLED daylight screen
Strap or tripod mount
HDMI output for distributed video
No geofencing restrictions
Multiple autonomous mission modes
Auto take off and land
Past Events: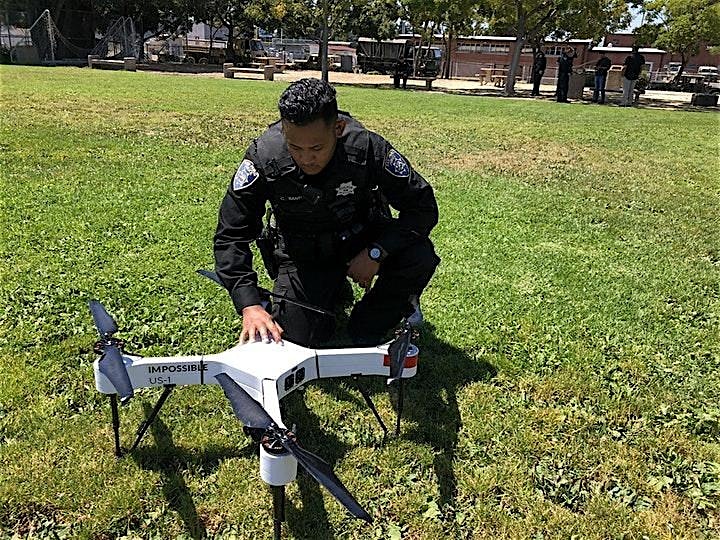 Another great day of tactical flight officer training on the new US-1 with our friends at San Pablo Police Department! Exciting to see progressive teams like San Pablo PD adopting UAV's for airborne law enforcement.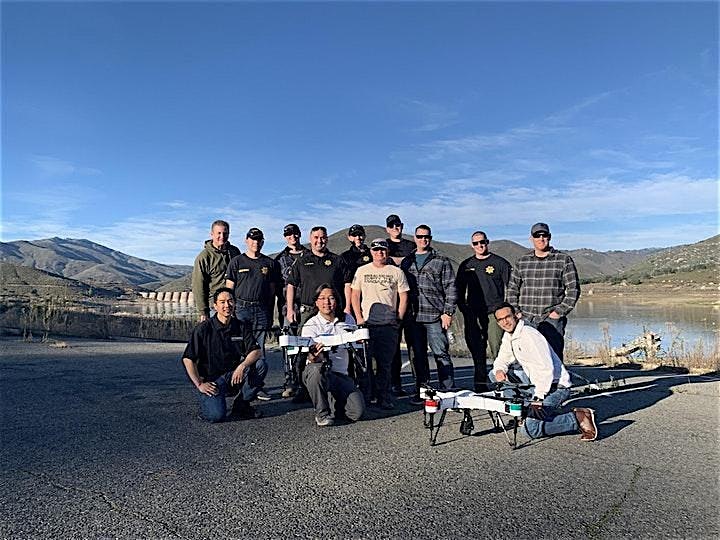 Congratulations to the San Diego County Sheriff's Department for completing their Impossible Aerospace US-1 aircraft training. A great team leveraging technology to save lives and protect property!
Thanks to our friends at Santa Monica PD for hosting a multi-agency US-1 training and capabilities event! Over 6 different regional agencies attended and everyone had a chance to fly the new US-1 Performance Aircraft. These events are a great way for us to learn more about the specialized tools law enforcement agencies need from us to serve and protect from the air, and we are dedicated to building them.

Thanks to Sacramento Fire Department and Patrick Costamagna/Derek Parker for accommodating this visit and demonstration. First responders continue to discover new ways to leverage unmanned aircraft to save lives and livelihood, and we are committed to supporting your missions with products designed specifically for demanding applications.