Join us! Art Heals - Benefiting the Parkland Comprehensive Breast Center
Event Information
Location
Parkland Health & Hospital System - WISH Building
Boardroom - 4th floor
5200 Harry Hines Blvd
Dallas, TX 75235
Description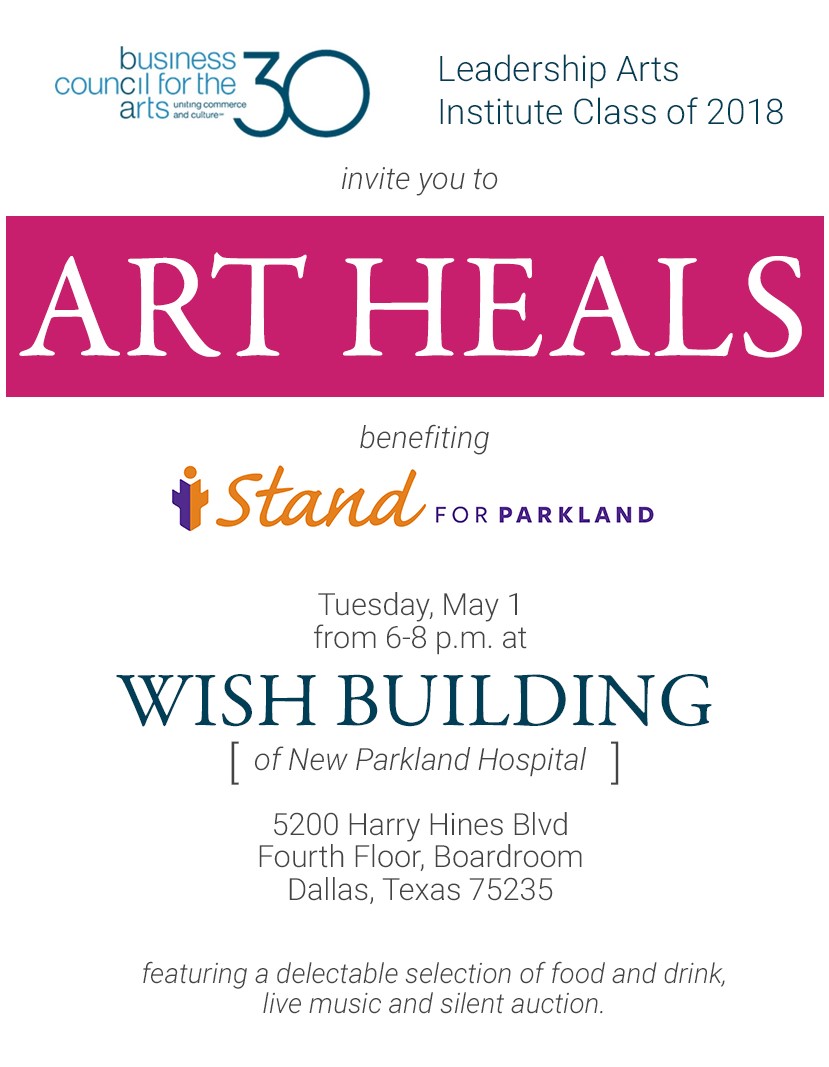 LIVE MUSIC | SILENT AUCTION | CORGAN VIRTUAL REALITY DEMONSTRATION | FOOD & DRINKS
COMPLIMENTARY VALET
Parkland Hospital and the Parkland Foundation have just completed a massive undertaking of replacing the overcrowded, 50+ year-old Parkland building with a new state-of-the-art facility. Their sights are now set on the next project – the Comprehensive Breast Center scheduled to open in 2020.
The 2018 Leadership Arts Institute Class (LAI), a program of Business Council for the Arts, is currently raising funds for the acquisition of evidence-based art to be placed in this new breast center. Parkland Hospital and the Parkland Foundation are relying on this project and generous donors in the community to provide the full funds for art acquisitions.
The class will culminate their fundraising drive by hosting ART HEALS on May 1st, at Parkland Hospital. The evening will include food & spirits, live entertainment by local musicians and vocalists, a virtual reality demonstration by Corgan, as well as a silent auction. Lastly, there will be presentations onsite where guests can learn more about Parkland's new Comprehensive Breast Center and the research supporting the healing powers of evidence-based art.
The Parkland Comprehensive Breast Health Center will connect with over 30% of the women and families in Dallas county. The 2018 LAI class project will positively impact a meaningful part of the population of our city. It's not too late to donate! You can do so by visiting the BCA webpage at: http://ntbca.org/dallas-class-of-2018-project-art-of-healing/.

Date and Time
Location
Parkland Health & Hospital System - WISH Building
Boardroom - 4th floor
5200 Harry Hines Blvd
Dallas, TX 75235