Join the OFFICIAL 2015-16 Vision Board Club $99.00 Get $600.00 in bonuses

Tuesday, July 29, 2014 at 8:00 PM

-

Tuesday, June 30, 2015 at 8:00 PM (PDT)
Event Details
Join  any time of the year -- --the only OFFICIAL 2015 Vision Board Club organized by bestselling author Joyce Schwarz, THE VISION BOARD book which is the bestselling book on vision board creation and life visioning around the globe. Jack Canfield says -- THIS BOOK WILL CHANGE YOUR LIFE---- and so will this club :) 
NOTE all of this is downloadable on your own terms and times -- yes we will have monthly LIVE club meetings via phone (webinar) but if you wish to just get the link to that month's audio in the mail or online we will provide it to you -- you don't have to worry about this taking up your busy time. 
Any questions -- email: joyceschwarz@gmail.com or call Joyce at her private phone 310-822-3119 so she can take your credit card via phone.
THANKS Joyce A. Schwarz, THE VISION BOARD book and Coach to the Stars 
Yes, for $199 you will get more than $1000 in bonuses -- including 
***VISION BOARD TEMPLATES   ***FREE MONTHLY CLASSES ***FREE BONUS VIDEOS  *** FREE VISION BOARD PHOTOS  ***FREE MOTIVATIONAL AUDIOS ***FREE DAILY ADVICE and VISION BOARD TIPS OF THE DAY -- online at your convenience.
AND exclusive VIP BONUS audios from MARIE DIAMOND, FENG SHUI EXPERT, HALE DWOSKIN (THE SECRET) and others.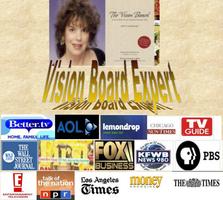 Dear Vision Board Fans here's an amazing holiday offer for you -- join our 2015 Vision Board Club and get more than $600 in free bonuses including:
A) 24 FREE VISION BOARD templates -- two each month FREE value $50 per template.
PLUS LIVE and recorded monthly visioning audio FREE: Yes, here's just a sampling what you'll get for each month to jumpstart your vision -- plus a 30 minute how to audio from Joyce Schwarz on how to create the visionboard of your dreams. VALUE: 12 audios = $299.00 gift package. 
January Templates-- 2015 OVERVIEW VISION BOARD TEMPLATE and a BIRTHDAY TEMPLATE -- use the birthday template for your January birthday or to update your birthday year vision for 2015 prior to your birthday later in the year.
February Templates -- Valentine's Template for those of you who want to celebrate Vday with a special couples template (if you're already in a relationship) and a ROMANCE TEMPLATE -- to bring romance into your life if you're looking for that in 2015.
March Templates -- SPRING FORWARD with your vision Template --for those of you whose vision is stuck or needs a quick update; FINANCE VISION BOARD TEMPLATE -- just in time for that very green day St Patrick's Day :) 
April Template -- Transformation Template -- how to transform your life if it's gotten off-track. NEW HOME TEMPLATE -- looking for a new home, buying a house, looking to remodel or just be grateful for where you live today.
May through December 2015 you'll get two different templates and a live audio class (or download via MP3 if you don't have time to attend). Included: Mother's Day, Father's Day, Anniversary, Wedding, Kwanza, Christmas, Halloween, Thanksgiving, Gratitude Vision Board, Generositree template and more. 
FREE BACKGROUNDS AND PICTURES --hundreds : PLUS 5 FREE vision board backgrounds each month --tied to the season of the year. PLUS 10 new vision board pictures each month = 120 per year -- copyright free for you to download or to use in a digital vision board creation. 
PLUS a dozen newly created excusively for you MOTIVATIONAL VISION BOARD VIDEOS -- to keep your vision bright. 
PLUS MONTHLY VISIONING WORKSHEETS -- to keep you on track for your 2015 Vision...covering finances, romance, career, business, travel and more. 
EXCLUSIVE PRIVATE and secret FACEBOOK group and daily advice and tips for you for 2015 for living your vision from Joyce Schwarz, bestselling author of THE VISION BOARD book and COACH TO THE STARS in Hollywood and beyond. 
FREE MOTIVATIONAL QUOTE BOOKLETS each season download your favorite quotes and share them on Facebook or Twitter or with your family and friends. You'll get more than 200 quotes and photos to inspire you :)  VALUE: $79.00
WIN $3000.00 BONUS SIGN UP before December 30, 2014 AND WIN A PRIVATE one to one coaching session monthly with Joyce Schwarz valued at $250 per hour x 12 = $3000.00
When & Where
Via online -- downloadable videos/audios at your convenience



Tuesday, July 29, 2014 at 8:00 PM

-

Tuesday, June 30, 2015 at 8:00 PM (PDT)
Add to my calendar
Organizer
THE VISION BOARD INSTITUTE founded by Joyce Schwarz offers the following services:
*Creation of Giant Vision Boards for Charity Benefits & Corporate events (call for details and price list)
*Accreditation as a Certified Vision Board Coach joyceschwarz@gmail.com
*Vision Board creation classes and workshops for corporations, churches, nonprofits and community groups and private parties & events, joyceschwarz@gmail.com