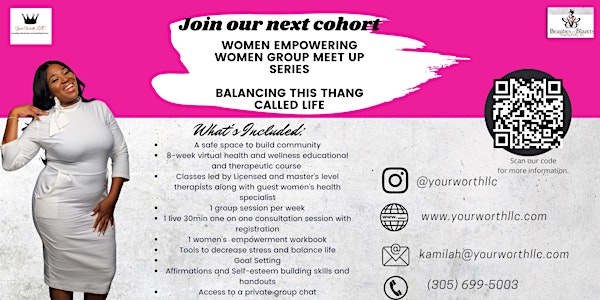 Join the next sister circle cohort! Doing This Thang Called Life
A completely virtual 8-week womens group experience! This is our part 2 series and registration is OPEN NOW.
About this event
Your Worth and Beauties In Blazers understands the need for women to have healthy outlets. We strive to assist women with safe spaces to discuss women's issues, including balancing life, feelings of anxiety, depression, and stress management.
We are running 3 groups that all correlate separately. You will have 3 ticket options to select from when you click on the link to register.
Whats included in the group:
A safe space to build community
8-week virtual health and wellness educational and therapeutic course
Classes led by Licensed and master's level therapists along with guest women's health specialist
1 group session per week
1 live 30min one on one consultation session with registration
1 women's empowerment workbook
Tools to decrease stress and balance life
Goal Setting
Affirmations and Self-esteem building skills and handouts
Access to a private group chat
Click link below to register:
https://docs.google.com/forms/d/e/1FAIpQLSe0NtRnv5y5RlBgG12Xd5aMyRBARyF5-U5MQ6LIyIMF1uJh5Q/viewform?usp=sf_link
Please do not hesitate to contact us for any questions!