Join Historic Nashville Inc. to Support the Station for the Big Payback 201...
Description
Join Historic Nashville, Inc. as we rally for The Big Payback 2016, Middle TN's biggest day of online giving!

Historic Nashville is proud to be campaigning to support the rehabilitation efforts of one of our Nashville Nine properties, the Historic Fire Hall for Engine Co. 18!

That's right! 50% of every dollar donated to Historic Nashville for the Big Payback on May 3rd will go to directly support the rehabilitation of the Fire Hall.
We hope you will join us on May 3rd from 6-8 pm at The Station! Live music, on-site donor station, food trucks and the inside scoop on the restoration process before The Station reopens!
How does the big Payback work? Kicking off at 12:00 a.m. on Tuesday, May 3, donors (YOU!) can make gifts online to the Big Payback participants located in or providing services to the 40 counties of Middle tennessee. Your contributions to Historic Nashville on that day are 100% tax deductible could be amplified by additional incentives, bonuses and prizes made possible by the Big Payback sponsors throughout the day.
What is The Station?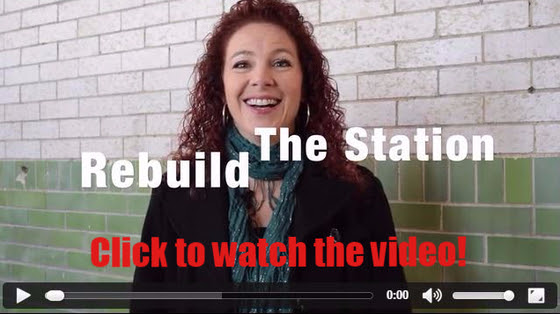 Video: One of One Design Co. oneofonedesign.co
Karen Goodlow has been working diligently to honor Nashville's historic past and bring an important part of Nashville Fire Department history back to life. In 2011, Historic Nashville listed the Historic Fire Hall for Engine Co. 18 on our Nashville Nine list of the city's most endangered historic places.
This Fire Hall served as a fire station from 1930 to 1986. Due to neglect, the building became an eyesore to the community and eventually a homeless camp. After an accidental but devastating fire in 2011, it had since been sitting and deteriorating with a demolition order on it by the codes department.
In came the Goodlows with the vision and bravery to rebuild this East Nashville landmark and transform it into The Station, a unique community space for small businesses and local artists, as well as a place to host community oriented events that support and promote local artists, artisans, and musicians.
The journey however, has brought some surprises along the way including unanticipated construction costs which required the repair of severed water and sewer lines at an estimated cost of $35,000. In November 2015 Karen launched a Kickstarter campaign to help with the cost of repairing the severed lines. The campaign however was unsuccessful, raising only $2,310. If Kickstarter goals are not met, the recipient doesn't receive any funds.