Join Governor Scott, BFADC & Rockingham - Ribbon Cutting Celebration - RSVP

Friday, December 13, 2019 from 12:30 PM to 1:30 PM (EST)
Event Details
Join Honorable Governor Philip Scott of Vermont, Bellows Falls Area Development Corporation & The Town of Rockingham
To remember the Robertson Paper Co that came before & celebrate the Economic Development to come
December 13, 2019, at 12:30 PM
Initiated in 2013, this is the second property in the Brownfield Economic Revitalization Alliance (BERA) to complete remediation and was recognized by the EPA as a model for saving money and the environment in the construction and demolition process through salvage and re-use!   The Bellows Falls Area Development Corporation (BFADC) will build to suit and still has room for interested businesses.
Ceremony – Honorable Philip Scott Governor of Vermont, federal, state and local officials

Hot Cider, light refreshments

Ribbon-cutting

Optional Island Tour and Networking after the event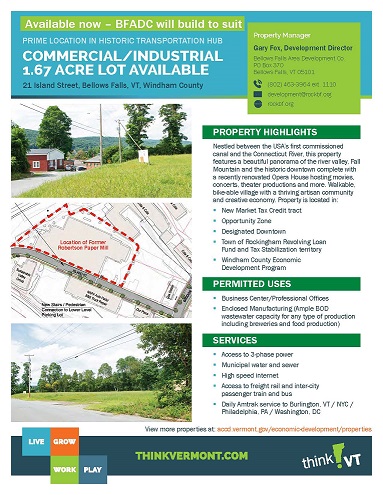 "We are fully committed to this important BERA (Brownfields Economic Revitalization Alliance) project and believe it will act as a catalyst in the Bellows Falls area for both Island redevelopment and strengthening the downtown, while also contributing as a valuable industrial zone in Vermont," stated Governor Phil Scott.
The redevelopment of this former paper company in Bellows Falls is a model for how construction and demolition can be done to save money and the environment, according to an Environmental Protection Agency (EPA) Success Story released in September 2019!
 Robertson Paper Company operated from the early 1900s to the mid 1980s as one of the largest producers    of waxed paper in the U.S. Robbie Paper, as it was known locally, was demolished in the spring of 2019   to make way for redevelopment of "The Island," a 30‐acre tract tucked between the Bellows Falls Canal to the west and the Connecticut River to the east, just to the north of the falls. The project site was taken on by the Bellows Falls Area Development Corporation in 2013, which has cleaned the site and prepared it for commercial/industrial redevelopment. 
 A local demolition and salvage contractor was able to save much of the debris. Salvaging brick, timbers, metals,   and architectural granite protected the environment and cost developers less than sending the waste to a landfill.  

Materials that were salvaged from Robbie Paper include the following: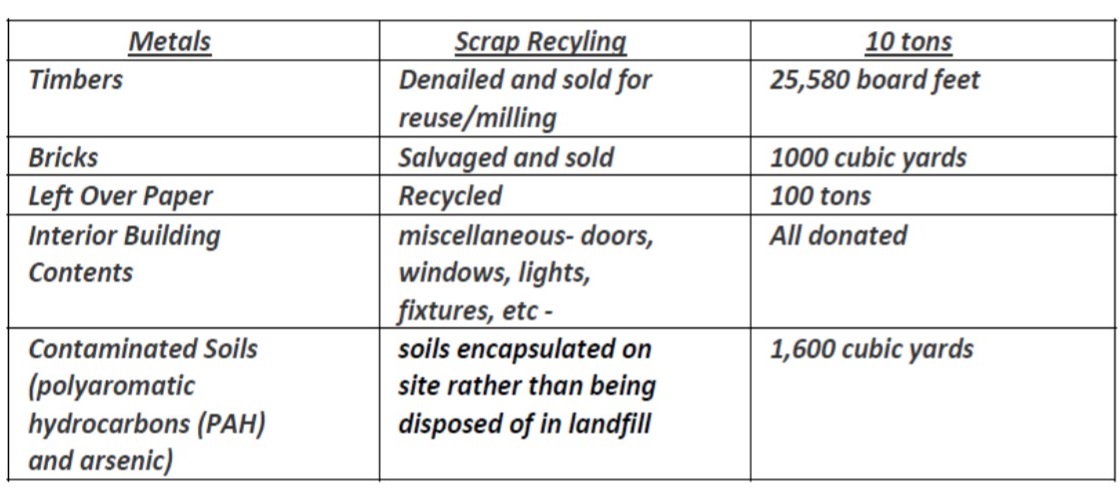 For more information on this project, property, or the BFADC, contact Gary Fox (Development Director) at 802-463-3456 ext 1110 or development@rockbf.org
For more information on the redevelopment of a brownfield site, please visit http://accd.vermont.gov/economic-development/funding-incentives/brownfields-initiative orhttp://dec.vermont.gov/waste-management/contaminated-sites/brownfields.
For more information on BERA, please visit http://dec.vermont.gov/waste-management/contaminated-sites/brownfields/BERA.
Save This Event
When & Where

Robertson Paper Co. Site
21 - 25 Island St, Bellows Falls, VT 05101
Bellows Falls, VT 05101


Friday, December 13, 2019 from 12:30 PM to 1:30 PM (EST)
Add to my calendar
Organizer
Nestled between the USA's first commissioned canal and the Connecticut River, this property features a beautiful panorama of the river valley, Fall Mountain and the historic downtown complete with a recently renovated Opera House hosting movies, concerts, theater productions and more. Bellows Falls is a walkable, bike-able village with a thriving artisan community and creative economy.  This property is located in: 
 - New Market Tax Credit tract
- Opportunity Zone
- Designated Downtown
- Town of Rockingham Revolving Loan Fund and Tax Stabilization territory
- Windham County Economic Development Program Incentives
The BFADC is a 501c6 Local Development Corporation