Join Bourbon Women Texas for a tour of Still Austin and a chance to taste their American Gin and Straight Bourbon.
About this event
Bourbon Women Texas will tour Still Austin and meet "Nancy," their 42 foot high column still named after the main character in "Attack of the 50-foot Woman." Nancy is the only column still in the U.S. to have been built by Forsyths in Rothes, Scotland.
Still Austin has a true grain to grass approach to making spirits including their American Gin and Straight Bourbon. They manage every step of development, first gathering clean, pure grains from local farmers and ensuring ecologically sound distilling, then aging in a clean, pastoral rickhouse in the Texas Hill Country. The team is committed to carrying out each part of the process in-house. That means never sourcing whiskey from another distillery, and instead always hand-making everything from scratch, and managing everything in-house – milling, mashing, fermenting, distilling, barreling and bottling.
After the tour everyone will get a change to taste the American Gin and Straight Bourbon.
Snacks will be served. Must be 21 to participate. Please sip responsibly.
Walk-ins Welcome, unless event is sold out.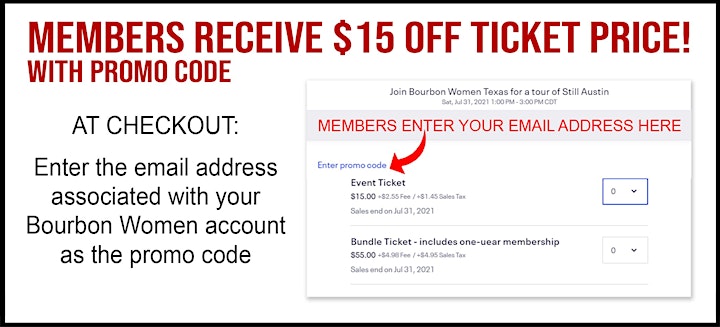 TICKET OPTIONS
$15 EVENT TICKET - Bourbon Women Members are FREE when you enter your email address as the promo code
$55 BUNDLE TICKET - Includes 1 event ticket PLUS a 1-year membership to Bourbon Women
No refunds after July 30.
Organizer of Join Bourbon Women Texas for a tour of Still Austin
Bourbon Women is THE organization for women who are passionate about Bourbon culture, women and the promise of adventure when the two are combined. As an independent resource bringing women of all walks of life together over a glass of Bourbon, our focus is to:
 - Initiate, inspire and cultivate, deep meaningful relationships.
-Encourage the development of women personally, professionally and courageously, supporting members in their journey to become the best versions of themselves.
-Provide a safe inclusive environment for fun, discovery and learning.