Multiple Dates
Johnson Chronicles : Truth & Tall Tales about My Penis
Description
LA You Demanded It!!!
After a sold out final show of our first run we have extended for THREE...THAT'S RIGHT THREE MORE SHOWS!!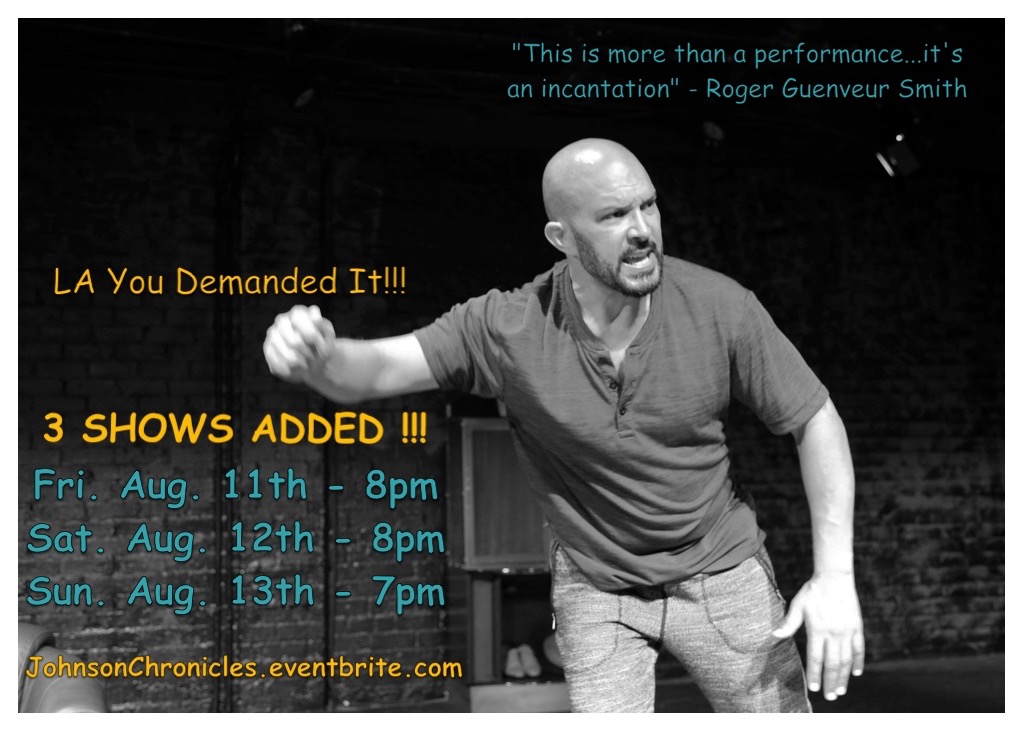 The JOHNSON CHRONICLES, a poetic, conversational, 'body memoir' about the Black Penis by American Book Award winner Peter J. Harris, claims the uncensored spirit of The Vagina Monologues, and arrives this summer at LA's Matrix Theatre against a persistent, painful backdrop of police killings of Black men, featuring Terrell Tilford in a solo performance as My Man, slinging Truth and Tall Tales about the pleasure & pain of living with Johnson, the all-purpose African American euphemism for his penis.
My Man's meditation confronts his personal, political and mythological Johnson in bold, funny, sensual, historical vignettes, intellectual dozens, vows, and affirmations about first sex, size, fatherhood, intimacy and intimate violence, vasectomy, and the impact of racism on his humanity and sexuality. My Man laments how lonely he felt at the onset of wet dreams and how ED hovers over every adult sexual encounter, while always shouting a reminder to "watch my balls!"
FOR GROWN FOLKS ONLY
---


Inspiration House~PopsnAde~Restorative Notions present:
Johnson Chronicles : Truth & Tall Tales about My Penis
Written & Directed by Peter J. Harris
Featuring Terrell Tilford in a Solo Performance
*Terrell Tilford appears courtesty of Actors Equity
@ THE MATRIX THEATRE
7657 Melrose Ave.
Los Angeles, CA 90046
FRIDAY AUGUST 11th, , 2017-- 8pm
SATURDAY AUGUST 12th, 2017-- 8pm
SUNDAY AUGUST 13TH, 2017-- 7pm