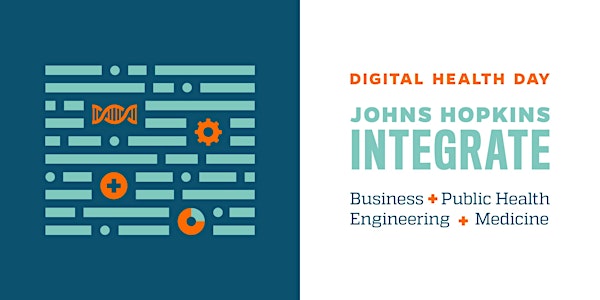 Johns Hopkins Integrate: Inaugural Johns Hopkins Digital Health Day
Event Information
Location
Chevy Chase Conference Center
1800 Orleans Street
Johns Hopkins Hospital, Sheikh Zayed Tower
Baltimore, MD 21205
Refund policy
Refunds up to 1 day before event
Description
Energizing Digital Health Innovators to Integrate & Deploy
Digital Health Day is a symposium that brings Johns Hopkins' very own health tech innovators together in one space to collaborate and impart momentum on fellow innovators in digital health. The day of celebration will demonstrate Johns Hopkins' leadership in digital health, raise awareness of digital health successes, and help participants learn to incorporate digital health into their clinical, public health, research, and educational career goals.
Date: October 16, 2017
Time: 9AM – 5:15PM
Location: Zayed Chevy Chase Conference Center
Happenings for Digital Health Day include:
9:15-9:45AM: A Keynote "TED" Talk led by e-Patient Dave, a patient experience advocate.
10:45-11:45AM: A Patient Engagement Panel focusing in on new methods and novel tools for patient engagement.
1-2PM: A Provider Panel on how to change clinical practice and how providers can lead the change in digital health.
2:15-3:15PM: A Health Systems Panel around global health transformation through digital health through both aspirations and realities.
3:15-3:45PM: A Keynote led by Dan Vadhat, the CTO of Medopad.
4-5PM: A 'Next Big Idea' pitch competition with 5 hand-picked digital health start-up groups.

In addition to the cutting-edge discussions happening the auditorium, a digital health Resource Pavilion will be open all day long just across the reception area. The pavilion will feature 26 exhibitors from various technology, funding source and organization programs, and Johns Hopkins innovation organization groups. Visitors of the pavilion can expect to gather information on how to connect with or advance a digital health idea at Hopkins.
Live Webcasting Available!
Enjoy Digital Health Day right from your desk. Save the link below and join in for live presentations at your own convenience.
http://bit.ly/DigitalHealthDayLive

Date and time
Location
Chevy Chase Conference Center
1800 Orleans Street
Johns Hopkins Hospital, Sheikh Zayed Tower
Baltimore, MD 21205
Refund policy
Refunds up to 1 day before event