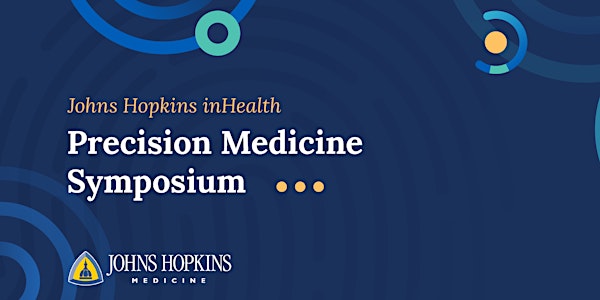 Johns Hopkins inHealth Precision Medicine Symposium
Location
Johns Hopkins Hospital
720 Rutland Ave
#TurnerAuditorium
Baltimore, MD 21287
Tickets are open and event is free to register
About this event
Find us online: pmconf.jh.edu
Precision Medicine and the transformation of healthcare: advancing health using novel measurement, analysis, and communication.
Join us for this full day, in-person event (with remote option) that will focus on the importance of data capture and achieving measurement at scale as a means of transforming healthcare.
Attendees will hear from thought leaders, researchers, and practitioners who will guide the conversation from big picture concepts (stable and metastable phenotypes, strategic data capture, why measurements matter) to the importance of returning sub-group identification to clinical care through the validation and deployment of clinical decision tools.
Engage with potential collaborators and partners while supporting precision medicine's mission to bring science-to-medicine-to-medical practice.
Interact with us on Twitter: #JHPrecisionMed22

Featured Speaker:
Nigam Shah, MBBS, PhD
Professor of Medicine (Biomedical Informatics), Stanford University
Chief Data Scientist, Stanford Health Care
Dr. Shah's research group analyzes multiple types of health data (EHR, Claims, Wearables, Weblogs, and Patient blogs), to answer clinical questions, generate insights, and build predictive models for the learning health system. In his Chief Data Scientist role, he leads Stanford's artificial intelligence and data science efforts in three main areas of impact: advancing the scientific understanding of disease, improving the practice of clinical medicine and orchestrating the delivery of health care. Dr. Shah is an inventor on eight patents and patent applications, has authored over 200 scientific publications, and has co-founded three companies.