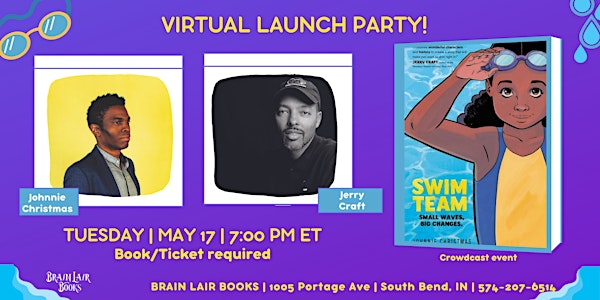 Johnnie Christmas: Swim Team - BLB Virtual Partnership
Join New York Times bestselling comics creator Johnnie Christmas, in conversation with Newbery-medal winning graphic novelist Jerry Craft!
About this event
"Combines wonderful characters and history to create a story that will make you want to dive right in!" JERRY CRAFT, author of the Newbery Medal–winning New Kid
A splashy, contemporary middle grade graphic novel from bestselling comics creator Johnnie Christmas!
Bree can't wait for her first day at her new middle school, Enith Brigitha, home to the Mighty Manatees—until she's stuck with the only elective that fits her schedule, the dreaded Swim 101. The thought of swimming makes Bree more than a little queasy, yet she's forced to dive headfirst into one of her greatest fears. Lucky for her, Etta, an elderly occupant of her apartment building and former swim team captain, is willing to help.
With Etta's training and a lot of hard work, Bree suddenly finds her swim-crazed community counting on her to turn the school's failing team around. But that's easier said than done, especially when their rival, the prestigious Holyoke Prep, has everything they need to leave the Mighty Manatees in their wake.
Can Bree defy the odds and guide her team to a state championship, or have the Manatees swum their last lap—for good?
Join New York Times bestselling comics creator Johnnie Christmas, in conversation with Newbery-medal winning graphic novelist Jerry Craft as Johnnie launches his new book Swim Team on May 17 @ 7pm ET LIVE on Crowdcast!
Swim Team Book Launch on Tuesday, May 17th, at 7:00 p.m. ET
Your ticket includes admission to this exclusive event and a softcover (12.99 MSRP) or hardcover copy ($21.99 MSRP) of Swim Team, as well as sales tax, shipping, and handling (if applicable).
**This is a virtual event that will be hosted on Crowdcast. After purchasing the book, you'll be registered and will receive an email confirming your event registration. **
**On 5/17 around 4pm ET, you will receive a Crowdcast link.**
You will need access to a computer or other device that is capable of accessing and sufficient Internet access.
We are excited for this event and hope you are too!
 Please contact Brain Lair Books with any questions.
Johnnie Christmas is a #1 New York Times Best Selling graphic novelist. Best known for co-creating the series ANGEL CATBIRD with celebrated writer Margaret Atwood, he has adapted William Gibson's lost screenplay for ALIEN 3 into a critically acclaimed graphic novel of the same name. He was nominated for the Outstanding Cartoonist 2019 Joe Shuster Award for his graphic novel, FIREBUG. He also co-created the series SHELTERED. A graduate of the Pratt Institute in Brooklyn, NY, he earned a BFA in Communication Design/Illustration. He currently lives in Vancouver.
Jerry Craft is the #1 New York Times bestselling author-illustrator of the Newbery Medal-winning graphic novel, New Kid, and its companion book, Class Act. New Kid is also the winner of the Coretta Scott King Author Award and the Kirkus Prize for Young Readers' Literature. Jerry is the creator of Mama's Boyz, an award-winning syndicated comic strip. He has won five African American Literary Awards and is a cofounder of the Schomburg Center's Annual Black Comic Book Festival. He received his BFA from the School of Visual Arts and now lives in Connecticut.