JohnColins New Years Eve 2018 Bash!! $25 Advance Tickets for the next 48 hr...
Description
NEW YEARS EVE 2018 at LOCAL FAVORITE "JOHNCOLINS"
---
$40 advance tickets have been slashed for the next 48 HRS as a Thank You to our industry supporters and regulars that helped make 2017 an amazing year at John Colins!
The new year is upon us, and as we give thanks for all that we have - our beautiful friends, families, business and creative endeavors We are truly grateful to have been able to celebrate one more year in the city we love, with the people we love most.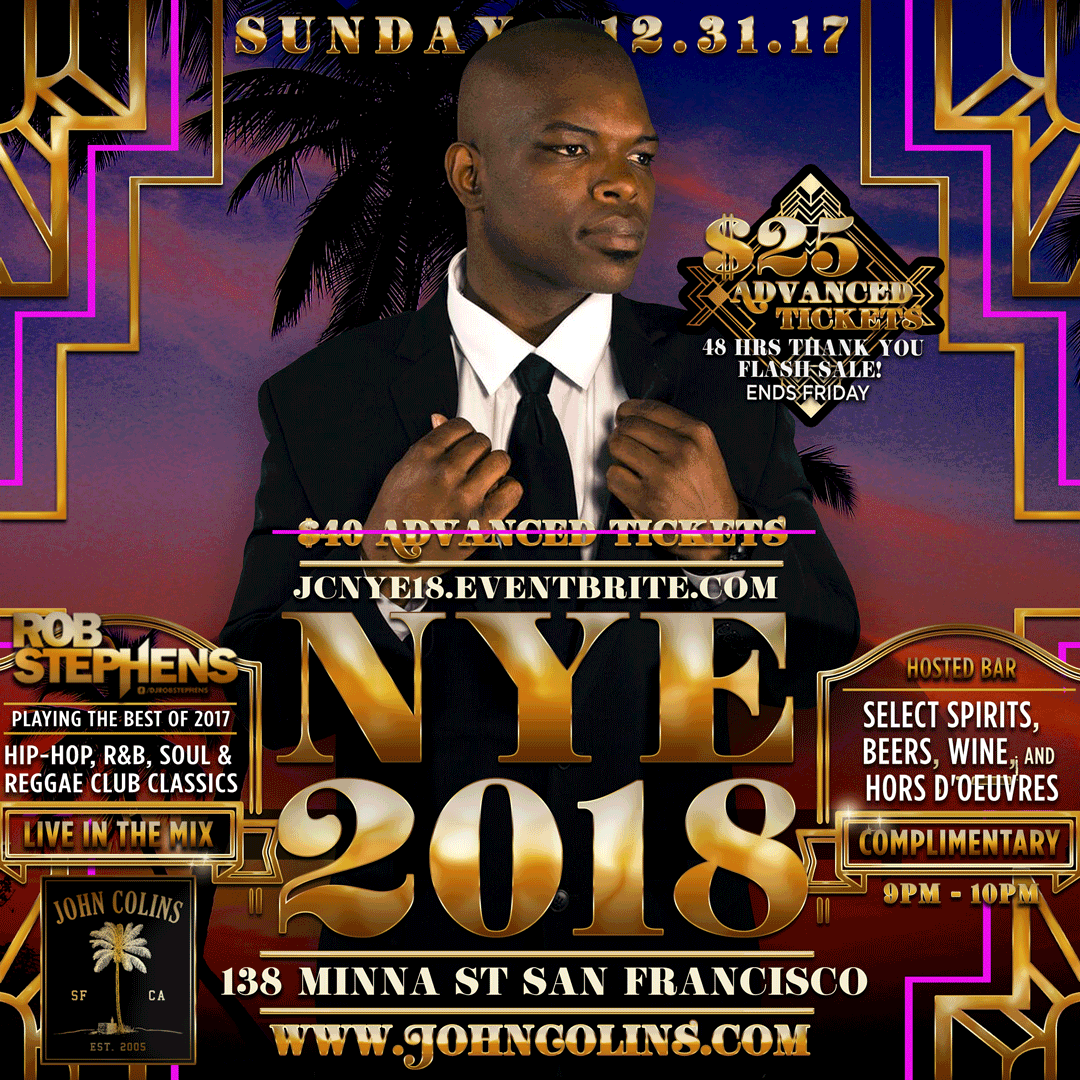 We're ready to bring in the new year with style and grace, champagne to the face, strictly grown vibes, with a sprinkle (or three) of our signature debauchery. In other words, it's time to party! It's time to let go, let loose, wild out, and ring in the best f**n new year. of. your. life. Bet on our surprise guest DJs to guide us through a smooth and party-rocking continuum of all things Hip Hop, Dance Floor Classics, 90's, and rare Soul gems. All night long. Along with complimentary hors d' oeuvres and a hosted bar from 9-10pm featuring select spirits, beers and wine. We will provide all your confetti cannons, party favors and complimentary champagne toasts. John Colins will transform into the most intimate, party infused New Years Eve celebration in San Francisco.
!!!Come early!!!
!!!Complimentary hosted select spirits, beer wine, and hors d'oeuvres 9pm-10pm!!!
Special VIP tables are still available, so make sure to grab those while they're still around. We hope to celebrate with you and yours on December 31st with dope beats and hard drinks, always at John Colins.
May all of your pain, be champagne - Cheers!
We also have tables available as follows:
TABLE FOR 6
1 bottle of Your Choosing*
1 bottle of Champagne
1 platter of apps (meats, cheeses, fruits and chocolates!)
6 entries
Cost: Only $750
FOYER
1 bottle of Your Choosing*
2 bottles of Champagne
2 platter of apps (meats, cheeses, fruits and chocolates!)
10 entries
Cost: Only $1,000
ALL Ticketed Guests must arrive by 10:00pm to ensure entry.