Description
This workshop will give a handful of all-level painters the time and space to reflect and respond to the unique charge given to the artist for capturing the beauty of creation.
With thoughtful creative leadership of acclaimed painter John Traynor, a peaceful balance of technique and inspirational dialogue will encourage the individual's intuitive creative response and evolve their own unique drawing/painting process with our days spent in the pastoral beauty of the fields, hills, forests and rivers of OQ Farm and surrounding areas.
Traynor* is an accaimed and skillful painter of every genre: landscape, still life and portraiture. His unique blend of realism and atmospheric impressionism set his work apart. Many people recognize a 'Traynor painting' by its brush strokes and unique feeling. Part of his success is connecting emotionally with others through his work reminding people of moments in their life or memories of the past.
Intended for all Levels (Max 15 students) ~ John will teach how to create an atmospheric, landscape using the colors we see in nature. He concentrates his teaching on the basic principles of painting not rules. Some of the principles covered are:
Atmospheric perspective
Values to create light and shadow
Progressions to describe the light source
Organizing light in a painting
There will be daily demonstrations and weather permitting, all painting will be done outdoors. We have an alternate space to work if the weather is not cooperative.
(*for a full BIO on John Traynor, please scroll to the very bottom of this page)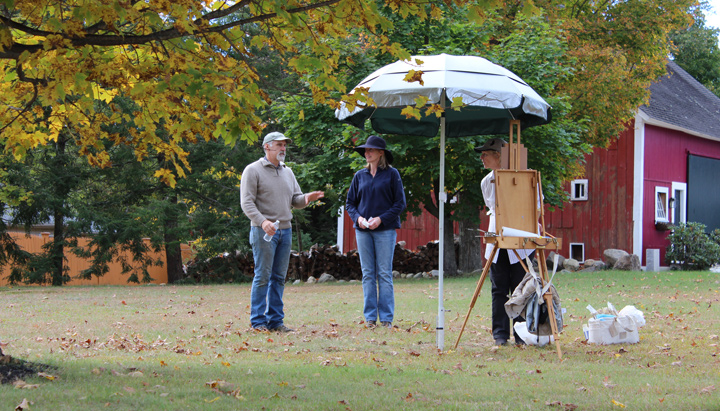 WORKSHOP REGISTRATION DETAIL:
The full retreat package cost includes all instruction, materials, shared semi-private housing (more info below), and meals (except for one dinner off-campus). A private room upgrade is available on a first come/first served basis with limited availibility, as well as a tuition-only option for students choosing to stay off-campus.
The workshop provides a unique retreat experience where students will share daily meals, all workshop sessions and optional evening conversations.
With the dates of the full retreat workshop option being August 17 -- 20, there will be only 2 full teaching days on Friday and Saturday of that weekend. We will ask that people staying for the full retreat arrive by dinner on August 17th -- the night before the workshop begins, and depart anytime after breakfast on Sunday the 20th -- the day after the workshop ends (students are welcome to stay and enjoy the farm longer if desired). We are happy to help coordinate connecting rides to train, plane and bus from the farm.
Tickets to the retreat and workshop can be purchased here on-line (see options from the TICKET dropdown with a small convienience fee), or by sending in a check directly to our corporate office. Students wishing to secure their spot with a $300 DEPOSIT may do so by sending in a check to our offices in Boston, with full payment due by July 1st. For those wishing to pay by deposit OR in full, please first contact Keri Wiederspahn (keri@oqfarm.org or call 802.230.7779) to secure your space while we wait for your check to arrrive.
Checks should be made to "Sword and Spoon Group" and sent to our foundation offices:
SWORD & SPOON WORKSHOP *Attn: Traynor Plein Air Workshop, 52 Waltham St., Lexington, MA 02421 USA
LODGING, MEALS AND TRAVEL SPECIFICS:
All workshops are hosted at the 500-acre OQ Farm: A Creative Sanctuary (www.oqfarm.org)-- a peaceful and beautiful working Vermont farm and retreat center only a little over two hours from Boston, MA, and only 10 minutes outside of the renowned and quintessential Woodstock, VT along the Ottauquechee River. The farm is currently now in development as a sanctuary devoted to the spiritual renewal of artists and the creation of new artistic works. We are Christian-based, and ecumenical in welcome. We offer group morning prayer for interested guests.
Lodging
The lodging is comprised primarily of nicely appointed cabins with shared baths. No more than 4 participants will share a cabin. There are 8 private rooms available for an additional surcharge ($25 per night), on a first come – first serve basis, and will still share a bath with one other person. There is also a very nice Bed and Breakfast Inn within walkable distance (less than a mile) from the farm for those wishing full privacy: October Inn: http://octobercountryinn.com, as well as many other four and five star hotels (including the world-renowned Woodstock Inn: http://woodstockinn.com) less than 10 minutes away in downtown Woodstock, VT if you are traveling with your own car.
Meals
Food will be fresh, healthy, locally-sourced as possible, and prepared daily. We will try to accommodate any special dietary needs or allergies if given ample notice.
Travel
OQ Farm is easily accessible from Boston (2.5 hours by car or bus), or New York City (4.5 hours by car, bus or train). Feel free to contact us so that we can help to make suggestions as to what will work best with arrival and departures to the workshop.
By Plane: The nearest airports are Lebanon, NH (30 minutes), Manchester, NH (1.5 hours), or Boston's Logan International Airport (2.5 hours). People coming into Logan can take a Dartmouth Coach bus direct to Lebanon, NH or take a connecting flight into the Lebanon, NH airport. We can help suggest local transport to the farm for participants from the NH Manchester Airport. We are able to easily pick up from the Lebanon, NH Airport anytime free of charge. The Burlington, VT Airport may also be considered, but all connecting transportation to the farm will need to be handled independently (by personal rental car or car service for instance).
By Bus: Destinations are either White River Junction, VT (Greyhound Buses) or Lebanon, NH (Dartmouth Coach). Either of these bus stations is convenient for us to pick up anytime free of charge.
By Train: Rutland, VT and White River Junction, VT are destination stops with Amtrak, originating from New York City.
By Car: We are just off of Rte 4 -- 8 miles West from Woodstock, VT, in between Killington and Woodstock in the small town of Bridgewater Corners. GPS should be set to 298 Holiday Farm Road, Bridgewater, VT.
Workshop Materials
Supply list:
Portable field easel, Gesso panels or canvas. Recommended canvas sizes are 9"x12" and 12"x16"; brushes, paper towels, plastic bags for garbage, pizza box or other container to bring home possibly 'wet' paintings.
Recommended Paints - Titanium White, Ivory Black, Ultramarine Blue, Cobalt Blue, Cadmium Yellow light and medium, Cadmium Red light and medium, Yellow Ochre, Alizarin Crimson. Please feel free to bring any other colors you have or would like.
Painting medium - John mixes 1/2-linseed oil with 1/2-Damar varnish and adds (when ready to paint only) some Cobalt Drier. Brush cleaner (Dawn dish soap works well). Also, he has been using Gamblin Galkyd lite medium, too.
Other – plastic gloves if needed to protect hands from paint, rain jacket, bug spray, umbrella (for rain &/or sun), sun hat
AVAILABLE RECREATION
Optional movie nights, off-farm trip to local food/concert venue, group campfires, swimming, hiking. We have a heard of fourteen friendly Alpacas, six sheep, five horses and a dozen+ chickens that appreciate visitors too. There are three ponds on the property, with one for swimming. The North branch of the Ottauqueechee River hugs one end of the property, where many have panned for gold. It is a beautiful place for star-gazing in the summer.
Please contact Keri Wiederspahn at keri@oqfarm.org or 802.230.7779 for any other questions and with special lodging requests and their availability, or to request any of our other local lodging recommendations.
FAQs
What's the refund policy?
CANCELLATION POLICY:
Cancels up to 8 weeks before workshop: 100% refund, minus Registration Fee ($50)
Cancels up to 6 weeks before workshop: 75% refund, minus Registration Fee ($50)
Cancels up to 4 to 2 weeks before workshop: 50% refund, minus Registration Fee ($50)
Cancels up to 1 week or less before workshop: 0% refund, yet full tuition fee will be held and can be used towards another workshop
In the unlikely event that we need to cancel a workshop for any reason, a full refund will be given.
Any last minute emergency drop situations will be considered on a case-by-case basis.
Please understand that the above policy will allow us to maintain high quality workshops. Any non-refundable funds distributed to our operations from cancellations will be acknowledged as a donation to the non-profit, and will be acknowledged as such.
---
ABOUT JOHN TRAYNOR:
http://www.johnctraynor.com/
John C. Traynor spent his early years in New Jersey. His art studies began at Delbarton School in Morristown New Jersey; from there he went to Paier College of Art in New Haven Connecticut, starting at the age of 16. He studied figure painting at the Art Students League of New York, as a merit scholar, with Frank Mason, as well as landscape painting with Mason in Vermont. John followed his studies with Mason by spending a year studying sculpture in Italy.
Having completed his studies by the time he was 20 years old, John was determined to become a professional artist. As an unknown artist, John started selling his paintings at outdoor art shows in the Northeast where he was able to meet collectors in person. Opportunities with galleries began opening up through this exposure. Traynor has won numerous awards including the Frank DuMond award from the Hudson Valley Association and the Medal of Honor from the Salmagundi Club of which he is an honorary member. In addition, John is an inductee into the Delbarton School Hall of Honors and has attained the level of Copley Master from the Copley Society of Boston. John's works are on display in several top galleries across North America.