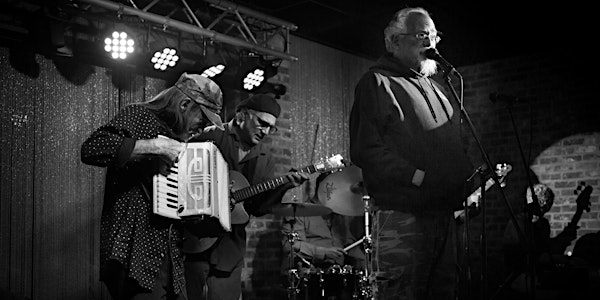 John Sinclair with Carlo Ditta's Orleans Records All-Stars
When and where
Location
New Orleans Jazz Museum 400 Esplanade Ave. New Orleans, LA 70116
Description
Join us on Friday, February 23 at 8:00pm for John Sinclair with Carlo Ditta's Orlean's records all stars featuring Freddie Stahle (Dr. John / Al Hirt) and Johnnie Pennino
About John Sinclair:
The legendary John Sinclair is a Detroit poet currently residing in Amsterdam after 12 years in New Orleans. Known as the Hardest Working Poet in Show Business (Ben Edmonds, San Francisco Chronicle) and The Last of the Beatnik Warrior Poets (Mick Farren), Sinclair has released more than 20 CDs of his unique musical collaborations with artists from Wayne Kramer (MC-5) to Andre Williams, Jimbo Mathus to Little Milton, Marion Brown to Michael Ray. He's set his verse to music in concert with a wild diversity of artists and ensembles including Archie Shepp, Marshall Allen, Walter "Wolfman" Washington, Trombone Shorty, David Kimbrough and the Black Crowes.
John Sinclair has performed at a variety of venues in New York City including St Mark's in the Bowery, CBGB Gallery, Nuyorican Cafe, Coney Island High, Lakeside Lounge, Local 269, Zebulon, Green Door, and other sites, ofyen in the musical company of Dee Pop, Daniel Carter, Ras Moshe and Elliott Levin. Sinclair made a triumphant appearance at Jazz at Lincoln Center with poets Amiri Baraka, Sonia Sanchez, Oscar Brown Jr and Gil Scott-Heron with musical backing by Sonny Fortune, Reginald Workman and Rashied Ali.

For the past several years John Sinclair has been performing in New Orleans with guitarist Carlo Ditta. Carlo Ditta is an award-winning songwriter, veteran record producer (Willy DeVille, Guitar Slim Jr, Danny Barker, Coco Robicheaux, Roickie Charles) and owner of Orleans Records, and winning performer with his original compositions and personal takes on New Orleans classics by Eddie Bo, Ernie K-Doe, Benny Spellman and many more.