John Seely Brown & Ann Pendleton-Jullian at The Interval: The Pragmatic Imagination

Tuesday, May 31, 2016 from 6:30 PM to 8:30 PM (PDT)
Event Details
The Long Now Foundation welcomes
John Seely Brown (author, technology and innovation expert) &
Ann Pendleton-Jullian (architect, author, educator)
"Pragmatic Imagination and Agency in a White Water World"
@ The Interval at Long Now: check-in begins at 6:30; talk will start at 7:30

Join us afterwards for drinks and conversation with our speakers
The interconnectedness and dynamism of the world today is unprecedented. The ways humans process this constant, ever-changing flow of stimuli is also evolving. Bridging art and science our speakers share work, informed by their accomplished backgrounds in design and innovation, on the emergent spectrum of the Pragmatic Imagination. We hope to have advance copies of their forthcoming book for sale at the talk.
The Pragmatic Imagination is a concept that sees the imagination as a spectrum of coherent synthetic image making that runs from dealing with the known to projecting the novel, and from prosaic sense-making to poïetic sense-breaking. It values the entire spectrum but suggests that the last portion of the spectrum, the domain of the poïetic imagination, is necessary for agency and impact in a world that is broadly connected, rapidly changing and radically contingent. And finally, it proposes catalyzing, scaffolding, instrumentalizing and integrating the entire spectrum for pragmatic purpose.
Long Now members can access a free livestream of this event online. The studio of Edward Burtynsky is sponsoring The Interval's live audio stream in 02016. Mercury Films and Studio Burtynsky's forthcoming project Anthropocene (02017) looks at how civilization has re-engineered the world in ways that will persist into geological time. Their support enables us to stream these events for our members all over the world.

Become a member for access to live audio streams of our Seminars and Interval events.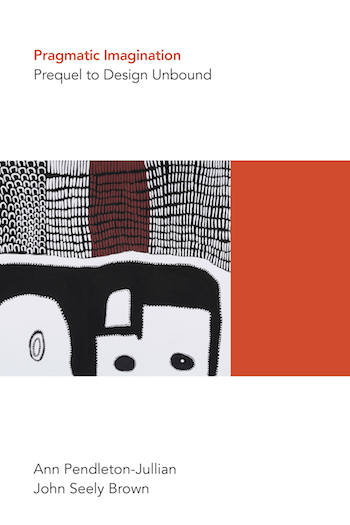 "A fresh and immensely insightful look at the mystery of imagination"
— Paul Saffo (Stanford University; Long Now Board)onPragmatic Imagination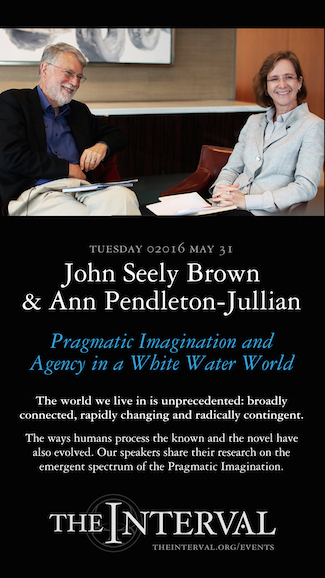 John Seely Brown (or as he is often called—JSB) is the Independent Co-Chair of Deloitte's Center for the Edge and a visiting scholar and advisor to the Provost at University of Southern California (USC). A master integrator and instigator of productive friction, JSB explores the whitespace between disciplines and builds bridges between disparate organizations and ideas. His personal research interests include digital youth culture, digital media, and designing for emergence in a constantly changing world.

JSB spent nearly two decades at Xerox Corporation as Chief Scientist and then as director of its Palo Alto Research Center (PARC). At PARC, he transformed the organization into a truly multidisciplinary research center at the creative edge of applied technology and design, integrating social sciences and arts into the traditional physics and computer science research.  He was a cofounder of the Institute for Research on Learning (IRL).  He is a member of the American Academy of Arts and Sciences, the National Academy of Education, a Fellow of the American Association for Artificial Intelligence and of AAAS and a Trustee of the MacArthur Foundation. JSB serves on numerous private and public boards of directors, including Stanford University's Center for Advanced Study in the Behavioral Sciences (CASBS).


Ann Pendleton-­Jullian is an architect, educator, and writer of international standing. Currently a Professor of Architecture at Ohio State University, her design work negotiates the overlap between architecture, landscape, culture, and technology.
She obtained her BArch degree from Cornell University and her MArch from Princeton. She began her professional apprenticeship in Chicago and in the mid eighties, opened her first professional office in Los Angeles. After three years in practice there, she returned to the east coast to establish a partnership with Guilllaume Jullian de la Fuente from 1986 – 1996. Back on the east coast, she also began teaching at Cornell University, Princeton University and then later at MIT for fourteen years.

Pendleton-­Jullian maintains ongoing working affiliations with the MIT Media Lab, the School of Architecture at the Catholic University of Santiago, Chile, The University of Porto Alegre, Brazil, Tongji University in Shanghai, the New University of Singapore, and the London School of Economics.


"Should be required reading for anyone who wants to understand how to unleash more innovation--or simply lead a richer life"
—Gillian Tett (Editor, Financial Times) on Pragmatic Imagination
Long Now members hear about Interval events first: become a member today
When & Where

The Interval at Long Now
Fort Mason Center
2 Marina Blvd
San Francisco, CA 94123


Tuesday, May 31, 2016 from 6:30 PM to 8:30 PM (PDT)
Add to my calendar
John Seely Brown & Ann Pendleton-Jullian at The Interval: The Pragmatic Imagination