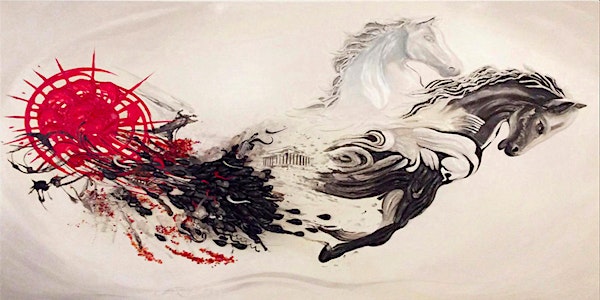 John Robbolino Jr.- "The Power of Art" - March 11, 5-7 p.m.
VIP Event: Thursday, March 11 • (5 pm - 7:00 pm) Public Exhibition: Friday, March 12 – Thursday, March 24, 2021 RESERVATIONS REQUIRED!
When and where
Location
Emillions Art 837 5th Avenue South Suite 202 Naples, FL 34102
About this event
Meet Master Artist John Robbolino Jr. at Emillions Art, March 11, 5 to 7 p.m.
John Robbolino Jr. creates unique, contemporary masterpieces with techniques from antiquity.
View the dramatic, inspiring sculptural canvases of master artist John Robbolino Jr. at his solo exhibition at Emillions Art on Thursday, March 11, 5 to 7 p.m., at 837 5th Avenue South in Naples. The event is hosted by Emillions Art founder Marlissa Gardner in Emillions' 2,000 square foot showroom and on its outdoor balcony overlooking 5th Avenue South.
Visits are staggered every 30 minutes to adhere to CDC guidelines. Following your Eventbrite RSVP, please call 239-687-3101 to RSVP for your preferred time:
5:00-5:30
5:30-6:00
6:00-6:30
6:30-7:00
Robbolino is acclaimed for his "alto-rilievo" or "high relief" sculpted, oversized canvases that utilize hand blown glass, metal and paint that arise from the background. The artist's technique is adapted from antiquity and combines engineering and architecture similar to the work of Leonardo da Vinci, Leon Battista Alberti and Michelangelo.
Among the artwork exhibited at the event is Equestrian Equinox, a high relief piece that depicts the Roman chariot wheel with exploding hand-blown glass and metal. "The magnificent horses symbolize the Ferrari prancing horses and represent majestic power, opulence and elegance unmatched in today's world," Robbolino said.
About the Artist
John Robbolino Jr. was born in Lodi, New Jersey in 1957 to an Italian family. His talent emerged during a childhood of drawing and painting and later expanded to pen and ink, illustration and realism during his art education.
A career highlight is his work for Gannett Outdoors' hand-painted billboards, when Robbolino honed his large-scale technique. He earned a designation as a Master Pictorial Artist Journeyman recognized throughout the billboard industry as one of the leading artists in the United States. Robbolino also owned an interior design and sign company where he continued to develop his unique style and painting techniques. He created his own version of alto-rilievo and meticulously sculpts individual one-of-a-kind masterpieces using simple hand sculpture tools and today's superior materials.
The exhibition and reception will adhere to CDC guidelines with social distancing.
The John Robbolino Jr. solo exhibition will be open to the public Monday thru Saturday, 10 a.m. until 5 p.m. through March 24th
About Emillions Art
Founded in 2014 by global art consultant Marlissa Gardner, Emillions Art is an art-consulting firm based in Naples, Fla., specializing in bringing the world of contemporary art and masterworks to interested and ambitious collectors. Emillions Art has been active in the Naples and Gulf Coast art scene as a member of the Naples Chamber of Commerce, the Collier Building Industry Association, the Naples Art Association, a sponsor of the Naples Players, and a donor to Artis Naples and the Naples Children Education Foundation. Emillions Art is a recent exhibitor at Naples Art, Antique & Jewelry Show, Palm Beach Jewelry, Art, Antique & Design Show, X Contemporary and Miami Art Basel.
For more information, www.emillionsart.com; follow on Instagram @emillionsart or call (239) 687-3101.