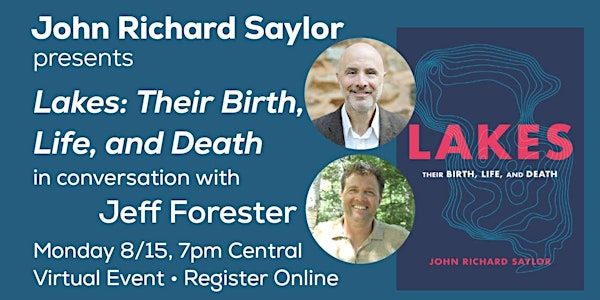 John Richard Saylor presents Lakes: Their Birth, Life, and Death
John Richard Saylor presents Lakes: Their Birth, Life, and Death, in conversation with Jeff Forester
About this event
This event is presented with special thanks to Minnesota Lakes and Rivers Advocates. Minnesota Lakes and Rivers Advocates work to protect Minnesota's lakes and rivers for current and future generations by forging powerful links among lakes, lake advocates and policy makers.
Lakes might be the most misunderstood bodies of water on earth. And while they may seem commonplace, without lakes our world would never be the same. In this revealing look at these lifegiving treasures, John Richard Saylor shows us just how deep our connection to still waters run.
Lakes is an illuminating tour through the most fascinating lakes around the world. Whether it's Lake Vostok, located more than two miles beneath the surface of Antarctica, whose water was last exposed to the atmosphere perhaps a million years ago; Lake Baikal in southern Siberia, the world's deepest and oldest lake formed by a rift in the earth's crust; or Lake Nyos, the so-called Killer Lake that exploded in 1986, resulting in hundreds of deaths, Saylor reveals to us the wonder that exists in lakes found throughout the world.
John Richard Saylor, PhD, is a professor of mechanical engineering at Clemson University. He has spent the better part of his career studying fluid mechanics, specifically researching phenomena that occur at the interface between air and water. In addition to lakes, his scientific interests include the physics of drops, bubbles, and waves, and he has applied his research to applications such as the use of water sprays and ultrasonics to clean diesel exhaust and methods for using radar to study raindrops. He was a student at the Santa Fe Science Writing Workshop in 2017. He lives in Clemson, South Carolina.
Jeff Forester has been the Executive Director of Minnesota Lakes and Rivers (MLR) for over a decade. MLR seeks to protect Minnesota's lake and river heritage for current and future generations by forging powerful links between lakes, lake advocates and policy makers. Jeff was Hubert Humphrey Public Policy Fellow and and Shannon Leadership Fellow. His book, Forest for the Trees, How Humans Shaped the Northwoods​ (Minnesota Historical Society Press) examines fire and forestry in northern Minnesota's Boundary Waters Canoe Area Wilderness. He was associate producer of TRANSPLANT, A GIFT FOR LIFE, which won an Emmy. MLR has been working to stop the spread of Aquatic Invasive Species in Minnesota since 2009. Jeff lives with his wife, two daughters, two dogs and ten chickens in Uptown Minneapolis, but spends as much time as he can on family land adjacent to the Boundary Waters.
​
Registered customers will receive event access link via email prior to the event.