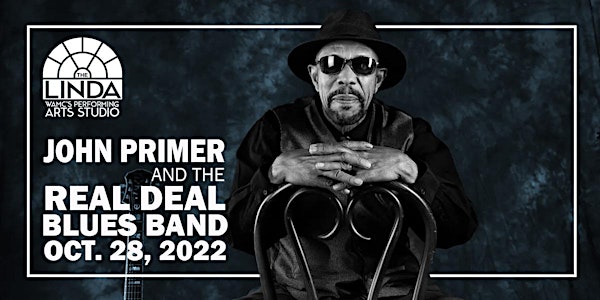 John Primer and the Real Deal Blues Band
John Primer and the Real Deal Blues Band return to The Linda
When and where
Location
The Linda WAMC's Performing Arts Studio 339 Central Avenue Albany, NY 12206
About this event
2 time Grammy Nominated, Chicago Blues Hall of Fame artist and 2016 Blues Music Award Winner, John Primer is truly "The Real Deal." Growing up on Mississippi sharecropper land in 1945 he dreamed of becoming a star, playing the blues with his idol Muddy Waters and traveling all over the world with his music he had inside him at 8 years old. John made his first guitar attached to the front porch out of a broom wire, two nails and a brick to make it tight. John performed along with the sounds of Jimmy Reed, Muddy Waters, Little Milton, Elmore James, BB & Albert King reverberating through his Grandmother Laura Nell's tube radio, John was instantly hooked. His early inspirations came from his family steeped in spiritual, gospel, blues and R&B traditions. As a young boy John's mother knew he would be a singer, "he came out singing" she would say. John first appeared on stage at the local Baptist church, in his hometown of Camden, MS. It was a very hard life for him starting out. His father died at the age of 4 and his mother left him with his grandmother at the age of 9 with his sister to work in the fields. His mother migrated to Chicago as many others did in search of a better life, leaving John very lonely and sad.
At the age of eighteen, John's mother came and got him as promised. He finally got out of there and migrated to Chicago in the fall of 1963. He quickly found work at the legendary Maxwell Street with Pat Rushing and the Maintainers Band in an era when Chicago's modern electric blues sounds were first taking shape. Forming his first band, The Maintainers in 1964, John and his old Harmony guitar rocked such west-side clubs as, The Place, The Bow Tie, and Lover's Lounge. By 1968 John left The Maintainers when the opportunity arose to front the soul and R&B group, The Brotherhood Band. Performing late into the night and working by day, John was forming his own unique style and expanding his repertoire. John's success would lead him in 1974 to replace John Watkins in the house band at the world-famous Theresa's Lounge on the south side of Chicago. This was the second home for all the Mississippi musicians. Playing 7 nights a week for 7 years, John performed with such originators as Sammy Lawhorn, Junior Wells, James Cotton, Buddy Guy, Magic Slim and more, all innovators sculpting the sound of Chicago Blues 7 nights a week!
It was during this point in John's career that quite a few people were taking note of this outstanding performer. In 1978-79, master songwriter and bassist Willie Dixon invited him to join his band The Chicago All Stars. Traveling through the US, Mexico and Europe, John developed his skills as a rhythm guitarist, a powerful singer, and songwriter. Then in 1980 John's dreams came true when Muddy Waters recruited John not only as a guitarist, but also as an opening act and bandleader. He couldn't believe that his dream came true! He was performing with his idol on stage all over the world! Muddy served as a father figure to John, teaching him how to be a great bandleader, how to play slide guitar, and instilling in him the importance of keeping the blues true and traditional and to keep it alive for the next generation. John stayed loyal to Muddy until his untimely death in 1983.
After Muddy passed he toured with the Muddy Waters Band until John signed on with the legendary Magic Slim in 1983. For the next 13 years, he toured with Magic Slim & The Teardrops. John opened up the show with his own songs and sound. John originated the "Chicago lump" sound with Slim's bassist and brother Nick Holt. While John was the bandleader of Magic Slim & The Teardrops, they won the Blues Music Award for "Best Blues Band" and are still thought of as not only one of the best blues bands but also the inventors of the "Chicago lump" sound today. Together they took blues to places in the world that had never heard of it before, like Brazil.
In the early 1980's John began playing at Buddy Guy's legendary Checkerboard Lounge on the south side of Chicago. He was the house bandleader, holding open jam nights and teaching the next generation how to play the blues until the original nightclub closed its doors in 2001.
But John's days as a sideman were numbered, and in 1995 the veteran blues man released his first major label debut "The Real Deal", on Atlantic Records. John has been recorded on more than 87 albums of which 17 albums are under his own name. He has written and produced more than 55 songs. John has recorded with Atlantic Records, Telarc Records, Blind Pig Reords (with Magic Slim and James Cotton), Earwig Records, Wolf Records, Raisin Music, Delta Gove Records and VizzTone as well as his own record label, Blues House Productions (formed in 2008). John's albums have been nominated by the National Blues Foundation, have won three Blues Blast Awards, two Living Blues Awards as well numerous yearly nominations.
John is a Chicago Blues Hall of Fame Artist! He has 2 Grammy nominations as well as played guitar on Pinetop Perkins Grammy award-winning CD, Joined at the Hip. He won a Blues Music Award in 2021 & 2016 for Traditional Blues Male Artist and one for Traditional Blues Album in 2012 with The Chicago Blues, A Living History Band. He has 2 Lifetime Achievement Awards and in 2018 John was given the "Muddy Award" for being a Traditional Blues Icon by the Jus' Blues Foundation in MS. John is one of the very last traditional blues artists with original Mississippi roots. He was taught by the founding fathers of the blues, the "old way" (some say the "right way"). We need to cherish his blues innovative history and celebrate his amazing music!