John Oliver's New York Stand Up Show @ SXSW

Multiple Dates
Event Details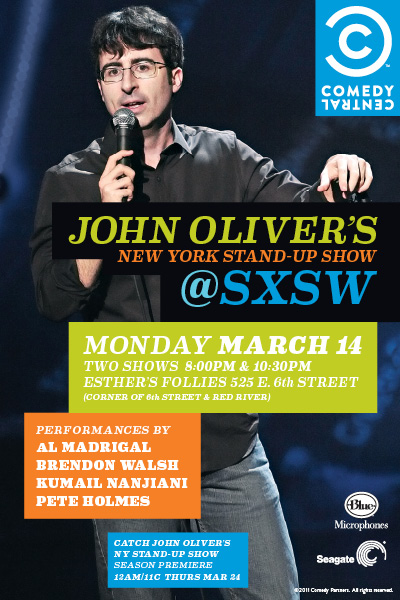 In celebration of the second season of his Comedy Central stand-up series, John Oliver and friends will take the stage at Esther's Follies on Monday March 14th during the week of the South by Southwest festival for John Oliver's New York Stand-Up Show @ SXSW

Come see John Oliver, Kumail Nanjiani, Brendon Walsh, Al Madrigal, and Pete Holmes perform live! There will be two performances that night, one at 8:00pm and the other at 10:30pm both free of charge to SXSW badge holders.
Season 2 of John Oliver's New York Stand-Up Show premieres Thursday, March 24th at midnight after The Colbert Report.
Complimentary Izze Sparkling Beverages while supplies last.