John Markoff at The Interval: Robots and Humans

Tuesday, September 29, 2015 from 6:30 PM to 8:30 PM (PDT)
Event Details
This talk is sold out, but we will have a live audio stream available for Long Now members. Join Long Now today, so you can tune in live.
The Long Now Foundation welcomes
John Markoff
Author and journalist (New York Times) in Conversation with Paul Saffo
"The Quest for Common Ground Between Humans and Robots"
@ The Interval at Long Now: check-in begins at 6:30; talk will start at 7:30 
Join us afterwards for drinks and conversation with our speaker
John's book Machines of Loving Grace will be on sale and he will sign after the talk

[An] engrossing narrative filled with colorful characters and head-snapping insights
— Walter Isaacson, author of Steve Jobs and The Innovator
"Conversations at The Interval" welcomes author and veteran tech journalist John Markoff to discuss the subject of his new book with Long Now board member Paul Saffo. Robots are poised to transform society as completely as the Internet did two decades ago, what decisions should we make to balance automation and humanity?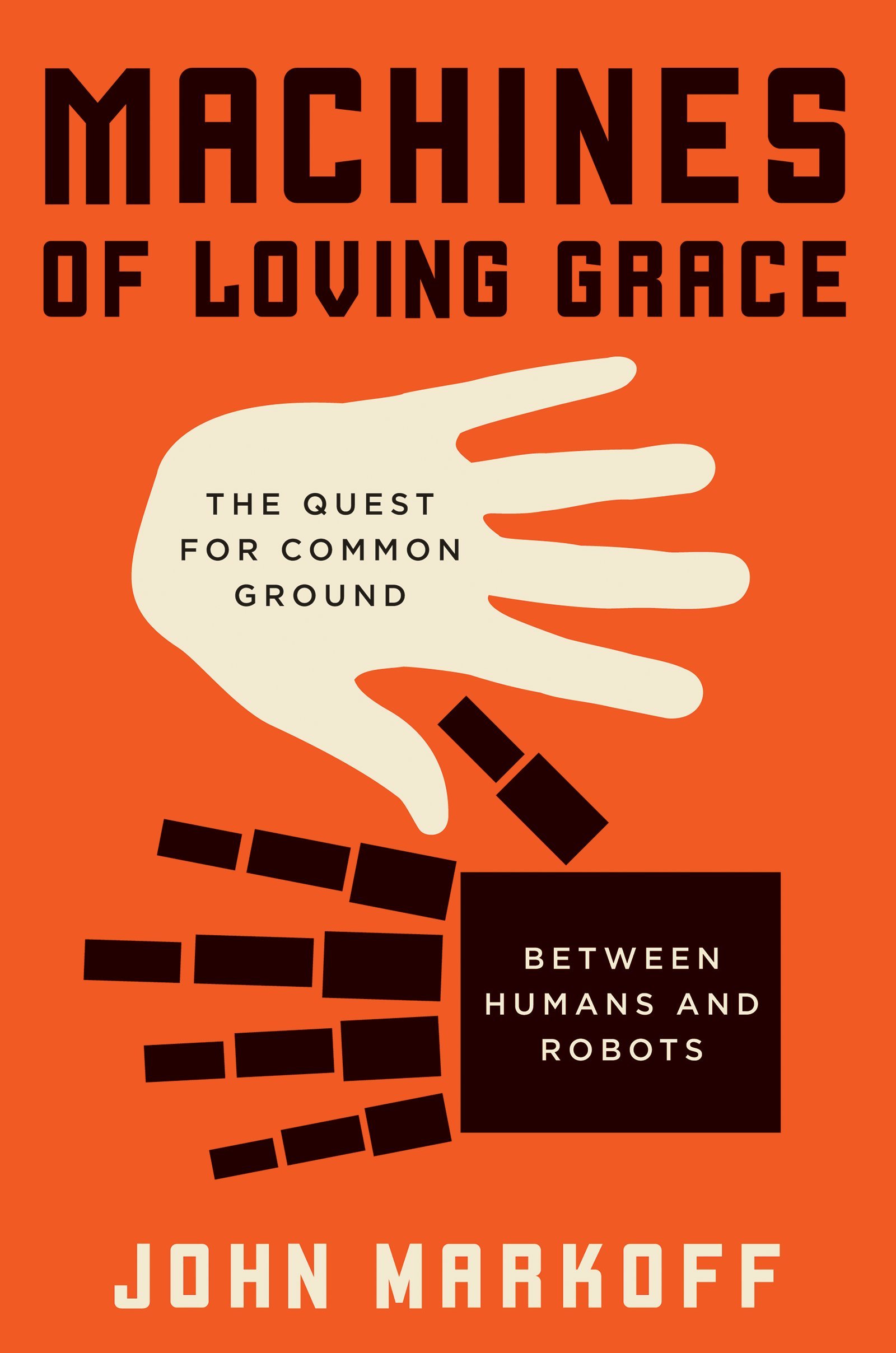 In Machines of Loving Grace, John Markoff offers a sweeping history of the complicated and evolving relationship between humans and computers. In recent years, the pace of technological change has accelerated dramatically, posing an ethical quandary. If humans delegate decisions to machines, who will be responsible for the consequences?
Machines of Loving Grace is the first comprehensive study to place [robots] in the context of the cloud-based intelligence
—George Dyson, author of Turing's Cathedral: The Origins of the Digital Universe
From the birth of artificial intelligence in the 1950s and 60s, to today's consumer products made by Google and Apple, as well as the Boston area's thriving robotics economy, Markoff traces the ways this question of responsibility. He urges developers to consider the consequences of their work, as we are on the brink of the next stage of the computer revolution which will transform society.
Drawing on his almost forty years covering the tech industry, Markoff conducted numerous interviews and extensive research to assemble this history and poise key questions about we will cohabitate with our robotic creations.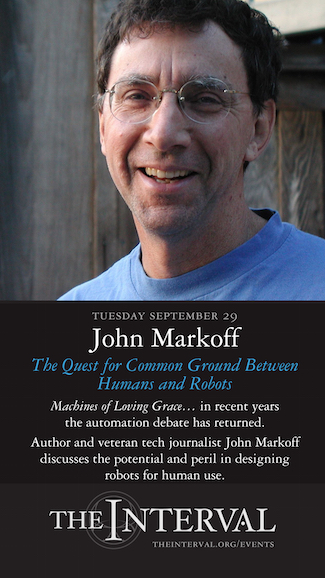 John Markoff has been a technology and science reporter at the New York Times since 1988. He is the author of several books including What the Dormouse Said: How the Sixties Counterculture Shaped the Personal Computer and Takedown: The Pursuit and Capture of America's Most Wanted Computer Outlaw, which he co-authored with Tsutomu Shimomura.

Before the Times Markoff wrote for The San Francisco Examiner, The San Jose Mercury, and tech magazines including Infoworld and Byte. Amongst many journalistic honors, John was part of the team of New York Times reporters that won the 02013 Pulitzer Prize for Explanatory Reporting, and he is a fellow of the Society of Professional Journalists.

John Markoff has been a lecturer at UC Berkeley's School of Journalism, and an adjunct faculty member of the Stanford Graduate Program on Journalism. Born in Oakland, California, he grew up in Palo Alto and lives in San Francisco.
John Markoff has been seeing around the corners of the technology revolution throughout his career. Now he uses his full range of vision and experience to examine whether humans can make peace with the coming wave of smart machines.
— John Hollar, president and CEO of the Computer History Museum

Join us for a conversation about the technological momentum of automation and humanity's choices ahead.

Long Now members hear about Interval events first: become a member today
When & Where

The Interval at Long Now
Fort Mason Center
2 Marina Blvd
San Francisco, CA 94123


Tuesday, September 29, 2015 from 6:30 PM to 8:30 PM (PDT)
Add to my calendar
Organizer
The Interval at Long Now
The Interval at Long Now is a bar, cafe and venue for talks and other gatherings located in historic Fort Mason Center on San Francisco's north shore within site of the Golden Gate Bridge and Alcatraz. The Interval serves delicious beverages in a room full of mechanical wonders and thousands of books.
We are open daily from 10AM to midnight. Events are typically on Tuesday nights a few times a month. Tickets usually go on sale 2 weeks prior to the event. Our talks tend to sell out quickly due to our limited capacity.
Long Now members can purchase tickets before the general public.
The Interval is home to The Long Now Foundation which is dedicated to long-term thinking through projects including building a 10,000-year Clock, the monthly Seminars About Long-term Thinking (SALT), The Rosetta Project, PanLex, and Revive & Restore.
John Markoff at The Interval: Robots and Humans