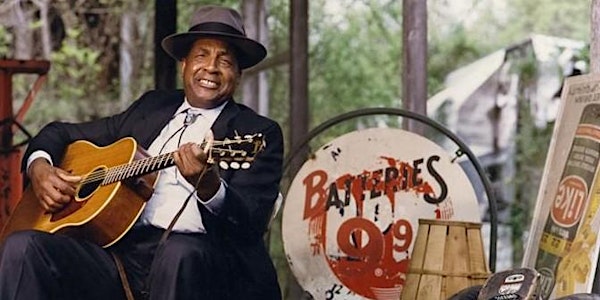 John Jackson Piedmont Blues Festival
A Piedmont Blues Festival honoring local legend, John Jackson and his unique Piedmont Blues style of music.
When and where
Location
Eldon Farms 4432 Sperryville Pike Woodville, VA 22749
Refund Policy
Contact the organizer to request a refund.
Eventbrite's fee is nonrefundable.
About this event
Come and enjoy a day of Piedmont Blues music in the foothills of the Blue Ridge Mountains in Rappahannock County, Virginia. Food and drinks available for purchase. Picnics allowed. Bring your own chair. Bring your instruments for Jam sessions. There will be book signings, historical and cultural exhibits and more.
Join us as we pay tribute to one of Piedmont Blues most beloved songsters, John Jackson. Most of the featured performers honed their musical skills under the tutelage of Mr. Jackson.
FEATURED PERFORMERS
Frank Matheis MC ~ Phil Wiggins ~ Jeffrey Scott ~ Rick Franklin ~ Erin Harpe ~ The Unity Choir ~ Rev. Williams & The Praise Team ~ Bobby G & Friends
ABOUT JOHN JACKSON
John Jackson was born in 1924 in Woodville, Virginia, to a tenant farming family who was also extremely musically talented. He was the seventh of fourteen children, and they all played some combination of guitar, banjo, ukulele, mandolin, harmonica, accordion, autoharp, and even homemade penny whistles. John's father was left handed, and played the guitar in an upside down position that John found impossible to learn. But that didn't stop him, he began playing with his father's guitar when he was four, soaking up the musical influences around him and received his first guitar from his older sister when he was nine.
Some of his most influential lessons came from a convict who visited regularly to get water from the Jackson's spring, and from the family's large collection of records. As John came of age, he began playing the local party circuit. But when these parties turned repeatedly violent, and John's life was threatened, he decided to put the guitar down for nearly twenty years.
A bizarre string of coincidences involving children, Elvis Presley, a mailman, a gas station, and a wandering folklorist led to Jackson's worldwide fame. After nearly two decades of neglect, John's guitar once again saw the light of day and he became one of the most beloved folk musicians, and charmed audiences for the next 30 years with his sweet Appalachian drawl, gentle manner, and vibrant sense of humor. He was more than a bluesman, he was a true songster whose abilities and repertoire spanned the genres of ragtime, blues, country, and gospel music.
His gentle nature and humor spanned the divisions of race, gender, socioeconomic status, and time. It could easily be said that he was from a different era, that he carried the very best of that era within him as he traveled the world and shared his extensive gift of song and storytelling.
John Jackson received the National Heritage Fellowship in 1986 from the National Endowment for the Arts, which is America's highest honor in the folk music world. Jackson performed for Presidents Jimmy Carter and Ronald Reagan, the US Congress, many European heads of state, in Carnegie and Royal Albert Hall. He played with famous musicians such as B.B. King, Eric Clapton, Bob Dylan, Bonnie Raitt, and Ricky Skaggs. Yet despite his long list of talents and accolades, he remains almost wholly unknown in Rappahannock County, the place where his story began.
It's time to change that and bring his legacy to light. He wanted to be remembered as a blues musician and songster. Please join us as we honor that wish and spend an evening paying tribute to the music and life of John Jackson.
FOR MORE INFORMATION VISIT: FACEBOOK Page - John Jackson Piedmont Blues Festival - Rappahannock County - VA
Please be aware that by attending this event, you consent to your voice and/or likeness being used, without compensation, in photos and/or videos for use in any and all marketing efforts.
OUR GENEROUS SPONSORS: The Charles T. Akre Family -- The William and Mary Greve Foundation -- Rappahannock Association for Arts and Community -- Northern Piedmont Community Foundation, Richard Lykes -- Virginia Commission for the Arts and the National Endowment for the Arts -- Ed Robinson
Event brought to you by Virginia Cooperative Extension and Eldon Farms. (Virginia Cooperative Extension programs are open to all, regardless of age, color, disability, gender, gender identity, gender expression, national origin, political affiliation, race, religion, sexual orientation, genetic information, veteran status, or any other basis protected by law. If you are a person with a disability and desire assistance or accommodation, please notify Kenner Love, Rappahannock Office at 540-675-3619 phone number/TDD*) during business hours of 8 a.m. and 4:30 p.m. *TDD number is (800) 828-1120.)